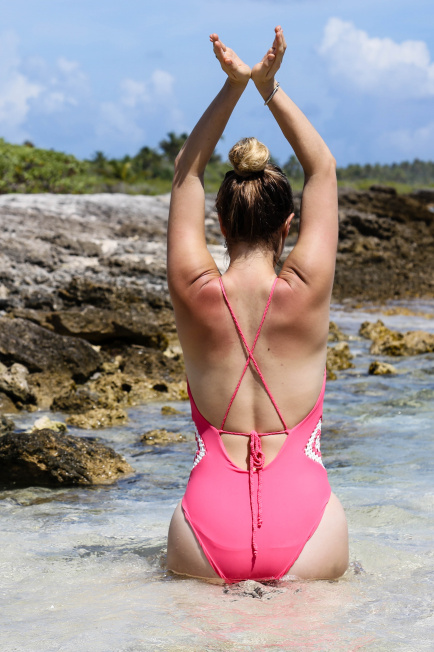 A Reflection on 500 Hours
First of all, you should know that I wrote this on the car. Via voice dictation. I hopped in my car to drive to West Hollywood in the pouring rain on Friday night, and this post came flooding out of me. Flooding. I couldn't stop the words from coming — so I felt like, if nothing else, I absolutely had to share.
A Reflection on 500 Hours of Yoga Teacher Training 
YEAH, that's as much time as it sounds like…!
Well, to be clear, it was 300 hours this time around. I did 200 hours in 2012, and when the trainings are coupled together they make up the 500 hours of the Yogaworks teacher training certification program.
Buttttttt I've always been one for grandiose verbiage, so 500 hours sounds more validating to me… even if 200 of those were spanned over oh, nearly four years. 😉
Either way, these 300 hours were no joke. From August until February, you could find me in the yoga studio. Period.
When you dedicate yourself to any hundreds of hours in a particular genre or area of learning, you're embarking on a journey. Journeys are full of sweat, tears, highs, lows, and when you have a painful amount of ADHD and a tendency toward overcommitting to an unrealistic amount of projects at a time – journeys of these kind are also full of running around like a chicken with your head cut off.
But every weekend, and every Wednesday night, and every Tuesday afternoon and Thursday evening (mostly on those Thursdays… let's just say Gigi, my mentor, is understanding and patient enough to have me continually there until I finish that part…) I showed up. I was present. No matter what type of anxiety I flew through the door with, I let it go and let the yoga room work its calming magic on my heart and soul.
In many ways, I feel like I put other areas of my life completely on hold to move through my TT journey these past 7 months. For example, I've had grand plans to redecorate my room and transform my apartment into the magic-creating, zen vibed, succulent-filled, minimalist home of my dreams. But in reality… I look around and see piles of clothes, half-stained tea cups, tufts of cat hair (#reality), and a heavily used yoga mat in my windowsill serving as my zen space.
Throughout those 7 months, I went through many days plagued with guilt that I didn't give Hudson (my kitty) enough morning love or nighttime cuddles, questioned many times whether I was still a good friend / sister / aunt / daughter when all I had time for was basically nothing outside of work and yoga, and of course told my literary agent upwards of 250 times "my book proposal will be finished in (x) amount of days. Minutes. Hours. Okay I'm still working on it."
I also put more personal parts of my life on hold, beyond those obvious home life nooks and crannies and work commitments. I convinced myself that it was GREAT (!!!) to be single because of course with ALLL of that zero free time, I should spend it with my friends and my cat, right? Who needs a real boyfriend anyway? That sort of love will come after I'm a full blown yoga teacher finishing her next book who has her shit together! Right?!
Then miraculous things started happening. Those 300 / 500 / some odd hours started coming to a close. Well, first they were halfway done. Then they were three quarters of the way done. Then they were seriously, truly, REALLY coming to a close. I started getting nostalgic for something that wasn't even over yet! Something that in some ways I had been sort of waiting to get to the end of before I even started it, if I'm being honest.
Once the pre-end nostalgia kicked in, I shifted my mindset quite a bit. I shifted my approach to gratitude – gratitude for getting to assist a tremendously inspiring Yogaworks master teacher, gratitude for blocking out hours every day on my calendar for yoga-related commitments (I mean, how cool), gratitude for getting to learn from so many of the greats and soak in information I am deeply passionate about, and gratitude for having created so many bonds and friendships with people in the yoga community – and once I did that, my schedule all of the sudden felt so much easier to get through.
Then, the real magic started to happen.
I got my first yoga teaching job, and then my second. I wrote that book proposal (okay, most of it — but WILL finish it by the end of this week!), and started dating someone who fills my heart with so much happiness I could explode. I opened my heart up in a way that I didn't even know I was closed off to, and I started seeing the beauty around me again instead of rushing through it all.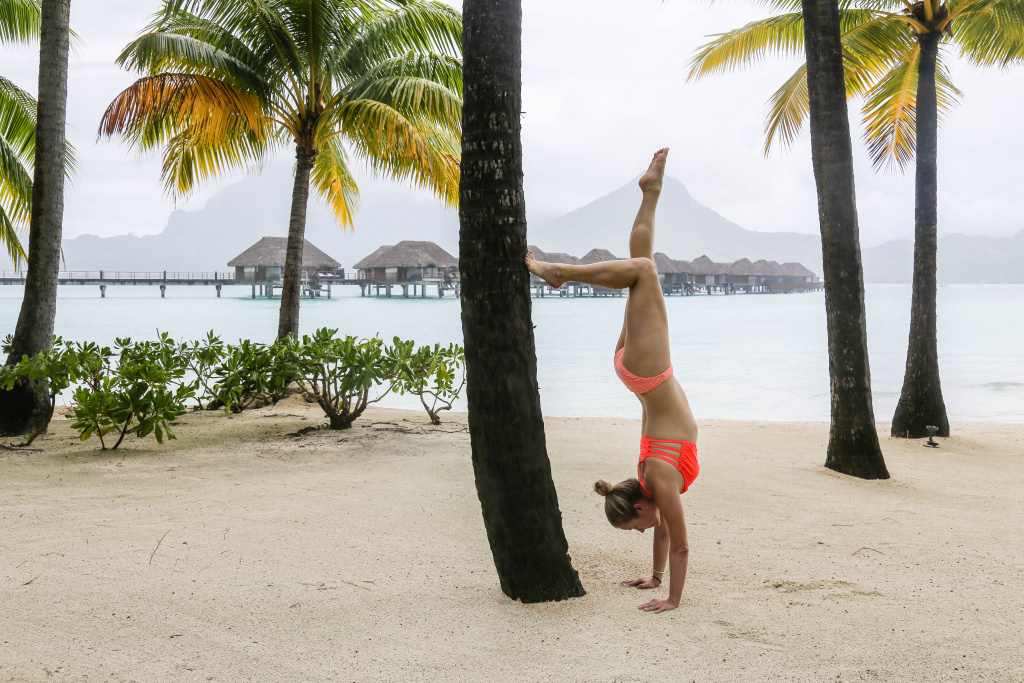 I realized then that those 7 months my life had not been on hold. Sure, I had some extra piles of clothes laying around, a lot of appointments to make up (hair, dentist, doctor, blah blah) and my bag of dry cleaning is bursting at the seams, but these 7 months have been full of an inspiration I can't even touch with words. I started my soul on fire podcast, which has literally changed my life. I am working on a whole blog post about that, because I have never felt more alive than I have then after having started that podcast.
I also proved something to myself that I think everyone deserves to experience in life at some point or another. I am fulfilling a lifelong dream, my lifelong dream of becoming a yoga teacher. I didn't really dream of being a blogger when I was a little girl (how could I?! I didn't know what a blog was!) and even though I have fulfilled my dreams of being a writer, there's something very special about manifesting the dream and goal of being a yoga teacher that I started obsessing about when I was 14 years old.
It feels incredibly great to start something and finish it, with the accomplishment of actually having the opportunity to stand in front of a room and teach something I love as much as Yoga.
I know I joke to my friends and family, and this won't be surprising to my fellow teacher training group and my mentors, that I am just not a school person anymore. I spent so many years in school, and by the time I left grad school to pursue my blog full-time I was pretty much schooled out. I have learned so much by just living life, and I have never been one to be super chill about having to show up somewhere, again and again, every day or every weekend, planned for months in advance. (Anyone who was in my sorority with me will tell you that.)
I am horrible with group activities, and I leave much to be desired and in a group learning setting. I am not necessarily myself when I am sitting in a classroom environment, because my mind RACES SO FAST… I am usually writing an entire book in a journal at the same time. I can't help it. That's why I am not a school person.
For all of those reasons, I've joked that I will not be enrolling in a training program again anytime soon. But I am not sure how true that is… because I'd like to find my own way to continue learning and soaking it all in.
There are so many things I want to learn when it comes to yoga, and one thing I plan to do is interview a lot of my yoga idols on the podcast (I hope), so I can continue to learn from them on a one on one basis without being back in the classroom.
I think we all have to find what works for us in terms of how we digest information and how we translate it out to the world. Podcasting and blogging is my favorite way to do that, by far, and it exposes me to so many amazing people who I get to learn from. So I hope that I can continue to do that, and that maybe I can do a few weekend workshops with Yogaworks before I dive into anything that consists of hundreds of hours ever again. 😉
Ultimately, if I had to choose a few words to describe my 500 hour training experience, I would say that I am deeply grateful, humbled, inspired and surprised.
I learned SO MUCH ABOUT MYSELF, the way I relate to people, what is important to me, how I like to spend my time, and how much it means to me to take care of myself on a deep, soul-level and check in daily about what I want and need.
Also, the experience taught me so much about how I want to spend and manage my time. I know I work too often, and I should be able to have experiences without feeling like I have no time left over from myself. I know I've come along way in the last seven months, which totally reflects in my relationship and also my first experience in a real job EVERRR showing up somewhere as a yoga teacher each week.
I am surprised that this experience flew by in the blink of an eye, and then I got to learn from so many masters and take in information that rocks my world and changed my life even when I was going through spells of ADHD and panic and anxiety due to feeling the general constraint of time in my life.
I also can't believe, and am still searching for the words to express… how much I love teaching yoga. That is the ultimate soul on fire for me. It's forever changed me and the way I view, well, everything.
Thank you to my classmates, my teachers, GIGI SNYDER, and to everyone at Yogaworks for making this experience what it was. I sure am grateful for each and every one of you. I am humbled to have gone through this experience and who knows… maybe I'll be back for more. (Let's be real — I definitely will, but it will look a little diff than 500 more hours.)
P.S. If this sounds like a stream of consciousness post, it's because it is. In every sense of the word. At some point I will sum up all these thoughts a bit more coherently — but what you should know, for now, is that I am happy.
I am inspired by yoga every day… my love for it basically knocks me to the ground. And it inspires me to love my life, and everything and everyone in it, SO FREAKIN MUCH. Do you have something in your life that makes you feel that way? I would love to hear. xx