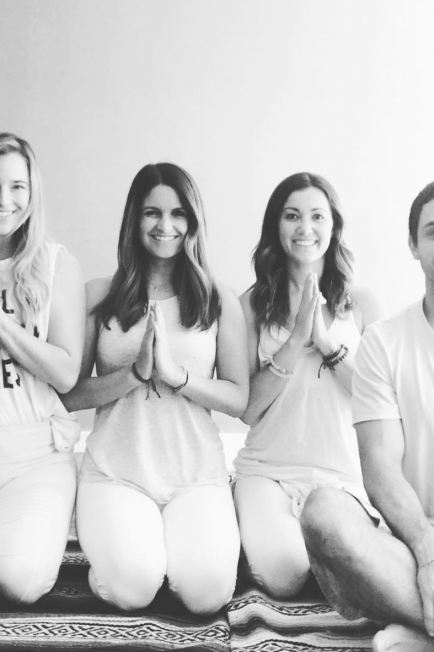 All About Dem Thoughts // The Best Year of My Life
HI GUYS!
Okay, I wrote this post and it got real deep real fast.
I was going to write a good old-fashioned heart spill post, the way I used to back when I blogged on the daily. But once I got going I realized I had a lot more to say than I thought… so this is a heart spill and then some.
This post may have just turned into a mission statement about where my blog is going and where I am going… where I've been, what has shifted, and where I feel like I'm headed.
That's what is so cool about blogs. They can evolve right alongside of us. And I feel like this year in particular has been full of evolution for me. My blog has changed a LOT since the 2013 days (scroll back to some of the earliest posts to see what I'm talking about if you're ever bored and have the time… it's sort of fun to watch the whole evolution thing go down), but man oh man, has this year been one for the books.
My whole personality is in a different place. I hear it almost every day. I take it as a huge compliment, because I feel clarity and peace in ways I have never felt before — and I am so glad that it's radiating through.
This has hands down been the best year of my life, and I want to tell you guys why.
ALL ABOUT DEM THOUGHTS //
I have been thinking a lot lately about who I am, the way my mind works, how to channel and harness my energy in the best and most effective of ways, and how to take care of myself and rest when I need to so that I don't lose sight of all of the beautiful things the universe has gifted me + has in store for me.
I have that super "on," introspective, HSP, creative type of mind that likes to be going, going, going all of the time. Especially in the middle of the night — yo, insomnia. But truly always, it's ALWAYS moving.
That's why things like yoga, kundalini (who has listened to my latest podcast episode with the High Vibe Livin girls?! I am OBSESSED), meditation, journaling, traveling and getting out of my routine, SOLO TIME, and being in love all set my soul on fire in a way that stimulates creativity and my flow more than anything else.
So today what I really wanted to heart spill about is… being in tune with the universe. Manifesting the fullest version of my life, and always keeping my eyes on how grateful I am for all of the good things I've been graced with.
This used to be a blog about vegan food, for goodness sake… and yesterday I had someone come up to me at the farmer's market and say "you are my FAVORITE yoga and lifestyle blogger!!!"
I almost dropped dead with gratitude. Writing about yoga, lifestyle, and straight up journaling my life… is something I feel I was meant to do. Even if zero people were reading (well, one, because my mom would always read!! I'd make sure of it), I would feel called to it.
And now more than ever, blogging about so much more than just food + wellness, I feel so connected to strengthening my intuition and spirituality to share with you guys. It is what is currently setting my soul on fire. 🙂
( So is writing ebooks… have ya checked mine out? It's been such a fun ride to release this bad boy & share all the yogi love. )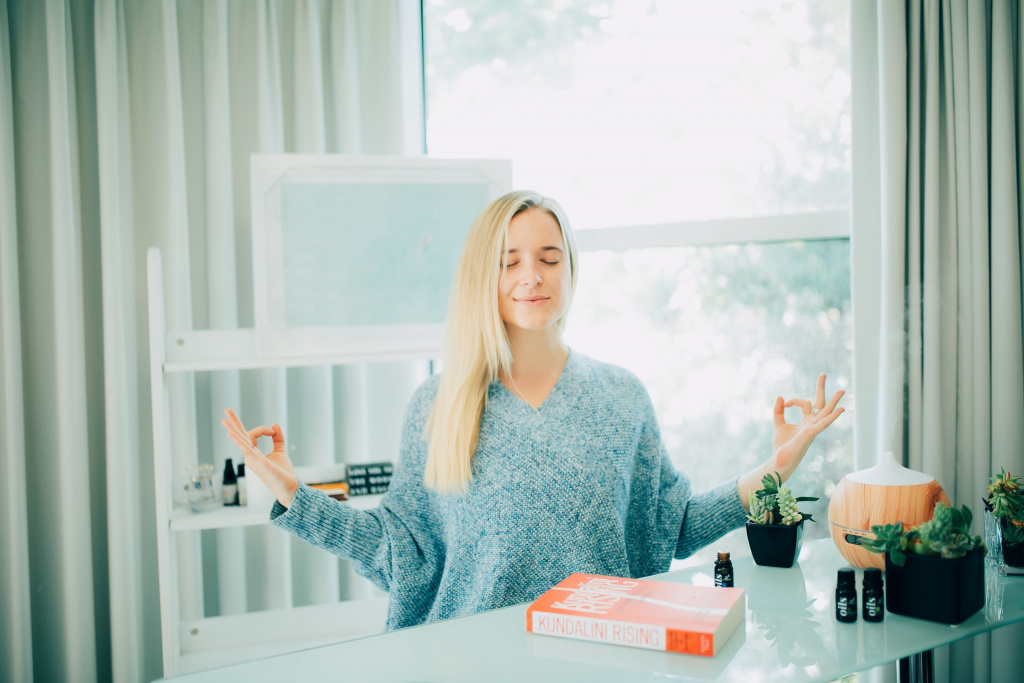 Being totally, deeply, in touch with myself and the universe through yoga, meditation and kundalini has been changing my life as of late. Let me tell you a little story about it all & why this has been the best year of my life.
Story Time…!!!
You know I did my 300-hour teacher training this past year, and it brought up a LOT. It taught me a ton about myself and opened my eyes to an entirely different side of who I am. The side of me that loves to teach, connects with deeply rooted spirituality, thinks less and trusts my gut, allows my intuition to lead the way, and so much more.
After practicing yoga for a good decade, doing multiple teacher trainings, retreats, immersion programs, etc… I never thought much about my own personal spirituality. I wanted to be into it, I read all of the spirit junkie  & universe guidance books by Gabby Bernstein, I occasionally felt major waves of spirituality wash over me in a particularly good savasana or seated meditation — but I just didn't feel super connected in that way.
I've always been more of a vinyasa, sweaty, flow hard to find bliss and relaxation in savasana type of yogi. Even though the mental, spiritual and emotional aspects of yoga have really resonated with me for all these years, I could only ever tap into them through the physical.
Then January 1, 2017 happened.
A lot of things seemed to shift in my life. It was almost scary, in a totally awesome way, how many things began to change overnight. I came into the New Year leading a yoga and intention setting event, and leading up to the event I spent a good two weeks drawing inward to tap into what I wanted to carry with me into the new year and what I needed to leave behind.
I wrote it all out. I made vision boards. I collected probably 150 quotes that resonated with me and what I knew I wanted. I covered an entire wall in my parents' house with colorful papers full of inspiration for what I wanted to do, create, and BE this year.
For the first time ever, I felt so CLEAR.
Clear on what I needed to manifest and let go of in order to be the fullest version of myself, let go of negative energy, and remain in the state of clarity that I was beginning to develop with such a strong force.
I released all sorts of stress and preconceived notions of how I thought things should be, and decided to leave the bad, stagnant energy behind me. I embraced the new year and all I knew it had to offer.
I knew what I wanted above all else was to live the year rooted in love — to not worry about my future, my past, or harp on anything stressful… to just be surrounded by love in my relationships, my career, my routine, and everything I chose to do.
And guess what? I fell in love. Big time. With an amazing human who reminds me every day what it feels like to be so full of love and light it almost hurts (in a good way)… and if I told you that happened on the first day of the new year I would not be exaggerating.
It really did.
He is my best friend and the most incredible person. I will probably write posts upon posts about him in the future (let's be real, I definitely will), but for now I just had to add that in to show you that because I was so amazingly clear on what I wanted to feel this year — love — I was in TUNE with the universe, and I was in the right place to receive it.
The timing was on point. 🙂
It's been amazing. It's amazing how at peace and how much more creative and calm I feel just being head over heels in love. And also being so in love with the ways my life has shifted.
I take so much more time to myself than I used to. Self care has been huge for me ever since my Panchakarma, and my teacher training only strengthened that. Meditation has been a game changer, and letting go of hardcore workouts for a while to really draw inward was a huge help too.
Plus, I found peace knowing that the universe was really, really guiding me. I had released what I wanted into the universe, made it clear, and it was actually coming to fruition. Pretty wild!!!
So after beginning to tap into that universal guidance, that powerful feeling of surrender, spirituality through meditation and movement, trust in my gut as a teacher and of course a forever student… I wanted more.
And THEN, in came kundalini.
One day I will tell you guys all of the crazy ways that kundalini presented itself to me this year. For now I'll just tell you that the word itself came up about 15 times in a row, out of nowhere, nearly every single day, making it very obvious that I had no choice but to try it.
So I did a private session with the amazing High Vibe Livin girls who I met at a retreat in Santa Barbara, and I had what I would consider to be my first super spiritual experience of creative visions and total stimulation and strengthened intuitiveness through breath, movement, and meditation that I have EVER had.
It satiated something deep inside of me that wasn't totally being nourished by my regular yoga practice. It seemed to be the missing link that I needed to keep strengthening my connection with my intuition and my spirit.
Since then, I have done kundalini a handful more times. I am still figuring out how to work it into my life in a way that works best with my full (full, full) schedule, since the physical practice of yoga and also other forms of exercise like HIIT are still important to me for so many other soul-nourishing and stress-relieving reasons.
There needs to be more time in the day. 😉
However, every time I have done it, I have had a true spiritual experience. I've left this planet, metaphorically, and tapped way into myself in a way that has brought so much clarity to light.
Beyond practicing kundalini, the word itself has continued to come up in conversation every single day. Traveling last week, I met a good FIVE people who teach kundalini and have shared even more benefits and awesomeness about it with me.
Then I got back to LA and did another private with Britt & Tara from HVL, and this time I got to do it with my love and even do some partner meditation. Crazy special.
When I was on the east coast last week, everything felt so right.
Teaching yoga (4 days in a row to so many of you — if you came to any of the events in Philly or NYC, comment below so I can say hiiiiii!!), meeting with my amazing agent about our next book idea (very yoga related, as you can imagine…), and feeling totally okay with the fact that I didn't blog once while I was gone.
Also, I feel like my blog has shifted and evolved in a way where I feel comfortable "blogging" on Instagram. I write major captions there, do Instagram stories, release podcasts weekly, have the Soul on Fire FB group (join!!!), all in so many ways to connect with you guys so that I don't feel weird if I'm not blogging as often on this actual blog.
I know things have shifted over the years. I want to thank you guys for being here. The blog will never go anywhere — this is my bread and butter. When I envision myself years and years into the future, I am unsure about Instagram + podcast + all of those social media platforms, but I am POSITIVE I will still be here writing on the blog.
Always. Forevskis.
And I CAN'T WAIT to see where it all goes!!! And I am still so passionate about wellness, nutrition, nourishing our bodies with balanced approach to healthy food, and more — and now there are just new and fun elements to be shared.
It's crazy awesome how our lives evolve. I also can't wait to see how the rest of this year unfolds, and how kundalini and this deeper spirituality I've found will continue to work its magic in wondrous ways.
So grateful for you guys. So grateful for all of the awesome changes and shifts. And stay tuned for a big change this week, to match all of the shifts going down in my life…! Any guesses? 😉
XO