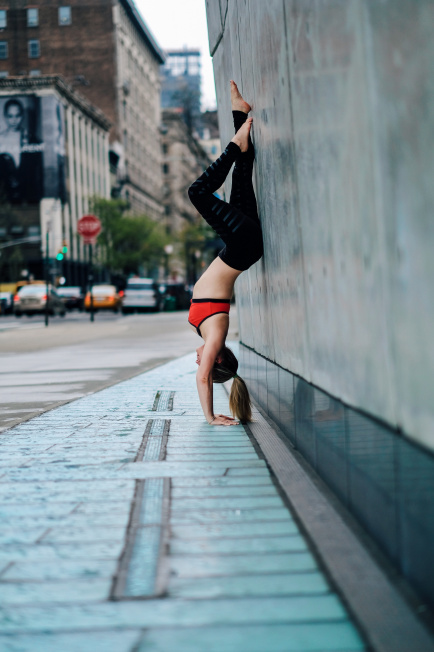 Staying In Your Exercise Routine On Vacation
Hi my loves!
I recently got back into town from Philly & NYC and holy moly, was it a whirlwind. So much fun, but such a total whirlwind.
It's been amazing getting back into my routine and also knowing I have SO MUCH TRAVEL coming up this year (Nicaragua, Ojai, Hawaii, Cabo, Indonesia, Santa Cruz, Cabo again, to name a few…!!!) I have been soaking in my home time with Huddy Bear and all my faves.
Also had my BFF Danielle visiting me this weekend — who followed along on Instagram?! We had WAY too much fun.
Wearing my fave Natori sports bra in my NYC hotel! I am such a huge fan of these bras, as you know I can have trouble finding something that is supportive AND cute. These are a huge win and I am so glad I had a bunch of them with me on my trip!
All photos by Renee Choi !!! The most amazing. Check her out!
The trip was such a blast.
I got to teach yoga at The GOOD Fest which was a total MEMORY MAKING experience for the books. I got to meet hundreds of you (if we met, please comment below and say hi!! Would love to stay connected foevaaaa), give a breakout blogging sesh for VIP ticket holders, and also soak in the magical vibes of all the other speakers whom I love dearly.
More on that soon, but since this post is all about how I maintain my exercise routine on vacation, I'll keep telling you about my trip so you'll see WHY it was such a whirlwind.
After The GOOD Fest, I stayed the night in Philly and then took the train to NYC the next day. That night, I taught a huge and awesome yoga workshop at Pure Yoga on the Upper West Side, and then the following night I hosted my first ever LIVE podcast recording with my lovely lady Rachel Mansfield.
The next day I spent the day at MindBodyGreen (SO FUN) meeting with all my fave editors (I mean, they're all my fave, so I met with ALL of them) and teaching yoga to their team for a rad FB live!
The rest of my trip was sprinkled with photo shoots, catching up with friends (some of my lifelong BFF's live there), meeting with Sarah (lit agent) about my next book idea (EEEEEK), and hitting up a few meetings.
NYC, you'll always have my heart. Man oh man do I miss living in you… my bicoastal days are coming soon, I know it.
SO — I was gone for a week total.
How on earth did I squeeze in workouts!??!
GOOD QUESTION!
I told myself before I left that I would make sure to work out every day in some capacity or another, because sometimes my trips to the east coast can get so packed that I forego my workouts — which usually ends up just making me go crazy.
I've learned over the years (especially while traveling) that I need to move in order to feel sane — but not just move. In NYC I walk miles upon miles every day no matter what, because that's how the city is, but I need to do yoga, run, and really sweat it out in order to keep my body feeling the way I want it to feel.
Plus, exercise is my stress release. So prioritizing it is huge for me.
So… here are my top tips! I hope they help if you have some big trips coming up this summer!
My Top Tips for Exercising While Traveling //
+ PLAN AHEAD! Take a good look at your trip schedule before you leave. In my case, between Philly & NYC and all of the events, meetings, and plans that I had — I only had short pockets of time to exercise. So I blocked out time to exercise in my calendar and made it happen. I planned ahead to schedule afternoon meetings so I could workout in the mornings, and some nights I squeezed in a yoga class when I knew I wouldn't have time to do it earlier. When you make your workouts a priority, you give yourself the time and space to actually allow them to happen!
+ D0n't beat yourself up if your routine is more lax than when you're home! Inevitably, when you're traveling you're going to be out of your usual routine. If you go to HIIT classes twice a week, hot yoga three times a week and run once a week when you're home — you can't expect to squeeze that exact routine in on vacation and still relax, work (if you're traveling for work), see friends, explore the city, try new things, and enjoy yourself. So be cool with switching it up and prioritizing. For me, I knew if I could get my yoga classes in I'd be happy… I knew I just didn't have time to go to HIIT even though at home that's a part of my routine.
+ LESS is better than nothing! I made sure to go for treadmill runs in my hotel gym most mornings even if I only had 20 minutes to do it, because I know I feel so much better when I can get my heart rate up — even if that was a full 40 mins or more less than my ideal runs at home! It's better than nothing, right!? YES. A short treadmill run, a shower, and a long walk around the city all day is perfectly fine with me. (And yoga when I could make it happen.)
+ Workout in your hotel room! I traveled with my Soul on Fire yoga ebook (#boom) so that I could still get my yoga on even when I didn't have time to go to a studio or (let's face it) when I was simply too exhausted from the day's work and the week's worth of events to get to a full-blown studio class. This falls back into the less is better than nothing category.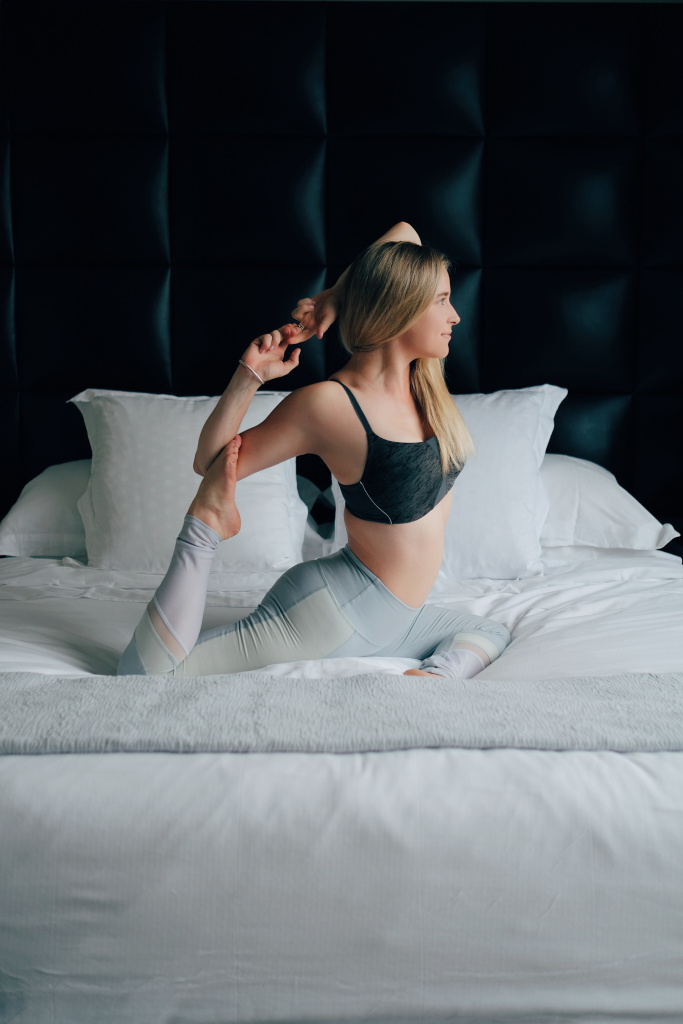 + Pack PLENTY of workout clothes. You don't want the fact that you may not have enough workout clothes with you to prevent you from exercising. That means socks, running shoes, plenty of sports bras (NATORI!), yoga clothes and running shorts (if you're like me and want to switch it up), and whatever else you need. Luckily, athleisure is so cute these days you can usually double up and wear these outfits during the day before you workout too so you're not stuck with ten million outfits in your suitcase.
Boom!! That's pretty much what I've got.
Of course it's also important to find workouts that you LOVE and truly enjoy so that you're having fun on your vacation too. Scheduling in workout dates with friends if you know people in the city you're visiting is a great way to hold yourself accountable and to also make it fun and social in the process.
Also, if you're looking for a good sports bra, I highly recommend Natori. I am wearing their bras in all of the photos in this post, and they couldn't be more comfortable or easy to travel with. They are designed for a bigger bust, soooo if you're with me on that ladies, these will be perfect for you. There is also no underwire which I absolutely love.
Thoughts?! Are you into working out on vacation?! Would absolutely love to hear. XO
P.S. This post was made in collaboration with Natori, but all thoughts & opinions are my own as always!!