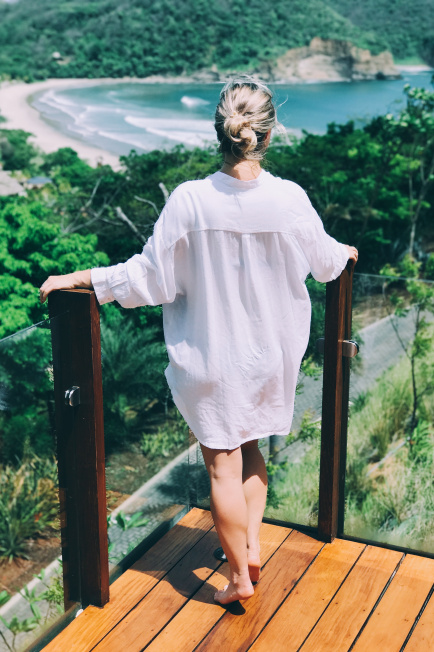 travel diaries // nicaragua jungle heaven
hi angels!
i wrote a bit in my post last week about my recent trip to mukul in nicaragua, a.k.a the middle of jungle-meets-ocean HEAVEN oasis land, but other than talking about all of the HIGH VIBES i am feeling right now, i didn't get too into the details of the trip itself.
SO here we are! i am going to tell you a bit about the highlights of nicaragua, the AMAZINNNGGGG sensational SPA with its seven healing temples (literal magnificence), some of my must-have products and items that i won't travel without, and the art of choosing who to travel with.
i am also going to tell you about my favorite SUNSCREEN & SPF beauty products: supergoop! i have been using their CC cream & sunscreen for a while now, and can't wait to share all the deets of why it's the best in my book and how well it WORKS.
ready?! let's go.
nicaragua highlights //
okay, to be honest.. we really didn't leave the resort because many parts of nicaragua are dangerous and deeply impoverished. we landed at the managua airport and took a two and a half hour drive (!!) to get to our hotel, so we really weren't near a city or town to explore — we were LITERALLY in the middle of the jungle!
i am such an ocean lover, so the fact that our room was right on the beach and we had a little pool on our balcony that overlooked the ocean meant that i wanted to spend the majority of the trip right there on the balcony, doing yoga flows and reading all of my travel BOOKS (book club post coming soon) that i brought with me to soak in.
a main highlight of the trip was doing yoga twice a day in the glorious yoga hut that overlooked the ocean, taught by the LOVELY mary tilson who invited me to mukul in the first place to join in the yogi magic! she also invited me (and jonathan!!) to indonesia is december, so i am stoked that i get to see her again and flow with her again in a few months.
the FOOD was a highlight for sure. i didn't realize that i was so into nicaraguan food, but it is super healthy and vegetarian-friendly (not that i'm vegetarian but i find that when i travel i gravitate toward veg food), so i enjoyed all of the rice, beans, plantain dishes (#YUM!!!), and of course all of the SUPER fresh seafood at our hotel.
lastly, the relaxing was a highlight. i always have to be so go-go-go when i am home, so having the chance to sit down, CHILL, read, sleep in, go to bed early, walk around in a bathrobe 85% of the day and a swimsuit for the rest of it… is my idea of heaven and of MY kind of trip.
and of course the SPA was a highlight, which brings me to my next point!
the SPA of my dreams //
so, the spa at mukul resort is just simply on another level of amazingness. it's like nothing i have ever experienced or seen, and as a certified spa junkie (you know there is nowhere else i'd rather spend hours upon hours upon hours of my life, especially on vacation) i have seen a LOT of beautiful spas.
the spa at mukul has SEVEN healing temples (a.k.a private spa suites with their own POOLS!!!) and i was lucky enough to get a tour of mostly all of them, including this spot in between them all with the most gloriously stunning view of all mukul and the surrounding ocean + jungle:
the treatment i got was in the healing temple, where i got a combination treatment of a cacao foot scrub, acupuncture, deep tissue massage, and shirodhara. shiro is an ayurvedic treatment that is traditionally done as part of a full panchakarma (read my panchakarma experience here!), where herbal oils are dripped onto the third eye and the scalp, and in some cases used also as a wonderful conditioning hair treatment.
i have to say — the acupuncture was the best i'd ever gotten in my life. SILVIO, the amazing therapist who was working on me, targeted my tightest areas within my shoulder blades and neck and the moment the needles went in me i could feel a deep release. he kept telling me it would "balance my energies" — and even though i am a woo-woo person, i can safely tell you that i DID feel more balanced pretty much immediately!
megan was next to me getting a massage also (#ROMANTIC!) and afterward we enjoyed dipping into the temple's two private pools (one hot & one freezing cold) and laying in the beautiful outdoor garden.
note to self: goal one today to travel the world SPECIFICALLY for spa treatments and write a book about it! how cool and healing would that be?
must-have travel products //
okay! this is a fun one. PRODUCTS! i have so, so many travel staples so for this post i will just share my top three.
1. number one is obviously SUNSCREEN. i am a fair skinned gal, and with all of the attention i've put on self-care for the last few years – it would be crazy to not think about my skin and how deeply our skin is affected by the sun's rays without protection.
my longtime favorite sunscreen has been supergoop! and i have been exclusively using their sunscreen products for about a year. (ever since i met their founder + investor maria sharapova and learned ALL about the brand!).
but even cooler than the regular supergoop! sunscreen (and their CC cream which is the only foundation i use and it WORKS SO WELL!!!) is their Super Power Sunscreen Mousse! YOU GUYS. This stuff is amazing.
if you're anything like me, putting on regular sunscreen is an absolute chore – as important as it is. it can be messy, greasy and straight up sticky and annoying. this mousse is light as air, absorbs into the skin extremely quickly, and is chock full of SPF 50 (thank god because like i said — i am FAIR!).
it's non-irritating and uses ingredients from blue sea kale for antioxidant protection to a blend of shea butter, olive, and avocado oils for deep nourishment and moisture. it's also water resistant for up to 80 minutes which is fabulous — because this chick likes to dip in the pool and the ocean as much as possible.
they always stay away from Oxybenzones, Parabens and Synthetic Fragrance, which is a HUGE plus on all fronts.
it also smells SO GOOODDDD (like cucumber and citrus) so i swear at one point i was simply using it for the SCENT when we were back at the room on our shady porch!
it's also easy on sensitive skin which is a must for me. i'd highly, highly recommend. i am always getting asked about my fave natural sunscreen recs, and this is for sure it! shop it HERE!
2. skincare galore!!! i will do a full post on my skincare routine (specifically my travel skincare routine) in the coming weeks, but since we are on the supergoop! train right now i will tell you…
a) their CC cream is a game changer. it gives me this dewy, bronzed glow that i am seriously addicted to. you know i hardly wear makeup at all, but this just evens my skin tone and makes me feel like a bronze goddess when in reality i am usually just totally fair-skinned and splotchy (sensitive skin, i'm gonna be real with you!). i use the light to medium color.
b) their SPF setting mist & setting powder, which both smell delicious and help give you that refreshed dose of SPT 50 without ruining your makeup midday. i LOOOOVE having this with me after a long day on the plane… because there is nothing more drying or irritating for our skin than being in the air all day. the rosemary in it is full of antioxidants that are so soothing to the skin. the powder sets makeup and reduces shine… and as a chronically shiney-faced human, i appreciate / need this.
3. FOOD & SNACKS! you know i bring my bulletproof ingredients with me everywhere i go. so of course i bring my brain octane oil, the coffee itself (which i use with the hotel coffee maker!), my VITAL PROTEINS COLLAGEN PEPTIDES (my skin thanks me for this, big time! you can read all about collagen here), and usually a protein powder or two (currently loving this one & this one), and of course my always trusty bulletproof bars to snack on.
the art of choosing who to travel with //
traveling in such an intimate, personal, and ultimately lovely experience that enables us the HUGE gift of relaxation, free time, and getting to connect with ourselves and the people we are with on a deeper, far-less-distracted-than-day-to-day-life level.
for that reason and for so many others, i am careful about who i travel with. i am such an HSP (!!!) that i really soak in other people's energy, so especially spending such concentrated time together during travel i have to be mindful!
generally i make sure before i travel with someone that we enjoy doing the same things, and/or that the other person is cool with splitting up and doing things on our own for part of the time. i don't do well when someone wants to spend every waking moment by my side, UNLESS we like to do all the same things, so the people i travel best with are pretty independent.
megan, my dear friend who joined me on this trip, is the epitome of someone who loves the same things i do (yoga, healthy meals, relaxing, going to bed early, reading, FaceTiming our friends + fam, watching movies, spa treatments, ocean + pool hanging!!), is also super independent and all around a very positive and uplifting person to be with.
i mention this because i think it's important to be mindful of our energy and protect that sacred travel environment – i am sure we have all been with someone who makes or breaks a trip for us, so if you have the option… be choosy and once you find your most aligned travel buddies, sharing the experience with someone you love is probably the best part!!!
so yes! all in all nicaragua was a BLAST. i'd highly recommend mukul, and would also highly recommend supergoop! sunscreen mousse and their other fab products. use the shopping links below to check them out!!!
also, what's on your dream bucket list for travel!!? i have so many wanderlusty places on my list right now! XO