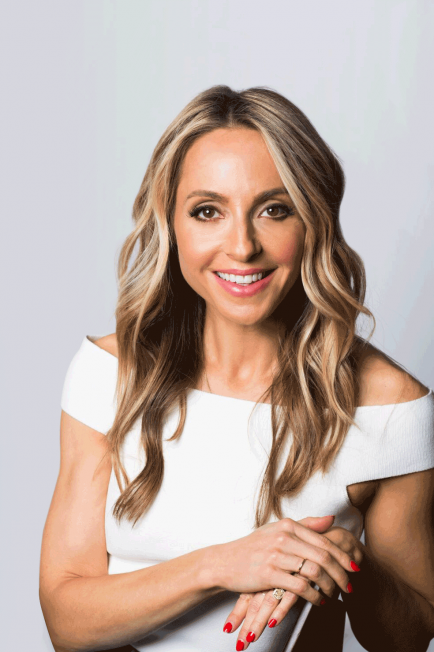 Step Into Your Light With Me & Gabby Bernstein!
Hello hello, my beautiful souls!
I just wanted to pop in and say WHAT UP?!?! because I am so freakin' over the moon about this week's podcast guest & all that she has to offer us. Yes, my heart is legit bursting open right now.
Let's talk about someone who will seriously and truly set ALL of our souls on fire… say hello to miss GABBY BERNSTEIN.
Yes, the Gabby Bernstein.
I won't say TOO MUCH because we have a full-blown super fun podcast episode to share with y'all, and a full-blown LANDING PAGE full of her amazingness so that you can sign up for her masterclass with me – but still. I have a lot to say about her anyway.
Let me hit ya with some background info!
Gabby is the New York Times best-selling author of The Universe Has Your Back (you know I loved every ounce of that book), the creator of the Spirit Junkie Master Class, and overall just a true spiritual leader of our time. She's been featured on Oprah, is a regular expert on Dr. Oz, and even co-hosted the Guinness World Record's largest guided meditation with Deepak Chopra.
Um, whoa.
Gabby's mission? To guide us all through the blocks that keep us from serving the world and rising up in our fullest abundance. To help us find our purpose and live our truth.
She has transformed me & my entire relationship to the universe, and now I want her to transform you (!!!!).
Today on the SOUL ON FIRE podcast, Gabby and I are talking all about her Spirit Junkie Masterclass Digital Course… and offering some crazy rad deals if you sign up before June 29. (THE FIRST DAY to sign up is June 23, so watch her free videos first on my landing page & I'll remind you guys on the 23rd to sign up!)
If you want to deepen your spiritual practice, gain the confidence to own your purpose and take action on your dreams, CREATE A MOVEMENT, and more, then this is for you.
I just want to help you set your soul on fire and I truly believe in what she is doing. The tools you'll take away from this program are invaluable, and you can do it all at your own pace from the comfort of your own home. She gives concert, detailed advice on how to expand your business, mindset, spirituality, and overall LIFE.
To learn more about the Spirit Junkie Masterclass Digital Course, head to thebalancedblonde.com/gabby for all the deets and to sign up!! We are giving away so many FREE BONUSES (!!!) including a Soul on Fire yoga ebook for every human that signs up, and the first five sign ups will get a free one-on-one Skype sesh with me.
Can't wait for you to hear the episode and dive into what she is all about! I would absolutely love to hear your thoughts if you listen, so please do leave a review on iTunes, comment on Instagram, or post in the Soul on Fire FB group to let me know what ya think (have you joined?!)!
Let's Spirit Junkie this ish up together!!
XO,
Jordan