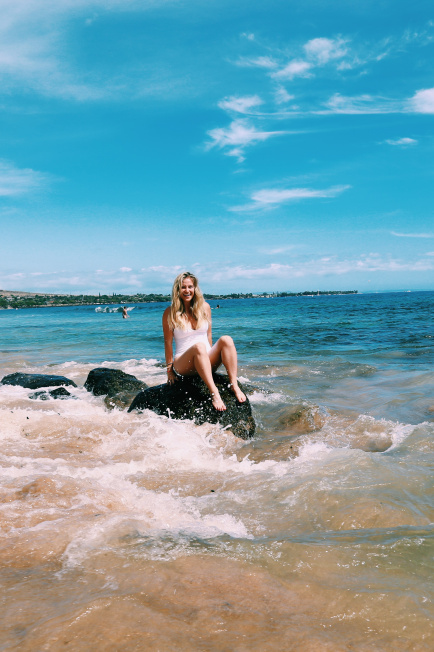 my blogging journey & tips for getting started with YOURS!
hi my angels!
writing to you from the beautiful, magical, sun-soaked island of MAUI in hawaii! i am currently sitting on my balcony, cross-legged (duh), overlooking the ocean, listening to the rolling waves crash into the shore, and spying down on my cute parents, sister, and niece chillin' by the pool while i chug kombucha and type out this post.
( fun fact: i have been told that i have an unusually loud typing-noise, and i think it's because i type like an absolute maniac. my fingers move PSYCHOTICALLY fast, not as fast as my brain, but i have had a lot of practice over the years so it can sound pretty wild… lol. just thought of this because i was just in ojai with some of my best girlfriends + this came up a LOT! )
i have so much i want to share with you about ojai, my insanely amazing spiritual experience with energy alchemy while i was there, maui so far, and more, BUT today is somethin' special and i want to get right to it.
( i'm working on posts about everything else that will be live while i am here in hawaii! )
my blogging journey!
so i recorded a solo podcast episode before i left town the other day, which you can listen to here.
it is all about my blogging journey…
including the details of how i stumbled into even starting a blog / instagram, what my life in New York looked like when i first started blogging (while in grad school!), the first product i developed, the second/third/fourth products i developed and how they worked / didn't work (because trust me, some did NOT!), WHY i decided to start blogging full-time, some deets of my eating disorder (i mean, it was happening at the same time so…. couldn't avoid talking about it! #OPENBOOK), what i've learned, how to prevent burnout, etc.
it was a really fun episode to record because sometimes it can be so nice to just talk directly into the microphone and share with you guys in that way. there are no other energies to balance (as much as i love / adore / am obsessed with my guests) and i can just SHARE. from the heart & soul. one of you awesome humans told me it was like having a long, deep chat together. and that is ALL i want, so that made me very happy.
sharing my blogging journey with you guys and hearing HOW MANY OF YOU are into starting your own blog, have started blogs and are thinking about diving in full-time or more seriously, or have an idea for another creative business really got me thinking.
i want to provide really tangible, helpful info for those of you who are diving into this awesome industry. so i will definitely be doing a lot more podcasts on the topic (woo!) and can't wait to share more on that front.
huge tip below, one of the juiciest & biggest and i don't talk about it that often so let's dive into it!
let's talk about MENTORS!
i have a lot of mentors. i am really lucky, as you'll learn in the podcast episode, because i am surrounded by successful, driven individuals from my BFF / business guru brandin, to my boyfriend / business guru / teacher extraordinaire jonathan, to my entrepreneurial & extremelyly business-savvy dad (in fact, all he wants to ever talk about is business lol), to my longtime idol & spiritualality-meets-branding mentor gabby bernstein, to my agents and managers, to BOOKS (so avail to all of us), and so much more.
i believe that having a valuable, trustworthy, confident mentor is one of the most tangible and realistic steps that you can take when it comes to formulating ideas and a plan for your new business. it also makes things more FUN, because you have someone to bounce ideas off of (or a whole community, depending on whether your mentor has a community or social presence to join in on!!) and someone to learn from.
in many cases, having a mentor helps prevent some of the errors in the inevitable trial & error process of starting a business. not all, because they ARE inevitable and you'll want them because you'll learn from them — but the big no-no's that could crash and burn your excitement and your ideas are the ones they'll help you avoid.
AN OFFER, for those who are ready to take the next step with their business + ideas!
one of my top mentors, the beautiful and beyond successful & abundant gabby bernstein, offers an annual Spirit Junkie Masterclass Digital Course that can be done in the comfort of your own home & will legit rock your world.
if you've been reading along lately, then you know i've mentioned it a lot, but TOMORROW is the final day to sign up. so really, i'd do it today. (who has time to fret about doing it at the very, very, very last sec?)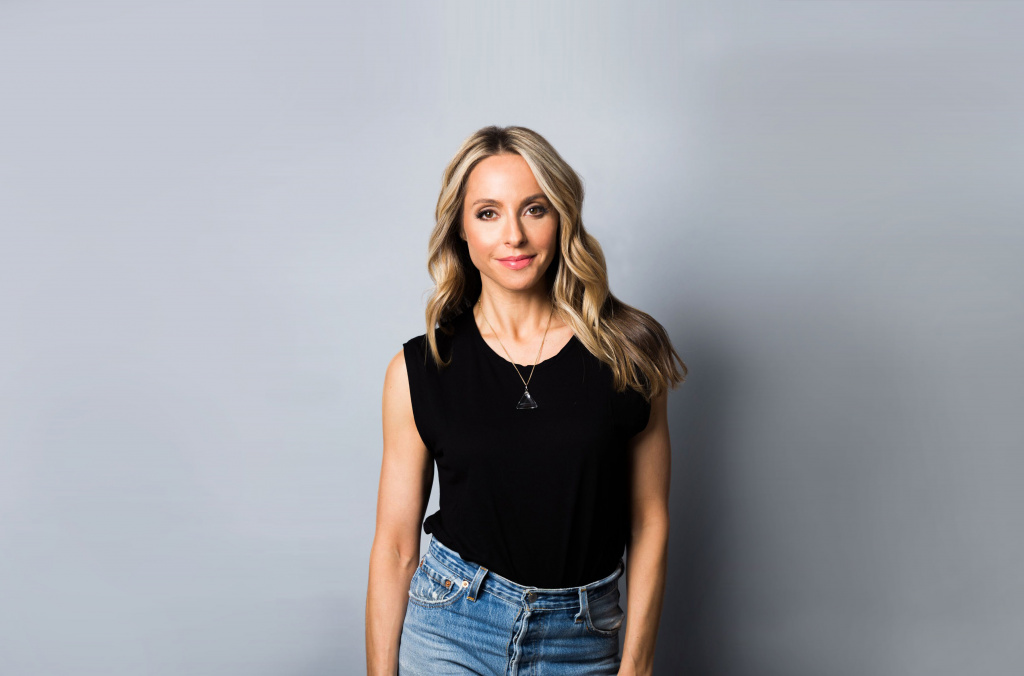 it's rockstars like GB who have paved the way for so many of us wellness-obsessed entrepeneurs to create businesses off of the things we love most!
gabby's masterclass signup link is open for ONE more day, and you can sign up here!
there are a lot of things that set this course apart from so, so many other business + spirituality courses out there that are similar.
in general, i don't promote business courses. i had a few bad experiences and i even had a bad-ish experience in grad school (#gradschooldropout), so if i'm going to tell you about something it's going to be because it's different, BETTER, more practical, and more spiritually aligned with my mission (and hopefully yours too!).
a huge thing that makes gabby's course different is that there is LIIIIVE energy within the course!! although it's all online, it has been filmed in ultra-crisp HD video and audio beforehand with the super fun, electric energy of a LIVE crowd because that's how she filmed the entire thing with her amazing rockstar guests! you'll feel like you're right in the room, with the best seat in the house.
it's truly one of a kind. she is goals.
by the way you'll also have lifetime access, so if you're like me and you're terribly fearful to commit to something big like this for fear that "it's not the right time, i already have SO MUCH GOING ON!!" then you don't have to worry about that. the course will be available to you at ANY time throughout the year. but you can only sign up now!
more amazing deets:
gabby, like me, believes that the fastest path to business success starts with enriching your spiritual practice. in my opinion and in my experience, you really truly cannot create something meaningful & huge & abundant without first having that deep, authentic, spiritual relationship with yourself.
and I'm not talking about religion. i'm talking KNOW YOSELF! meditation! yoga! journaling! DEEP. DIVE. discover what it is that makes your heart beat a little faster, and go after it.
throughout the course you'll learn techniques and methods that will help you tune in to your inner wisdom and really hear what's calling you. we all have access to that, but so many of us are shut off to it.
this course is about SO much more than just getting stellar business training — it's also about creating the kind of spiritual experience that allows you to embrace your purpose and take action with conviction and confidence you've never felt before.
you don't need any pre-requisites or a pre-existing business, and it's totally cool if you do or don't! the only, only, only requirement is your willingness to grow and serve.
boom! yes! do ittttt. signup is here, and it's available until tomorrow, june 29th, and 6pm EST.
that is my TOP tip for creating the business + life of your dreams. to commit to something bigger than yourself. learn firsthand from someone as knowledgeable and incredibly successful as gabby B (new york times best-selling author and so much more!).
my other top tips for starting a blog & growing a business…
+ stick to what you're passionate about // if you're going to create a blog, make sure it is relevant to a topic you could talk ENDLESSLY about! you never know what this might turn into for you and you don't want to set yourself up to get burnt out or to run out of ideas.
+ join a passionate community of likeminded individuals! // this could be anything from a Facebook group (the soul on fire podcast tribe on FB is on FLEEK, just sayin!), a fitness or wellness community or studio in your area, a blogging network online, a newsletter where you can chat with other people who are on a similar path as you, or even make friends on instagram!
+ engage with others, support, and don't compare yourself // i think what really sets successful bloggers apart is the non-competetive and non-comparison factor. there is room for all of us. there are billions of people on the internet. support your fellow bloggers and they will do the same in return!! engage authentically with their posts and content. and don't get too wrapped up in what they're doing and/or try to imitate, you do YOU and that's all you need to focus on!
+ MORE !! listen to the pod episode to dive deeper with me, and head to my GABBY landing page for full info on the spirit junkie masterclass and to join this journey of a lifetime while it's still available!
SaveSave