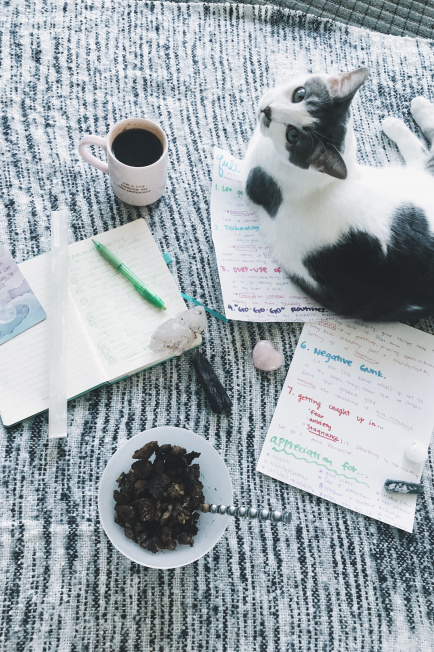 Real Talk & A Bulletproof Coffee Recipe
Happy Saturday eve, babes. I'm throwing it back to basicallyyyy every Saturday evening of 2013, 2014, and 2015… and bringing you a straight up Saturday night heart-pour post. And a Bulletproof coffee recipe because it's the top requested thing from me ever, ever. It's the last night of September and I am feeling nostalgic, in tune, full of clarity, and inspired.
One reason for all of the feelings is… I am bursting with adrenaline for something I'm LAUNCHING tomorrow and am reallllyyyyy over the moon about. The idea came to me in a vision post-kundalini not too long ago, and I feel the new venture really captures where I am, the direction I am moving, and all that I want to begin sharing more of with you guys.
I can also tell from hearing from a lot of YOU that this is something a lot of you are getting into too, so it's something we can all explore together… #spirituality, but deeper. Very, very excited to get my new baby, SPIRIT JUICE, out into the world and see what the future holds.
REAL TALK //
On that note, and not in a bad way but just in a real way — my career future has almost never felt more undefined. I feel like I could go in ten trillion and one different directions, and for my personality type that is always kind of paralyzing.
When I am in the flow, listening to my intuition and just making moves as they come, things are EASY peasy. But when I am faced with decision after decision about what to focus on, which path to go down, who to potentially hire, who to potentially work with, what to say yes and no to, when I really just want to do it ALL and expand in EVERY direction yet also keep all of the control and choices to me, myself and I… it can be tough (and paralyzing) to say the least.
I wish you could see the amount of things I've said "yes!!!" to, ranging from huge career-altering projects to small little plans throughout the week, and then had to go back and say, "actually, I'm so sorry, I just can't right now. I completely overshot my time / energy."
So right now I am trying so hard to keep space and time open for myself to create and be spontaneous and be in the flow, which is 100% how I work best. Instead of getting all tripped up on everything that's on the horizon for me, as thrilled as I am about it all.
I feel it's important to be clear and honest with you guys about that. I know I am always sharing how much I love what I do, and I truly do. Blogging is my perfect-fit career. It changes every day, I get to connect with amazing humans, I spend the majority of my day diving deep into wellness and fitness and yoga, I get to write and create from the heart which challenges and inspires me daily, and no two days are ever the same.
But that daily fluidity has its challenges too, and right now I know that remaining focused on honing in, trying to only say yes to the big and perfectly aligned opportunities, and continuing to clear and create space for what I know is to come.
And by "what I know" I really mean… what I BELIEVE. It's more like what I see, feel, and vibe with when I am STILL and in the flow. I know what is to come in the sense of how it feels, some general direction of what I will be doing, etc. but then again it's all a bit hazy on the specifics. I could still go in a bunch of different directions, especially with my newfound loves of kundalini, reiki, shamanism, crystal healing, intuitive abilities, automatic writing, astrology and the moon cycles and wanting to do ALL OF THAT full time basically… just to name a few.
Beyond the spiritual path I am continuing down, a deep part of me knows and believes that there are tons of stories wanting to come out of me, in the form of writing not just non-fiction but also fiction. There are a few books and even movies I have in my mind  that are itching to come out — and those also require stillness, time to myself, and growing more and more comfortable standing in my power of saying "NO."
The hardest part right now is that I continue to struggle with the sheer amount of responsibility I feel to communicate with and get back to everyone who reaches out, vacillating between knowing I need to retreat to a deep place of solitude very soon or else I may snap (I am feeling another Panchakarma, or a long phone free vacation with my love), with also wanting to people please and see everyone / do everything I can.
I have a deep knowing of how people feel on the inside even when they express something else on the outside, and I have a lot of trouble saying "no, I can't hang out" or do this / that / the other while knowing it might hurt or inconvenience them and then I will see that written all over their face or feel the vibe even through email.
But in my heart I know I have to in order to keep protecting my energy field and finding the space and energy to bring the ideas to life that are inside of me.
So that's what I am dealing with as of late! They are good problems to have, and there is zero bit of complaint coming from me about it. Just realness so you guys know what's up!
I am so deeply and immensely grateful for everything that is coming up for me right now. My life is expanding, my worldview is expanding, and because of that… my brand is expanding with all the new spiritual momentum I'm picking up. That means that I have to be even more diligent with how I spend my time and how I spend my energy.
I hope this makes sense to you guys and as I sat down to write this post tonight it just flowed out of me, so… here it is!
On another note… Bulletproof Coffee! //
On a whole separate note, you guys have been asking me like wildfire for my bulletproof coffee recipe. I have shared it on the bloggy a few times but I am always adapting it and adding in some changes, so here are my current bulletproof deets:
FYI, the original & trademarked Bulletproof Coffee recipe is made with Bulletproof brand coffee, which is also amazing, but I often use what I have on hand which is Chameleon cold brew that I pick up at Whole Foods! I also like cold drinks so I don't brew my own hot coffee for that reason. 🙂
Benefits of the Bulletproof lifestyle = increased mental clarity, kickstarts your body into burning fat instead of burning glucose, gives you a good healthy dose of fats (BRAIN stamina!) to start your day, boosts energy, has no sugar, wards off cravings for sugar and not-good-for-you foods, and also it tastes delicious. I am a fan for so many reasons!
Adding collagen is a win-win because for women, so many of us suffer from unstable hormones (myself majorly included) so having that protein in the mix helps our blood sugar from crashing and burning and also gives us that nourishment we need.
Of course, everyone is different so find your groove with it. Bulletproof is most definitely not for everyone and shouldn't be used as a tricky way to eat less during the day… but rather, to kickstart your day with a healthy habit! AND personally I am never hungry in the mornings so this is the best and my fave breakfast option.

Yes, there are a few different moving parts to this post and I had so much fun writing it for that reason. 🙂 If that gives you any indication of how my brain works… #creativebrainprobs.
Let me know what you think below of my current sitch, the BP recipe and anything else! Love you guy and if you're reading this on Saturday night… we are kindred spirits. <3 
SaveSave