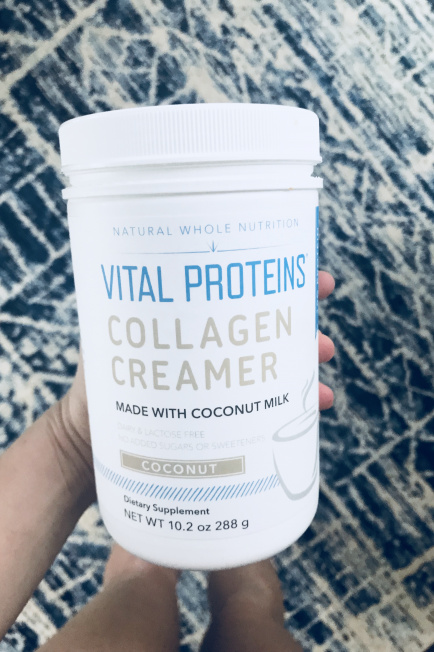 Quick Tip: Collagen Matcha Is My New Fave Thing
If you read my latest post about my functional medicine journey, then you know that I recently found out that I am ALLERGIC TO COFFEE!
Extremely sad for the girl who has been a diehard Bulletproof Coffee drinker for the last several years.
My heart sank when my tests came back and were off the charts red (meaning "Very, Very High" allergy) for coffee… but I have to say, I have made due without it quite well this past week!
Even harder than coffee has been eggs, almonds, and mushrooms… because the first two are in EVERYTHING and the third I am addicted to because of Four Sig's Mushroom Coffee!
Anyway, I digress.
I am popping in tonight (before I fly to CABO for the rest of the week!) to share with you my favorite matcha recipe I have discovered from playing around with the matcha life for the last week.
Ready?
Let's do it!
BULLETPROOF MATCHA + COLLAGEN //
Ingredients:
1-2 tablespoons Matcha (I have been switching up my brand but right now using a Green Tea blend from Nuts.com)
1.5 cup hot water
1 tablespoon MCT oil
1 tablespoon coconut butter (or ghee)
1 scoop of Vital Proteins' Dairy-Free Vanilla Collagen Creamer (it's new and it's AMAZING!)
Method:
Heat the water over the stove or in the microwave
Pour water, matcha, MCT, coconut butter or ghee, and the collagen creamer into a blender, blend it up, and enjoy!
I have been sipping on this SO MUCH lately and I am totally addicted!
Also, a few words about the collagen creamer… as you know, most coffee (or matcha, if you're me!) creamers are chock full of unhealthy ingredients like added sugar, artificial ingredients, carrageenan, and hydrogenated vegetable oils. This one is full of natural ingredients with nothing weird at all.
All it has is organic coconut milk, collagen peptides, vanilla bean, and yummy spices like nutmeg, ginger, and clove.
Not only am I feeling a good zing of energy from my morning matcha, but I am also not feeling depleted later in the day or jittery at all like I had been with coffee lately… much to my dismay.
What are your thoughts?! Are you a coffee person, or a matcha person?! Let's keep the convo going… tell me below!