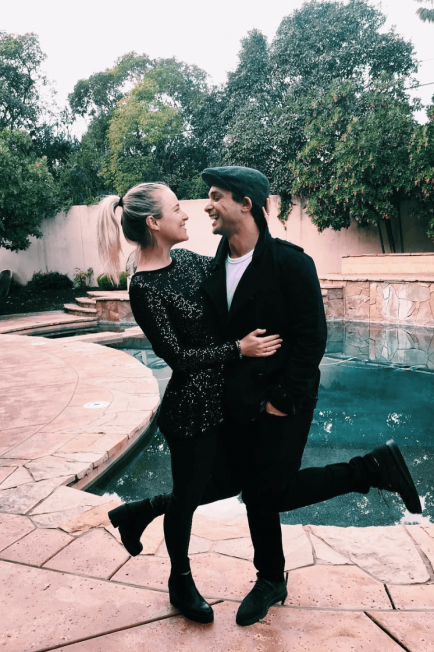 HELLO, and Happy, Happy New Year, my angels! This last month has been a wild ride. Every time I told myself, "I can't wait to sit down & write a blog post today. Like for real, my soul is aching for it," something would happen.
What kinds of things, you ask? Well, I will tell you:
My computer crashed. (This happened in Bali every time I tried to use it! Hello, a message from the universe for SURE.)
I spent two weeks in BALI, and my heart was so happy away from the computer & living in the moment. I will be sharing all of my trip recaps soon, but while we were there it was all about real time moments and less screens.
When we got back, my family came into town & made lots of fun plans that I decided I didn't want to miss out on because of being "too busy" working (as I have been many times in the past.)
My health flared UP. I will get into this below, but between my eczema taking a turn for the critically severe, learning that I have a large fibroid on my uterus, dealing with an abundance of endocrine issues, and my usual tummy probs… I was down for the count, and I've been so determined to get to the root of my problems that I spent more time reading & researching than doing anything else.
I went to Nor Cal for the holidays & soaked in even more glorious family time. I have young nieces, it was Jonathan's first time in Sacramento so I had so much to show him, AND the holidays are the one time of year where all of my best friends that I grew up with are in one place. So… I had no time or place for screens! It was all about family, unwinding, and soaking in my hometown magic. It was amazing and much needed.
I was… tired. I realized a lot of things at the end of the year, one of them being how incredibly hard I push myself and how detrimental that is to my health in the longterm even if I feel like I can "take it" for days, weeks, and even months at a time. My tendency to push myself so hard has had longterm effects on my health, and I basically crashed the moment I allowed myself to breathe.
When I did have energy, I had to podcast! My podcast is on a strict releasing schedule of every Wednesday at 6am EST, and it's funny because it's the one thing in my life and my business that is truly ROUTINE. I have seen that consistency with podcasting is the way to go for growth and dedicated listenership. I am usually so far ahead with my podcasts that the weekly deadline doesn't even matter to me because it all gets done way far out, but after travel and the holidays I got straight up BEHIND! So when I did sit down at my computer, it was to record episodes, interviews, and ads! At least the pod has been running smoothly. 😉
Those are just a few reasons why I have been mostly MIA from computer-land for the last 5 or so weeks.
And can I tell you something about it? It feels really good. Sure, I went through the guilt of feeling like I should absolutely be blogging more, sharing my Bali recap right when we got back, posting my yearly holiday gift guides and healthy holiday recipes… but the universe (and my body) just wasn't having it.
In fact, my body REALLY wasn't having it. I have shared a bit on the podcast and Instagram that I am dealing with a baseball-sized fibroid on my uterus as well as a painful, itchy, full body rash. I went to the dermatologist today and the rash was finally diagnosed as severe eczema, and I will hopefully be getting it under control now that I know what I'm dealing with. During the holidays I read the book Woman Code by Alisa Vitti and it became CRYSTAL clear to me that my problems are 110% hormone related.
So not only will I be taking the steps this year to take care of my own hormones, but I will be doing it the natural way as much as possible. AND I will be sharing here with you guys.
So here I am now, on January 2nd, 2018, feeling refreshed in every way. I needed time to process, and to begin to heal from the inside. And now I want to share with you my intentions for the year and a few things you can expect to find on the blog in 2018!
A few things you can expect to see on the blog in 2018:
+ dealing with hormone issues naturally, especially the topics of plant medicine, herbalism, herbs that help to shrink fibroids and nourish the adrenals, exercising with hormone issues, how to deal with high cortisol and low blood sugar, and how to heal skin problems naturally
+ lots of healthy, simple, plant-based recipes full of protein. I am not going full vegan on ya again, but I have been incorporating a lot of plants into my healing regime. I have discovered so many yummy combinations and simple ways to spruce things up with my currently very limited diet… so I will be sharing as much as possible! Desserts too!
+ speaking of recipes, lots of healthy adaptogen-filled elixirs. I have been SUPER into dandelion tea with chaga, reishi, ashwagandha, and chickweed… and I have lots of recipes to share so you can make your own at home!
+ SELF-CARE, times a million. I am starting the year with a full Panchakarma the week after next, and I am so excited. You can read all about my last Panchakarma here, with details of what the treatment is. I will also be focusing heavily on acupuncture and cupping every week (with my acupuncturst Dr. Kara, I highly recommend her if you live in LA!), infrared sauna, kundalini, meditation, journaling, and my morning self-care routine. I will be sharing all of it here, and the new things that I discover!
+ my spirituality go-to's like reiki, manifesting, intention setting, astrology (hello, SPIRIT JUICE!), mediums, and how to get in touch with your intuition to heal your life from the inside out.
+ MOON PHASES, zodiac signs, & astrology deets in general. <3
+ TRAVEL! I have some fun travel plans in the works, including a retreat I will be hosting in Kauai in June. Stay tuned for more details on that! I will also be going back to Bali, and spending some time in my favorite places — New York and Ojai to name a few. Of course my BALI recap is coming. 🙂 Even weekend trips, as those will be a big part of my 2018.
+ podcast episodes with some of my greatest idols & inspirations. Send any recommendations you have my way when it comes to podcast guests! I have lots of goodies lined up for you!
+ more in the moment, real time, lifestyle, shorter posts. A huge goal of mine this year is to share more on the blog. Once I started my podcast, my blog took a bit of a backseat. I don't love keeping it that way, because writing is my bread and butter… and was my first ever way to connect with you guys. I don't ever want to lose that. My goal is to share more on the blog this year, even if it means keeping some of the posts short and sweet, and simply about my lifestyle & personal life!
+ the importance of a CLEAN, ZEN SPACE. I will be moving this year, and I fully intend on moving into my dream home with lots of clean, zen, open space. Learning to keep my space more open and tidy has been a game changer & something I am yearning to write more about!
Other than that… tell me what YOU want to see. I know my blog has taken a new direction over the years, and it's become a full-blown lifestyle. From spiritual techniques to having a podcast to manifesting the life of your dreams and now HERBALISM… I love that you guys have stuck with me on this path toward doing & sharing what I love most.
Also, the above are my intentions for the New Year. I will also write them out in tomorrow's post so you can read them more clearly! It should give you an indictor of what I will naturally be writing about on the blog. 🙂
As you can see, it's all about self-care, herbalism, syncing with my cycle, and more. If you're looking for resources on cycle syncing, I DEVOURED the book Woman Code while I was home! I highly recommend, I think you guys will love it and I truly think every woman should read it. It's so empowering to learn the ins and outs of our bodies.
Tomorrow I will be sharing a post about how to set your intentions for the year, since it's a question I receive frequently! Let me know if you have any pressing questions about it here on this post and I will include it in the intention setting post.
Wishing you all the happiest, healthiest New Year. We will crush this year together and we will all feel our absolute best… I can feel it!
XO,
Jordan
SaveSave