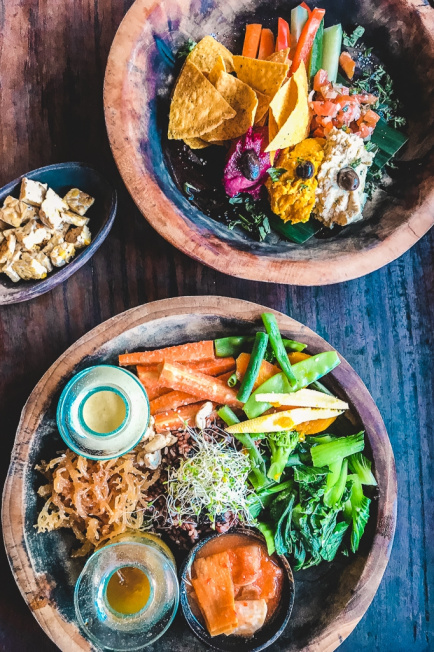 Hiiii tribe! WHAT'S CRACKIN'?
Many of you know that I am in Bali, and that I came here on a solo trip to unwind from the pressures of daily life & embark on a healing journey for my body and soul.
That means I am 100% NOT WORKING, doing brand collabs, sponsored posts, writing articles for deadlines, any of that jazz and wowowoww I feel…. so good.
I realize it is a very massive luxury to be able to do this, and that is not lost on me. That is why I feel it in my bones so important to share this journey with you guys reading because it is very possible for you to manifest the same in your life. Years ago, I never could have done this. Walking away from steady freelance work would have felt like a sin!
This year when my health exploded I knew it was time, for the first time since starting my business five years ago and working myself to the bone 365 days a year ever since, time to do something for ME and try my best to let go of what that might mean for my business, my blog, and everything else.
And holy shit you guys, all I can say is… WHY DIDN'T I DO THIS SOONER?!
I have been here for about 11 days now and I will take you through the rough arc of my emotions and experiences since I've been here:
The Day I Left: VERY apprehensive, questioning my decision to go, devastated to leave J & Hudson, left my purse at Erewhon with my passport in it and realized it once I got to the airport, just barely made my flight (that had actually been cancelled by the airline the day before I was set to leave but that is a long-ass story in itself), covered from head to toe in raised bleeding itchy mountains of hives, slept like a baby thanks to Xanax for about 13 hours, seven hour layover in Sydney where my emotions started to turn around…
Arriving in Sydney: Once I got to Sydney for my long AF layover in which I planned to leave the airport and explore the city for a few hours, I learned that I could not because I didn't have an Australian visa. Whoops. This whole situation ended up being a blessing in disguise because I staked out at the Sydney airport, guzzled juice and smoothies from an airport juice bar (#thankgodforitsexistence) like nobody's business, and started to plan details of my trip I hadn't even thought about before I left. Which is very me, by the way. Can't plan something in full really until it's HAPPENING!
At the Sydney airport, I… researched the sh*t out of Kambo, an ancient shamanic healing treatment in which frog venom is applied to little burns on your skin and leads you to purge everything from toxins to negative energy. I had heard amazing things about it, and I found a practitioner in Bali online, reached out to her (spoilers: she responded and I did the treatment over the weekend! That will have a full post in itself), and planned it. I also started bookmarking classes at all the local yoga studios and researching healers I wanted to see and reaching out to all of my friends who have been here to get their highest recs. VERY productive time at the airport that I am so grateful for!
Flight from Sydney to Bali: I will say, I am normally a glass-half-full person, but if I'm being real this flight was hellaciously miserable. I had already been traveling for over 25 hours, and my skin (as I mentioned) was broken out in the worst rash I have experienced in probably my entire life. I somehow had a window seat although I have a hard rule with myself where I will ONLY sit in the aisle so this mixup through me for a loop. I like to get up a ton of times throughout the flight to stretch, and feel free to drink as much water (i.e. have access to the bathroom) as much as I please. The flight felt about triple as long as it actually was, which was a little over six hours. And the books I impulse bought at the airport were not enthralling enough to distract me from my misery or from scratching my arms until they bled.
LONG. FLIGHT. EXPERIENCE. And I am fully aware as someone with misophonia who generally cannot stand people chewing next to me on flights, itching / scratching their skin, making noises with their mouth, etc. that I became the girl who was ripping her skin off in the seat next to a stranger. I have a very strong feeling he had a little misophonia himself because he was not too pleased with me, but I couldn't help myself. Full blown hives outbreak rage was happening on my body and sitting pressed up against a window in a sweatsuit I'd been wearing for 30 hours in 3 countries just wasn't cutting it for my sanity. You could say it gave me a little perspective. 😉
Anyway, once I actually landed… I WAS ECSTATIC. I had a very kind driver named Molly (arranged by my friend Emily, also from Sactown, who lives here and is a godsend) waiting for me at the airport and he drove me from Denpasar to Ubud, which is about two hours. For someone who desperately needs to know how many minutes / hours a car ride (or anything transportation-related for that matter) will take… I was instantly reminded that accuracy goes out the window in Bali. LOL. For instance, if the driver tells you it will take an hour it could very easily end up taking two and a half. I should take a page out of their book on the patience front though, that is for sure. They are never in a rush and I really admire that.
Getting to my AirBnB: Similarly to the whole potential inaccuracy of minutes it will take to get somewhere, I have also learned about the potential (and highly likely) inaccuracy of AirBnB's in real life vs. online here in Indonesia. I thought I had rented a beautiful villa for the month, in the center of town, with its own pool and the only person living there would be ME. But when I arrived I learned that my villa was part of a larger group of villas, and mine itself was very tiny. No kitchen. Not quite in the center of town. Not the safest vibe there. Did not speak to my soul hardly at all.
Still running on the anxious adrenaline of a 35 hour travel day I… hopped right on my computer and booked three other hotels to move to throughout the week before I found a fave to stay for good. I am still working on getting my $ back for the very-different-looking-from-its-photos AirBnB but that's neither here nor there. I learned a great lesson nonetheless, which is… don't book something for 21 nights in a row if you've never seen it or don't have any direct recommendations from someone who you know and trust. (Jonathan tried to tell me this before I booked it but I hastily did it anyway because I thought it would be nice to have my own house — which it didn't end up being — that I didn't have to worry about moving from. I wanted to feel the experience of LIVING here vs. being in hotels.)
The moral of that story is that… I like luxury and when traveling alone it is very important to me to feel completely safe. There was no reason to fear moving around, being SPONTANEOUS, or spending more money on nice hotels and accommodations, because I worked daaaamn hard to get myself here and its not every day I get to live in the most magical city in the most healing of places in the world.
Day One – Five: Once I got here and settled in, the days started blending into each other in the BEST WAY. I moved to my new place on the first day and instantly felt more at home. My new hotel was on the same street that J & I stayed on the last time we were in Ubud, so I felt safer and more familiar instantaneously. I deleted Instagram from my phone, lost track of which day it was, felt a deep fire igniting within me to write poetry and express myself creatively in that way for the first time in so long, let go of my idea of what I "thought" I would be writing here that fit the mold of what I "should" be doing and just let it all flow. I read two books a day, started to feel more free than I ever have in my life, and my rashes also started to completely go away…
I have been getting at least one massage a day, as they are only about the equivalent of $10 here for AN HOUR AND A HALF… and that has been so healing for my body as mind as well.
Day Five – Seven: For a few days I stayed in the center of the Ubud rice fields and this experience absolutely changed me. To get my hotel I had to walk 20 minutes up a tiny dirt road path (or take a motor bike but let's be real I am kind of scared shitless of those things and most people here don't wear helmets or have them available for their passengers) and my views from every angle were fields and fields of rice paddies. I rented a FULL house that was for about a 10 person family (lol) because after my initial experience I did not want to end up anywhere short of the luxury and space I was looking for.
I realized I might have overdone it a tad when I got there and the staff was flabbergasted that I was a party of ONE for what they call "The Mansion," but I think it happened for a divine reason and that reason was… I fell madly in love with my serenity and freedom there. I want to host a yoga retreat there next year — WILL YOU GUYS COME?!
This is where I got REALLLLLYYYY into the poetry groove. Suddenly, pages and pages and pages and pages started flowing out of me out of the clear blue sky. I began channeling a beautifully influential teacher of mine who passed away last summer, and she shared with me that poetry is going to be a big part of my present & future. She even dropped the names of so many poets and songs into my head for me to listen to for inspiration, and she told me why Broadway music has always been so important to me… because it ignites my soul on a deep level and is most often channeled from a higher place as well. Pretty nuts. She also wrote a bit poetry through me and it is absolutely beautiful.
Day Eight – Eleven: As I said, the days just keep blending into each other which feels amazing. I turned my Instagram back on and it's kind of a love-hate thing right now. For one, I do feel deeply passionate about sharing imagery and experiences from this trip on my platform. For two, I freakin LOVE connecting with you guys and sharing with you where I am and what's going on. And for three, there is a very strong businesswoman that lives deep inside of me and she's like "Nuh uh honey, you ain't walkin' away from the career that has supported you for five years… not even for the downtime YOU NEED." That final piece is the one that I struggle with. I am very grateful for my career, and I don't want to walk away. But I do have a deep, deep awareness that changes need to be made in order for my overall health and happiness to prevail. And I don't need to be so dang addicted to the phone whatsoever. So I am working on that, and being here is helping a lot.
A few big revelations with that are that I simply C A N N O T continue to do paid partnerships that are not completely aligned with my heart and soul. Just can't. I stopped doing that a while ago but I feel the desire to hone in even more deeply now and focus much more on my writing, poetry, my own content for my own brand, and a few new projects that have come to me with massive clarity since I have been here. Once I bring some of those to life, I foresee myself working with no brands in the future other than my own. Plus the occasional brand or two that really gives me life, because I do have a few of those. 🙂
Another revelation is that I really want to focus on solo episodes on my podcast moving forward. I will still have guests who really align, but as a reflector (listen to my human design episode with Jenna Zoe if you don't know what I'm talking about!) I get exceptionally wiped out from long interactions with others. Even though a pod episode that you guys hear is about an hour to an hour and a half, I am usually with my guest for double that amount of time and then recording intros / outros / midway ads for at least another hour or two per episode. Yes, they get cut down to a few minutes but I am a perfectionist by nature and it takes a lot for me to be satisfied with what I put out there.
For those reasons… something that feels so innately right to me are solo episodes. I can share so much of what I have been learning that ignites me but without the element of getting exhausted by other energies. I was getting to the point where if I did three podcast interviews in a week, I legitimately couldn't do anything else because my energy reserves were shattered. My body was clearly reacting with the rashes, the insomnia, the anxiety, the food allergies, and more.
I am not saying I don't enjoy doing the interviews — I do! I love them. That's why I put so much of myself and my energy into the conversations and the process, hence the exhaustion. I just need to find a balance with it… two episodes per month perhaps as solos, two with guests. Something like that.
BIG, EXCITING PROJECT ON THE HORIZON that came to me while I was sitting at Clear Cafe here in Ubud and I feel as if I channeled 20 pages of info about it into my notebook. Originally I was filled with gusto to make it happen by July, but now I feel that in order to pace myself and instill what I've learned (slow down, no need to be in such a rush) it will be a slow and steady project with no rush to finish it. But when it is finished… daayummm I cannot wait for you guys to see it / experience it / DO IT WITH ME.
But yes, it will come to fruition in its divine timing. For now I have my poetry to focus on anyway. 😉 And you better believe I have BIG PLANS FOR IT.
As far as traveling alone, I absolutely love it. I feel like I could be alone for months on end and feel completely full and satisfied by it. I miss my love a lot, but FaceTime makes things easier and he has been a true supportive godsend with the support and love he shows me every day here and always. He is my rock and without his support I don't think I would have even booked the flight to come here. I am lucky. So yes I miss him but in a way because of FaceTime I feel like he has experienced many of the most special parts of my trip with me so far. 🙂
Lastly, on the food front, I have been eating about 90% raw vegan here and 10% cooked vegan. So yes, all vegan. Plant-based. Whatever we wanna call it. I feel amazing and there will be a full post coming on this — even though I asked in a poll on IG if you guys would want to read a post about that and so far most have said yes and 10% have said no… I know that's a small percentage but I sometimes wonder whether the people who say "no" know I can see that they did and then I'm just thinking WHY. Maybe that means I shouldn't ask, haha. I need a whole subset of poll questions like "if no… then why not?"
And as serious as I am about that I am also working on the art of letting go of what others think entirely. I have found that is an absolutely huge component to healing and deleting IG for a few days made other people's opinions non-existent to me. It felt so good.
Anyway, ask you can see I am going on a big tangent now because that's what happens when I write. I write to feel, I write it all out, and I also haven't really hung out with anyone but myself in eleven days, other than a lot of FaceTime calls with my love and my fam and some dates with my sister Carlyn who is also here. So you're getting the REAAAAL unfiltered me.
I think that's it for now. It's almost dinnertime here and I have a long walk to get to my fave cafe for some raw goodness. 🙂
All of my love, my babes. Thank you so much for being here & for reading this.
More to come! Like my KAMBO experience, my poetry overflow, my channeling exercises, the hotels and spas that I love here, and more. Feels so good to share my journey with you so far.
XO