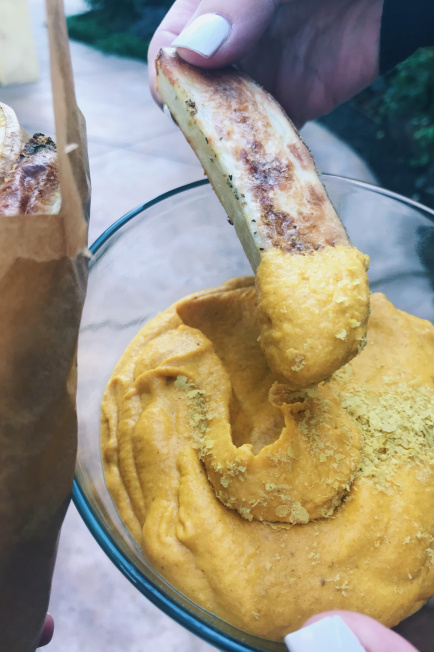 SALT-OIL-SUGAR-FREE BAKED FRENCH FRIES & PLANT-BASED NACHO CHEESE DIP
My loves! Happy FRIDAYYYY! How fitting that it's FRI-day, as in… FRY-day, as in… the best day for the best SOS-free baked French fry recipe & plant-based nacho cheese dip on the face of the planet.
If you're wondering about my recent shift to the SOS-free (salt, oil, sugar-free) way of life then hop on over to Wednesday's post which explains all the ins & outs of the lifestyle and why I am eating this way.
I am about one week into eating all SOS-free (how has it only been ONE WEEK since I started eating again at True North post-water-fast? lol) and my stomach, digestion, and body feel truly amazing. I haven't gained back even an ounce of weight after my water fast, and even though none of this is about weight but rather about internal healing — weight, for my particular body, is always a good indicator of how things are working on the inside.
For example, when my hormones are super off, my metabolism gets sluggish, my sleep gets bad (which makes EVERYTHING worse), and no matter how or what I eat my weight creeps up or plateaus while its up there. When I am in a GOOD routine, feelin' fly & eating/living in a way that serves me, my weight returns to its natural, non-bloated, balanced state and I can eat all of my fave healthy foods in abundance without gaining those stubborn pounds…. or more importantly, without feeling like total exhausted, bloated, sluggish, depressed, CRAP.
FRENCH FRIES & NACHO CHEESE DIP, OH MY!
So on that note, let's talk about the fact that I ate FRENCH FRIES & NACHO CHEESE DIP for dinner last night. In order words, baked French fries & plant-based nacho cheese that all happens to be salt, oil, sugar, gluten, & grain-free. None of those yucky additives or oils you'll find at a fast food restaurant, and dare I say… SO MUCH MORE DELICIOUS to boot!
This recipe was inspired by my girl Ellen Fisher, my favorite plant-based YouTuber & mama living on Maui with three kids & her hubby. Do your eyeballs & tastebuds a favor and FOLLOW HER because she is inspiration to the max.
I got the French fry recipe from Ellen's YouTube, and I have been tweaking the nacho cheese dip to make it more TBB-friendly (I am not a big bell pepper person…) and a little lower-fat since the low-fat version of SOS-free has been serving me really well post-fast. So this is originally inspired by her, with a very TBB twist that I hope you *love*!
A note on recipe tweaks…!
Speaking of tweaking — now that I am sharing more recipes again I want to encourage you to make your own tweaks as well to make my recipes fit YOUR lifestyle as best as possible. I have gotten so many inquiries about the SOS-free granola from earlier this week & if it can be made nut-free, tahini-free, grain-free, etc. Of course it can! DO YOU and play around in your kitchen… I can't always answer your substitution questions perfectly because you're the one who is going to be tasting it at the end of the day, so you have fun with it!
A lot of readers have made the granola grain-free by using more nuts & seeds in place of the gluten-free oats, and others have made it nut-free by removing the cashews! So many yummy ways to play around…!
Ok now, the recipe we are all waiting for… FRIES & CHEESE, PLZ!
Serves 1-2 hungry healthy humans! Can be served as a MAIN DISH or a side dish.
Prep: 10-15 minutes. Cook time: 30-40 minutes.
INGREDIENTS:
French fries (2 INGREDIENTS!):
3 medium-sized organic Russet or Yukon potatoes (you can use sweet potatoes if you prefer…!)
2-4 tablespoons Nutritional Yeast (for the fries)
Nacho Cheese Dip:
4 cups sliced Russet or Yukon potatoes (boiled or steamed)
4 large carrots (boiled or steamed)
1/4 cup raw soaked cashews
1/4 cup Nutritional Yeast
1/2 cup water (add more if having trouble blending)
1-2 tbsp tahini (optional, I add it for creaminess & taste)
1 tsp garlic powder
3 tbsp lemon juice
1 tsp turmeric
OPTIONAL: 
1/2 red or orange bell pepper
1/2 tomato
(If you like the taste of those two I would recommend adding! I don't, and I don't do nightshades, so I left them out!)
METHOD:
First: Preheat the oven to 400 degrees Fahrenheit.
Second: Boil or steam the potatoes & carrots for the SAUCE until they are tender enough to blend easily in your blender!
Third: Slice the potatoes for the FRIES into thin wedges or your preferable size of French fry. If you have Jane Younger on hand, you're in luck, because she slices them PERFECTLY. 😉
Fourth: Top your sliced fries with as much nutritional yeast as you desire, and feel free to add additional spices (turmeric, thyme) if you prefer.
Fifth: Pop the fries into the oven to bake, for about 30-40 minutes. Check on the fries at 30 minutes to see how much longer they'll need to stay in there… since they're thin they will be quick to burn once it's been too long!
Sixth: Add the boiled potatoes, carrots, cashews, nutritional yeast, tahini, water, garlic powder, lemon, turmeric, and optional bell pepper / tomato to your blender & BLEND until smooth. Leave it running until it's REAL thick & creamy. If you have trouble blending, add more water. Taste and see if there's anything you'd like to add for flavor before you're done!
Seventh: Pop the fries out of the oven once they're golden browned & crispy to your liking, and let them cool for the additional crispiness factor. Either pour your nacho cheese right on top or add it to a bowl for dipping.
ENJOY!!!
The sauce will keep well in an airtight container in the fridge for up to 2 weeks. I like to reuse it in so many ways… salad dressing, veggie dip, even a SOUP that you can add some pepper and chili flakes to to spice it up!
If you try, let me know what you think!! Tag me & hashtag #tbbmademedoit so I can check it out. And BIG THANKS to Ellen Fisher for the inspiration! This mama has been inspiring me to dive into the SOS-free plant-based lifestyle since long before I was fully SOS-free myself.
Thoughts?! More SOS-free recipes?! Going to take a stab at writing about my water fasting experience to share with you guys this weekend…. who's ready for it?!