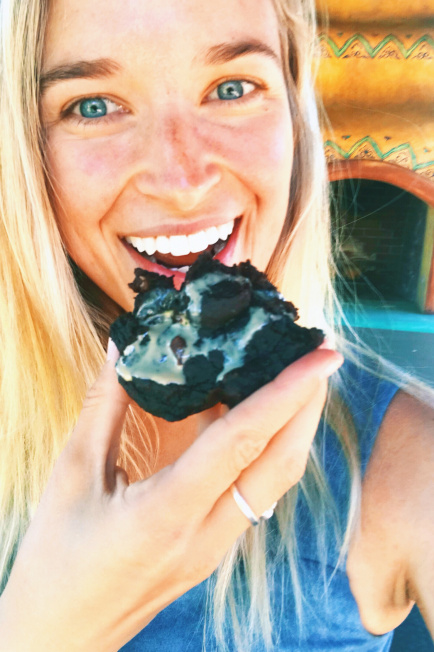 SALT-OIL-SUGAR-FREE CHOCO TAHINI BROWNIES a.k.a the HEALTHIEST FUDGIEST BROWNIES You Can Find!
Hi guys! HAPPY Memorial Day, and happy first night of the BACHELORETTE season! I have been an off and on Bachelor franchise fan since the start, but something tells me I am going to watch this season.
Maybe it's the fact that I listened to Becca on Stassi's podcast yesterday & she is so down-to-earth & a real girl's girl, which I am all about. Or maybe it's the fact that she got publicly burned AF by Ari (her ex-fiance, the ex-Bachelor, UGH) on national TV and I happened to see it when I was in Hawaii with my mom… so I am all about supporting her now in her glorious comeback!
And of course now that I am home in Sactown with my mom, that means I will be watching again! My mom gets me into all of my guilty pleasure reality shows & magazines… obviously Vanderpump being number one. She is the reason I know anything about pop culture at all, LOL.
The whole point here is, it's FUN to be able to indulge in things that make us happy. Mindless TV shows (and yes I AM a sucker for the love element of the Bachelor/Bachelorette, hate on it if you must), fun& suspenseful  TV series (Bates Motel got me THROUGH my water fast), DELISH DESSERTS… see where I'm going with this?
I think you probably do…. (OMG OMG OMG OMG… so good)
We are all allowed to be multifaceted. I can often be found doing hours of meditation, yoga, journaling and channeling in the morning, and you best believe that doesn't mean I don't still indulge in plenty of things that make me a 21st-Century human. I love kicking back with my best friends, serving up some healthy-as-ever brownies, watching the Bachelorette, and critiquing the contestants' every move 😂 ! Just as much as I love my spiritual yogi entrepreneurial poet side. It's alllll me. ALL of it!
So anyway, whether you're having a Bachelorette viewing party tonight, hanging with your loved ones for Memorial Day, or just having a quiet night in tonight… THESE BROWNIES NEED TO BE YOUR SIDE KICK. THEY ARE SO FREAKIN GOOEY, FUDGY, NUTRIENT-DENSE, and HEAVENLY.
They are all SOS-free (salt-oil-sugar-free), and if you're wondering why I am all about the SOS-free life, head over to this post to read all the details. They are also GLUTEN-FREE, flour-free, and use super minimal ingredients. They are chock full of fiber & plant-based protein… and of course they're fully vegan. (I guess I shouldn't say "of COURSE," but you'll be seeing a lot more of that on my bloggy again from now on).
And if you're not a flax egg person, you can definitely sub for a real egg! I don't judge around here!
By the way, if you want to play around with substitutions of any kind… do it! I have been getting a lot of q's about substitutions on my recent recipes and my answer will always be the same: DO YOU, BOO. I really can't answer your sub questions because I made them this way for my preferences, so you make them YOUR way for yours!
*IF you are grain-free, just take out the oats!! They aren't totally necessary by any means. 🙂
Ready for this killer recipe!??! EEEK and they're so healthy you can eat them for BREAKFASTTTT the way I did this morning!! More tonight during the Bachelorette obvi…
GOOEY, FUDGY SOS-FREE VEGAN BROWNIES
Makes 6 medium brownies, or 9 mini brownies!
I used an 8″ x 8″ pan & I would highly recommend that size. If the pan is smaller with this amount of batter it's hard to cook the brownies through without burning the top (trust me, there were some flops before these were created!) . If you double the recipe, plan accordingly! 🙂 
INGREDIENTS:
1 can or carton of salt-free black beans, drained & rinsed (I bought a no-salt-added carton at Whole Foods… it's just the 365 brand, highly recommend! It can be slightly hard to find salt-free beans otherwise. If you're not SOS-free it doesn't matter as much!)
10 medjool dates, pitted (soak them in warm water for 10 minutes before blending if you ever have trouble blending them)
1/2 cup raw organic cacao powder (I buy mine on ThriveMarket.com/BLONDE… which you can also go to to get $60 worth of FREE groceries!)
1/2 cup melty tahini (I get mine from Whole Foods… best melty brand = their brand!)
1/2 cup gluten-free oats (I use Bob's Red Mill)
1/4 cup ground flaxseed (separate from the flax egg)
1/4 cup water
1 "flax egg" (1 tbsp ground flax, mixed with 3 tbsp water)
1 1/2 tsp baking soda
1 tsp vanilla extract (optional)
METHOD:
Preheat your oven to 350 degrees Fahrenheit.
Make your flax egg by mixing 1 tbsp flax seed with 3 tbsp water, let it sit for a few & set it aside.
Add the drained beans, medjool dates, cacao powder, tahini, oats, vanilla extract, flax, and water and blend until silky smooth. Add in a bit more water if you're having issues.
Then, add your flax egg & baking soda and blend again. Pour the batter into a non-stick brownie pan (I line mine with parchment paper since I don't use oil or butter to grease) and pop into the oven for 20 minutes.
At 20 minutes, take a peak and see if the top is browning & starting to firm. If not, leave in for a few more minutes but keep an eye on it before the top starts to burn.
Take the brownies out of the oven, and let them cool for 20 minutes until they're nice and firm. If you have trouble getting them to firm up (I had this issue the first several times through), pop them in the fridge for about an hour after baking. That will do the trick!
Slice them up into your size of choice, drizzle with some extra tahini if you'd like, and ENJOY!
SO EASY, RIGHT?! I cannot wait to hear what you think if you make them! Tag me on Instagram @thebalancedblonde & hashtag #tbbmademedoit so I can see, and for a chance to be featured on my stories! And tell me… are you watching the Bachelorette tonight?! Celebrating Memorial Day in a fun way?! I must know! xx