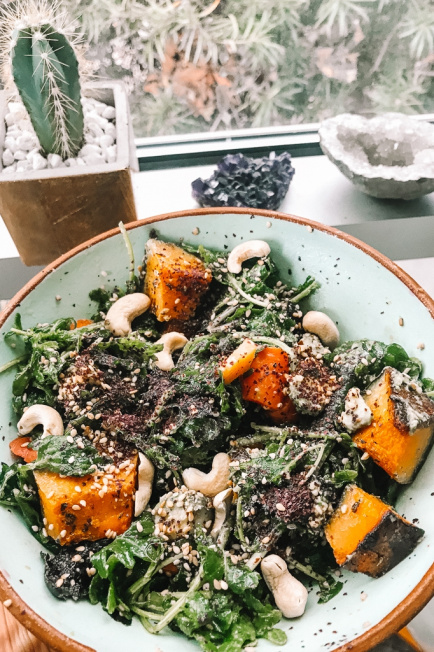 What I Eat in a Day || Intuitively Plant-Based & SOS-Free
Hi guys! Welcome back to the September Series on the blog where I am sharing blog posts every week day during the month of September… however, I am feeling this consistency may extend beyond September because I am really enjoying being more active on the blog again. Thoughts?
Also… fun idea! If you are subscribed to the blog and getting the emails straight to your inbox, introduce yourself to me via email and say hi! It always makes it more real for me and fun to hear about you. Tell me: who you are, where you live, your age, your profession, and a FUN RANDOM FACT! And if you're not subscribed but you want to be, you can do that here!
And another new fun happening of the moment… I am updating my YouTube again! My fabulous assistant Carlyn happens to be a BOMB video editor, so we uploaded this video last Thursday! Would love to know your thoughts + also suggestions & requests for YouTube! I am just getting back on my game so trying to remember to bring the vlog cam with me, etc. So we promise they'll only get more and more detailed and fun to watch as time goes on!
ANYWAY! Let's talk about what you came here for!
What I Eat In a Day //
This is probably the most frequently asked question I get on the blog and Instagram. I have been hesitant to share because there can be a lot of comparison out there and I don't ever want you to feel like you need to eat what I eat in order to feel good and be healthy.
If there is anything I have learned over the years, it is that all of us require a totally different combo of nutrients in order to feel our BEST and feel satiated — it depends so much upon our lifestyle, activity level, overall health quality ( I am sick so I fall into a diff category than most ), genetics, metabolism, and more.
But regardless, if you're here you probably already know that and just want me to get to the point. I just want to make it clear that this is how I eat right now, and how I eat is always changing and fluctuating! Sometimes I am all raw and other times I can't stand raw and I am all about cooked foods. I will do a YouTube video on this too so that you have a visual. 🙂
A few things I want you to know before we get into it also:
+ my Lyme treatments make me feel very nauseous so I haven't had much of an appetite these days — I eat snacks throughout the day to make sure I am getting enough nutrients and protein in my bod
+ I am in a place of acute sickness which requires LOTS OF EXTRA veggies, supplements, nutrients, superfoods, and minerals. Don't feel like you need to run out and spend $92389283 on superfoods just to be on my level — this is out of a place of necessity right now!
So… let's get to it!
BREAKFAST //
My usual breakfast is a green smoothie, all the way. I am 100% about it. It is such a great way to get an abundance of nutrients, superfoods, protein, and vitamins and minerals but also easy on the stomach first thing in the A.M. for those of us ( like me ), who don't feel "hungry" until later in the day.
For many years I actually skipped breakfast in favor of a Bulletproof coffee & the intermittent fasting lifestyle, but for my adrenals and my particular hormones and overall health right now, that was really not working for me anymore. It was taxing my adrenals and raising my cortisol and messing things UP!! So now I eat breakfast even when I don't feel particularly hungry for it and it has been very good for my hormone health and anxiety levels. 🙂
My go-to green smoothie //
1-2 large overripe bananas (YES I am into ripe bananas! Some people will tell you they are full of sugar and you should eat them when they are more green because then they are a resistant starch, but I much prefer them to be sweeter and they are easier on my personal digestion when they are really ripe)
1-2 large handfuls of organic kale or organic spinach
1/2 cup blueberries
1 tbsp spirulina (amazing for killing bacteria & detoxing heavy metals in the body)
1 tbsp chlorella
1 tbsp maca
1/4 cup cilantro (works hand in hand with the chlorella and spirulina to detox heavy metals in the body and other gunk)
1 tbsp cacao (I love chocolate, I am a chocolate freak!)
1 cup homemade almond milk
1 tbsp almond butter (for those healthy fats!)
1/2 cup ice
BLEND!
Sometimes I even make it a smoothie bowl 🙂 
My reasoning for all of the superfoods is that I am currently in a very sick body, and I need ALLLL of the superfoods and extra nutrients / vitamins / minerals that I can get. Spirulina, chlorella, and cilantro work wonders for detoxing the body. Bananas, blueberries, and leafy greens are full of vital nutrients and vitamins that my body needs right now to fight disease.
I also do CELERY JUICE which you can read all about in the Medical Medium, which I usually have first thing in the morning before I have my smoothie or anything else. I juice 1 large stalk of celery in my juicer or when I am not feeling up to juicing myself, I walk down the street to Whole Foods! Always make sure to use organic if you are juicing celery, and clean it thoroughly: it can be a goldmine for bugs and parasites!
THEN I have either an organic decaf coffee, a chaga latte (using my Four Sigmatic mushroom blends), an iced cold brew with homemade nut milk (if I am feeling like my adrenals and hormones can handle real coffee, which is something I try to have less than 50% of the time for hormone balance + alkalinity reasons), or just lots more water!
I also take a ton of supplements in the morning that are prescribed by my Lyme doctor. Currently I take a thyroid supplement, a Pregnenlone supplement (hormone regulation), use a testosterone cream, and take about 30 Lyme + parasite killing herbal supps! Because of all of these supplements it is very important for me to eat breakfast, which is another reason I no longer intermittent fast.
LUNCH //
Since my breakfast is usually full of greens, from my morning smoothie to the celery juice, I sometimes feel like continuing down the green veggie train or having something a little more starch based.
Currently I have been loving either having a second smoothie of the day, where I try to switch up the greens (for instance I will use something like arugula, romaine, or a diff type of lettuce than I used in my morning smoothie) and add a different type of fat like avocado or coconut meat instead of the almond butter and almond milk. I often have lunch when I am out and about, so I will get a smoothie like this at Erewhon or Whole Foods on the way to a doctor's appointment most days! ( I am usually at the doctor's office getting treatment 3 days a week right now. )
If I have a second smoothie I make sure it has some kind of superfoods in it: either maca, spirulina, bee pollen, moringa, chlorella, clean plant protein (right now I am loving SILVER FERN for plant protein), or all of the above.
Other times I am more in the mood for roasted veggies so I will do a combo of roasted potatoes ( I AM VERY into white potatoes right now, which you can also read all about the benefits of in the Medical Medium !!!), broccoli, squash, and cauliflower with something like my plant based nacho cheese dip! Sometimes also with black beans, like below! Yummmm.
Other times it will be a huge kale salad with salt-free pinto beans, walnuts, pumpkin seeds, sliced figs (or any yummy seasonal fruit), dates, avocado, and a lemon-tahini dressing that I make simply with JUST tahini, lemon, and a bit of water!
The salad I live for…!
SNACKS //
Throughout the day I almost always have a large carrot juice, either juiced myself or from a local juice bar or Whole Foods. I usually add in a lot of ginger for anti-inflammatory purposes and other incredible health benefits!! Other times I will have a large green juice with all the goods and lots of ginger also.
Another go-to snack of mine is a plant-based protein bar. I am loving the "No Junk" bars that I just pick up at Whole Foods and I also love RXBars. RXBars are not vegan but if you're okay with some egg whites in your diet I think they're delicious, full of nutrients, and always hit the spot.
Lastly… I am known for always having homemade SOS-free granola, salt-free cashews and almonds in my bag!!
DINNER //
Usually by the end of the day lately I am EXHAUSTED and very, very depleted of energy. This is largely in part to Lyme and the treatments I do every week. So I am all about the QUICK & EASY dinners.
I either meal prep veggies, where I will roast them (usually squash, broccoli, cauliflower, and sliced potatoes) at 400 degrees for 45 mins to an hour with paprika, thyme, and lemon juice. I do this in big batches and keep them in Tupperware for the week, and then I eat them with my nacho cheese dip, some white rice (if my stomach is tolerating grains on that particular day / week), legumes, or a big pile of steamed greens!
If I am not having my roasted veggies which are truly my GO-TO, I will also frequently bake a potato ( either white potato or sweet potato) and stuff it with mashed avocado, black or pinto beans, lemon juice, and baked tempeh.
To bake my tempeh I just buy the brand Light Life at Whole Foods or Erewhon, shop it into really thin slices, and bake it at 450 degrees for about 20 mins (watch so it doesn't burn) and spice it with turmeric and paprika! SO yummy! It also makes a great salad topping and has tons of protein in it, if you can handle what it is made with (fermented soy and grains — make sure you're always buying non-GMO if you eat soy).
TEMPEH!
And if I am not having any of the above, I will resort to a delish packed kale salad very similar to the one I described above that I sometimes have for lunch.
I ALMOST ALWAYS finish my day with chocolate! I am a huge, huge fan of Addictive Wellness chocolate because it's completely sugar-free and full of superfoods and vital herbs and polyphenols. You can listen to the founders on last week's TBB Podcast episode, and use the code BLONDE on their website for 10%!
I also love finishing the day with a steamed cup of almond milk or coconut milk with lots of Four Sigmatic's Mushroom Hot Cacao in it. Use code BLONDE for a discount there as well… I truly live for that stuff.
Oh heyyy mushroom hot cacao!
Since the way I eat is totally intuitive ( which you can read more about here ) I really do switch it up every day. This is a typical day of meals but it is always changing. The one constant is that it's always intuitive, plant-based ( for now ), and full of nutrients / superfoods / supplements / veggies. If my body is feeling EXTRA sick and rundown, I stick to liquids like juice and smoothies for a few days.
Would love your thoughts! How do you eat? Do you like intuitive, smoothies, lots of greens, lots of meat?! Tell me!