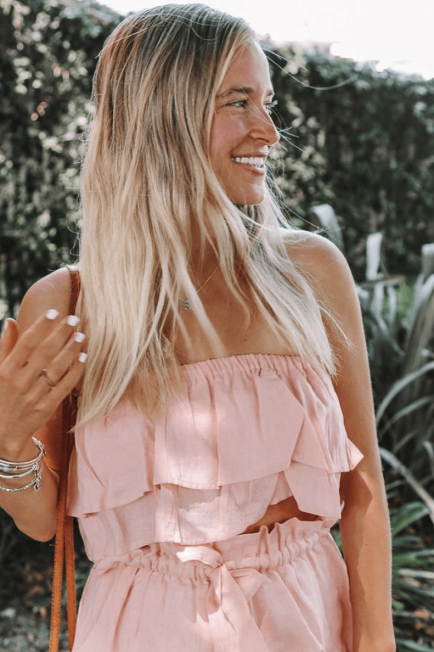 Five Things That Make Me Most Happy Right Now
Happy Thursday, my loves. 🙂 It is another one of those nights where it is now 10:32pm and it just dawned on me while brushing my teeth that I had not written a post yet for tomorrow! If you've been reading the entire September Series then you've probably heard me say that a few times now… the brain fog Lyme life is so real.
But also my best friend Alexi was over all night and we were looking at wedding stuff and being totally present and I forgot all about work and social media, which is always a good thing.
Now I'm in bed and Jonathan was helping me think of ideas for this post. He knows I love writing lists soooo, the five things that make me most happy right now. A very fun list. 🙂
My life has changed a lot this year. What would have made me the most happy 6 months ago is so different from what makes me happy now. Definitely on that list in the past would be Orangetheory or a good hot yoga class, and right now… walking around the block is my kinda exercise. Getting through the day is my kind of accomplishment.
So let's dive on in. 🙂 If you're reading this post, I encourage you to make your own list when you're done reading mine. As you can see, your answers can be as simple or as complex as you want them to me. I have found that writing down the things that make me happy is one of the best self-care practices I can do for myself — it helps me focus on the positive and puts me in the most positive vibration for the day (or night, in this case!!).
5 Things Making Me the Happiest Right Now //
1. Jonathan & Huddy – I mean, you knew I was going to say that. Going through the hardest time in my life right now both physically and mentally battling this disease, it is so comforting to know that I have my boys by my side through it all. Jonathan takes better care of my heart than I could have ever imagined anyone would be able to — he is truly not from here. We joke that I'm not from here (because I am definitely not), and neither is he. His soul is pure gold, and getting to live with him and fall asleep in his arms every night has only shown me more of what an amazing human being he is.
And Huddy is my all day long cuddle buddy, he sleeps in between my legs every night and all throughout the day when I am sick and in bed, the wisest little man in the world, and the snuggliest of them all. He reminds me the importance of being totally present… when I am caught up in working and social media land, all I need to do is look into his perfectly round green eyes that hold the little world in them, and I remember to come back into myself. He made me a mama, and I will be forever indebted to his little soul. It is safe to say I am obsessed with his every move. 🙂
2. My parents moving in upstairs! I have been begging my parents to move to LA for almost 10 years now. Not just selfishly either, they love it here and I know they have needed a change of scenery for a while. This summer the stars finally aligned and they got an apartment in our exact same building. My mom has been spending about 75% of her time here and my dad has been here like 25% of the time. I am ready for them to be here ALL the time but for now I am taking what I can get.
For real though, they mainly got a place here to help me through this very challenging time in my life. When she's here, my mom is my personal assistant and chauffeur and photographer and everything in between. She accompanies me to every doctor's appointment (which is a full-time job in itself), grocery shopped for me and hand-delivered matcha to my door every morning post-surgery, and goes on allll of the walks with me. My parents are two of my very best friends and I am endlessly grateful to have them so close now.
3. Walking outside every day. After being cooped up inside after the surgery and actually this entire year battling Lyme, I have developed a massive appreciation for going on walks outside. The crazy thing is, when I started walking for longer stretches after my surgery and my mom and I were able to walk all the way down San Vicente (a Main Street outside of my apartment) past Orangetheory and Earth Bar, a walk I used to do EVERY SINGLE DAY for many reasons, I realized I hadn't walked over there in almost a year. It is still my neighborhood… I have not moved (well, we did move, but one street over)… but going over there felt like my "past" to me. It was very eery, and made me realize how confined to my bed I have been since getting so sick.
Even if my energy is very low I have been making sure to get outside a little bit each day. Some days I have had the energy to walk for miles, soaking in the light of the glorious moon above me at night (the best feeling in the world) and feeling so damn happy to be alive. Other times, I have only been able to walk around the block. Jonathan and I have walked together every night this week and it has been such a special way to connect at the end of the day and soak in the outdoors.
4. Good books. Books have been keeping me sane during this period of my life. I have been reading a TON of Joan Didion, and will be doing a book club post soon on some other books that I am reading. I am enjoying memoir and fiction mostly right now… I got a little burnt out from reading wellness books, even though they're great. I needed a break because reading about wellness all the time can sometimes feel like work. 🙂 But Joan Didion has been LIFE.
5. MUSIC — specifically Eminem's new album & all things Trevor Hall. Seriously, Eminem's new album Kamikaze has been giving me LIFE. I have played it probably 293829 times on our Sonos since it came out. The song "Stepping Stones" is my fave and I actually relate to it very much… as I have felt very used at times from people who I thought were dear friends. The song is AAAMAZING you guys. And Trevor Hall, can you please perform at my wedding? But seriously? I am dead serious let's make this happen.
And for number 6 of course my friends who have been by my side through the thick of it all… the ones I can burst into tears with and go on walks with and who will sit for hours with me in my bed or at my kitchen table when I cannot move. That one is a given — the people around me are truly amazing. <3
Ok, that's my list!!! Would love to know yours — what are you grateful for right now / what is making you happiest? xx