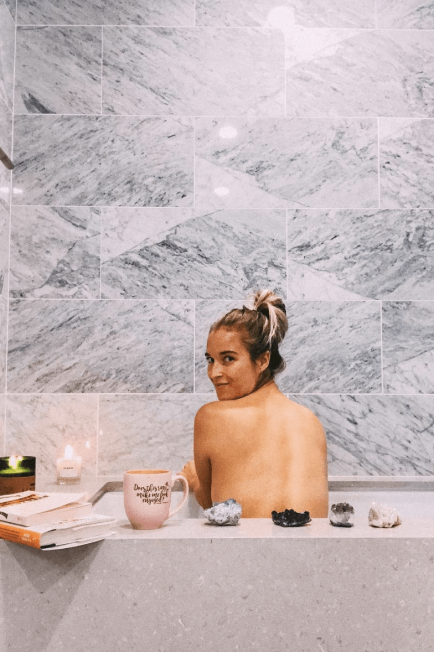 September Series & Consistency
HI GUYS! It's the last day of the September Series — where has the month gone?! In this series I wrote a post every weekday for the month of September, and looking back on them all now it pretty much feels like reading an online diary, interspersed with covering some topics you guys have been requesting for a long time — like ozone, manifesting, relationships, plant-based recipes, Q&A's, etc.
Just because September is coming to a close doesn't mean I will not be posting consistently on the blog anymore. I am sure some weeks I will be inspired and energized to still post 5 days a week! My heart tells me that for October and the next few months I will probably post 2-3 times a week, but you know structure has never been my strong suit so I can't promise any specific number.
What I can promise is, my posts will always be from the heart and if you request a topic via email/blog comment/DM/etc. I will always do my best to cover it here! And I can always promise weekly podcasts, which are by far the most consistent part of my brand I have ever had. They come out every Wednesday at 6a.m. EST no matter what… I haven't missed a Wednesday in 2 years! And some weeks there is even a Monday bonus episode. 🙂
What I've Learned from the Consistency //
ANYWAY I wanted to share a few random things in this post. The first is what I've learned from posting every weekday this month. I relearned something I already knew, which is that writing is in my bones. It is my medicine, and it flows and flows with great ease for me. I believe that when something in our lives is that easy for us, its the universe telling us something. No resistance. It's just there, accessible, free flowing. It means we should DO it.
To dive deeper into that… I mentioned several times this month that by 8 or 10pm some nights I would realize I hadn't written a post for the next day yet, and then I would have to write one after my day was already technically "over" after I had totally transitioned into downtime mode. In those cases I whipped my computer out, and the words just flowed. Even with mighty brain fog, Lyme symptoms galore, and a massive surgery to recover from (that was only on Sept 7th! Wow) the words just flowed.
It was amazing to see and feel into. And every time I wrote a post, I was happy. I felt cleansed, like the writing of it was cathartic in a way. I also hope that every single one of those posts this month gave value of some sort to you guys, and in my heart I know each topic was written for a reason because the universe divinely guides those kinds of things, in my opinion.
The only not positive thing I noticed was that because of my brain fog there were certain things I didn't have the energy to write about, however trivial or serious they may have been. Jonathan would throw out topic ideas to me and often I would say, "I want to write about that, but I want to wait until I have more energy." So there are a lot of topics like that that will be coming your way in the next few months. 🙂
It was SO FUN to connect with you guys via email this month, especially those of you who have been getting these posts straight to your inbox every day. If you have been reading and haven't introduced yourself yet, please do! I love to hear about you. It makes this whole blogging thing feel a lot more real & two-sided.
It also made me remember that there are a handful of you who have been reading this blog for YEARS, some since the very beginning and others very close to the beginning. Many of you I am on a texting basis with now, you send me letters in the mail and we hang in person when we are in the same city (and when I have energy, which is not a lot these days lol). Our community has grown in the coolest way, and the readers of this blog are so diverse. Mostly women but there are a handful of guys (who I love!!!!), readers from all walks of life and all over the world.
Being back on the BLOG part of the blog (how does that even make sense? You guys know what I mean, haha) reconnected me in a new way to a lot of my longtime readers. You guys are the real MVPs here, you're the reason I am able to do this. I feel endlessly lucky and grateful for you.
OH and I have learned that consistency is key. I would still recommend to any new & up and coming blogger to post as frequently as you can, and stick to a schedule. I have developed many NEW readers this month simply because of the consistency of my posting, and that is always a fabulous way for new (and not new!!) bloggers to grow. An important thing for all of us to remember, even those of us who have been blogging for a long time.
What's to Come //
As far as what is on the horizon… there is so much. Mainly, I am focused on healing. I am typing this from bed and I just took a long, extremely hot bath in the middle of the day. Life is requiring a ton of downtime for me right now, and I have no choice but to embrace it. Truth be told, I feel stronger today than I did when I started the September Series at the beginning of the month. I feel mentally stronger — a bit more clear on my purpose right now, and feeling a lot more supported, largely because of all of you guys.
I will continue my Lyme treatments and also really start planning our WEDDING! Tomorrow I will be announcing our wedding date & wedding hashtag on Instagram (I can't wait to tell you guys!!!) and we officially have our location now too… the Ojai Valley Inn! I will be asking my bridesmaids to be a part of the big day real soon and slowly start diving into some details… as my best friend Alexi said last night, "We need to space it all out so you don't get overwhelmed!! That will be KEY for you." She knows me. 😉
Jonathan and I are going to NYC in about a week for my birthday. I am overjoyed to be in the city and soak in time with my humans who live there. I miss them so, so dearly. We will be attending the annual GLA Lyme Gala on my actual birthday, which is such a sign, and I am so honored to be attending. We will also be checking out all the new vegan restaurants that have opened since the last time I was there!
I will be writing, a lot. Even if its not daily blog posts, I will be blogging, journaling, working on my memoir, writing poetry, and even writing fiction as often as I can. I want to say every day but we will see how that goes.
I also plan to dive deeper into my spiritual practice, as I have been a bit off of my usual routine lately post-surgery and just being so sick. A lot more meditation, visualization, kundalini, and reiki will be taking place in the coming months… and I can't wait to see where it all takes me.
Lots of YouTube videos are coming!! Make sure to subscribe to my channel to take a look at the latest ones and see a lot more BTS vids coming soon… most likely every 2 weeks!
Lastly, time in NATURE. It's calling me deeply. It's true that I can barely get out of bed most days, but when I can, my body yearns to be outside. Yesterday I wanted soooo badly to go to the beach and journal and meditate, but after a handful of other things I had to do, it just wasn't in the cards for me energy-wise. The ocean is such a healer and I will definitely be getting down there in the next couple of days. 🙂
Thank you for reading this series all month! I am not going anywhere, I don't know why I am acting so formal about it, but truly it has been so fun to reconnect this month in blogging format. Having you reading honestly means the world. Let me know what you want to read more about and I will get to writing for the October posts! And tell me what you're up to, too!!
Oh, and HAPPY LIBRA SEASON !!!!! My fave season for so many reasons. 🙂 XO