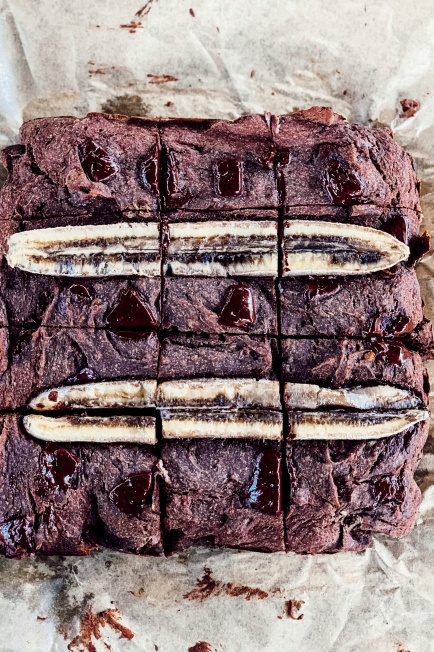 Chunky Monkey Banana Bread Brownies | SOS-Free & Vegan
GUYS! I am officially home from True North… and it feels so damn good.
Well, I should say I am in ONE of my homes: Sacramento! Spending a few days here with my parents getting my strength back before hopping on a flight to LA this week to be home, home.
I am so looking forward to being with J and Huddy…!! But for now, being in Sac feels incredible. I will be hitting up my fave yoga studio (ZUDA!), going on walks with my mama, and using my dad as my official tase tester & sous chef — and by that I mean he will be cleaning up after me in the kitchen which is his favorite thing to do anyway.
Speaking of… the recipe I am sharing in this post is actually BYRON approved! He went wild for it! You can see on my IG stories before they go away. Also, have you listened to my podcast episode with my dad yet? It's a personal favorite for so many reasons.
Anyway it's a HUGE DEAL that my dad actually liked these banana bread brownies, because usually he tries my baked goods and requests much more sugar (lol) and basically an all around different flavor. Let's just say he's not fully acquired to the plant based, SOS-free life… YET. 😉
So the fact that he loves these mean they are sweet enough for those people in your life who may not be accustomed to low glycemic treats. And the best part is… they are totally sweet: sweetened with bananas, dates, and vanilla!
They are fully salt-oil-sugar free (which you can read more about here if you're interested), plant based & vegan. They are full of healing, anti inflammatory foods and totally TBB approved for my fellow chronic illness warriors. (Unless you're avoiding histamines in which case… bananas… but if you're not intolerant to histamine we are good!)
Again, I just have to say: getting sick was one of the best things that ever happened to me. Not only did it give me the most MAJOR perspective on life and give me a massive appreciation for everything good in my life… but it also introduced me to the SOS-free, plant-based lifestyle. If this is new to you, it's similar to the Gerson Therapy Diet, which is also used to treat chronic disease.
Chronic illness is no joke. Waking up every day with no clue on earth how you're going to feel is tough. Especially when most days you feel very shitty. Before I wake up each day I never know if I am going to have zero energy, a full blown body rash, cystic acne that has appeared overnight (oh, it happens), an extremely distended and painful gut, general brain fog and dizziness… the list goes on.
Until someone has had to walk in your shoes, or until they've experienced a chronic illness of their own, they simply don't get it. So if you're following an SOS-free, Gerson, plant based, whatever it may be way of life because you are doing your best to HEAL your life… ALL OF THE POWER TO YOU. The people who are meant to be in your life will get it, support it, and maybe even jump on board.
(Side note: they do not have to jump on board as long as they support you.)
On that note, THESE BROWNNNIEEES!!!!
I dreamt of these brownies, and about 9238298 other SOS-free recipe ideas, while I was at True North doing my most recent water fast. Nothing like a water fast to get you dreaming about the delicious desserts you can whip up when you're finished fasting.
Especially when they're healthy AF & full of plant goodness!
Let's get to this recipe!! Also linking to my favorite brands for a lot of the ingredients…! You can also order on ThriveMarket.com/BLONDE to get a big discount & all of these products can be found there too!
Chunky Monkey Banana Bread Brownies //
INGREDIENTS ~
3 overripe spotty bananas
2 cups buckwheat flour (or g free flour of choice)
1/2 cup almond milk
2 flax eggs (2 tbsp flax seed mixed with 6 tsp water)
1 cup pitted medjool dates (soaked is better)
1 banana to top, sliced in half lengthwise (optional)
2 tbsp cacao powder
1/2 cup sugar free dark chocolate chips (use ThriveMarket.com/BLONDE)
1 1/2 teaspoons pure vanilla extract
1/2 teaspoon baking soda
1 teaspoon baking powder
1 teaspoon cinnamon
1 teaspoon apple cider vinegar (use ThriveMarket.com/BLONDE)
METHOD ~
Preheat oven to 350 degrees.
Mix flax egg ingredients & set aside to firm.
In a large bowl, add the flour, baking soda, baking powder, and cinnamon. Mix thoroughly. Keep them in bowl.
In a food processor or blender (or a hand mixer… that's what i used!) add in the dates, almond milk, vanilla, ACV, cacao, and bananas to the batter mixture. Blend until smooth.
Pour wet ingredients into the bowl of dry ingredients and mix well. *If batter feels dry, add 1/4 to 1/2 cup more almond milk.
Add in chocolate chips and stir in the flax eggs, then pour batter into a loaf pan or square brownie pan. Top with sliced banana if desired.
Pop into the oven and bake for about 50 mins, or until a toothpick runs clean through. Let them cool before slicing, and ENJOY!
Also, I slathered some TAHINI on top for these photos… and because tahini is life.
Alright, there you have it my loves! Let me know how these are if you make them. I have already had 3 today LOL… think I was thrilled to be off of my fast?! Use #TBBmademedoit if you post on social media so I can see!
Tell me what other SOS-free recipes you'd like to see below!! YAY!