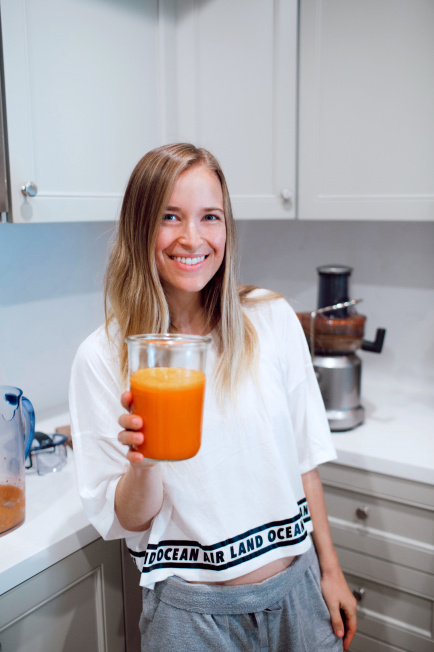 I Manifested This Into My Life… BIG NEWS!
Hi guys! Happy Saturday!! I have a big announcement for you today that I've been dying to share. Curl up somewhere cozy with your chaga latte or your celery juice because I'm going to tell you the whole story!
When I was at True North earlier this month doing my most recent water fast, I kept getting signs from the universe that I was there for a much bigger reason. True North is a health center that teaches the SOS-free way of life (salt oil sugar free, which you can read about here), and is also where I first learned about SOS-free and started implementing it into my life last May.
As I looked around True North it struck me very clearly that I was the youngest person there for some sort of larger purpose. I went to the cooking classes and the lectures and soaked up as much information as I could, and kept getting filled with this greater knowing that part of my purpose in life and especially part of my purpose in getting sick with Lyme is to help people heal by spreading the SOS-free message to a younger generation. It was a larger series of events that brought me to TN in the first place (I believe guided from above!).
While I was there I was filled with inspiration to create so many recipes when I returned home, and also to write a SOS-free cookbook and guide book for all of the many people out there who are looking to learn more and enhance their life with this anti-inflammatory, disease-friendly way of eating. But I also knew there was more, and I asked the universe to show it to me.
In the middle of my fast I sat on the floor in my room at and meditated for a long while to get clear on what I wanted the universe to bring to me. I was very open, and I said, "Show me the way I'm going to help people heal from chronic disease. Show me how to heal my body from chronic disease so I can help others. Unveil to me what it is I am supposed to be doing because I am filled with such massive inspiration to do it, but I am lost as to what *it* is, so point me in the right direction."
From there, I let it be. I totally surrendered. I let go of what the response from the universe might look like, or when I would get it. But I wrote it down, continued to meditate on it, and felt very excited for what was to come. Fasts are also a great time to tune into yourself and just BE, outside of your daily routine and distractions from life, so I felt ultra clear on my path and my inspiration.
The Universe Answered //
Fast forward to returning home to Sacramento after the fast, and of course, the most miraculous thing happened. I had been making recipes like crazy and studying all things SOS-free to learn about what I could do to dive deeper and help people. There wasn't a whole lot out there, but I kept looking. I watched the documentary HEAL (LIFE CHANGING) for the third time because I can't get enough of it, and I got my parents drinking juices and smoothies every day. It felt so good to be back in the world and I was feeling super in the flow.
Insert the miraculous thing: one of my amazing blog readers Christine (@bluecrushwellness on IG) responded to one of the many SOS-free recipes I was posting and told me that she was in the middle of a health + detox coaching program based on the Gerson therapy, and that she would be happy to help with recipe testing any time if I did end up creating an SOS-free cookbook.
The whole message was amazing, but what most stuck out to me was the program. I said to her, "WAIT! Tell me more about this program!! Send me an email!!"
Christine sent me an email right away full of info and incredible inspiration. The program was EXACTLY what I had been looking for. When she mentioned the woman who started the program, Nicolette Richer, I realized the name sounded super familiar. So I checked my inbox and connected the dots — SO MANY people have pointed me toward Nicolette ever since my chronic Lyme diagnosis. She helps so many people heal. I had never contacted her before because I was receiving SOOO much info about what to do / how to heal / who to contact, etc. etc.
But now the time felt so right. So of course I immediately went onto Nicolette's website & contacted her. I told her I was interested in the program, I wanted to meet her, I had a podcast that I wanted to have her on, the whole works!
It turns out she was coming to LA that very week from Canada and would be able to come over and be on the podcast! So on Monday of this week I met her, fell even more in love with her message and her knowledge, and simultaneously signed up for her health + detox coaching program, that starts at the end of this month!!!
The serendipities are WILD. The Universe answered.
NOW YOU KNOW WHY I HAVE BEEN JUICING SO MUCH !!
What is the Gerson therapy?! //
The Gerson therapy is a diet and lifestyle that was created by Max Gerson in the 1920s. It aims to rid the body of toxins and to strengthen the immune system to fight disease. It involves an SOS-free plant-based diet full of fruits and veggies from the earth, lots of cold-pressed juices, and whole gluten-free grains. It's wild because I have been researching the Gerson therapy for years, but I never had a direct tie to it until I got sick myself.
In fact that first time I heard about it I researched it for about a week straight, I was obsessed with it (as I get with things), but ended up moving on from learning about it because at the time I was quite healthy — but I filed it away in my mind for if I ever got sick or anyone I loved got sick.
The Gerson therapy is most known as an alternative treatment for cancer, but it is also used to treat other diseases. Because of its aim to rid the body of toxins and strengthen the immune system, it can truly treat any disease. Nicolette has incredible stories of people who have healed from every disease under the sun — she has been living this lifestyle for 22 years! I cannot wait for you guys to hear those stories on the podcast, which will be out in 2 weeks.
The toxin ridding part of the lifestyle is done through coffee enemas. For people who are sick with chronic disease, this could mean up to 5 enemas a day. I have been doing 2 enemas a day so far and I have already noticed a boost since I began. I used to do one enema a day, as they are GREAT for people with Lyme who have an excess of toxins and trouble detoxing them.
Also for chronically ill patients the aim is to drink between 9-13 cold pressed juices a day (8oz each) to flood the body with nutrients and flush those toxins out. So now you know why I have been juicing an extra amount!!
Also, check out these carrot pulp muffins I made from the pulp from my carrot juice!!! YUM!
Its even crazy that I was watching the documentary HEAL the night before Christine reached out to me, because the Gerson therapy is hinted at in that doc a handful of times. I was telling my mom about Gerson while we watched and how the Gerson therapy is truly the original SOS-free.
I have had an inkling for a while that trying the Gerson therapy would be beneficial in my healing journey, but I also didn't know the first thing about it. In Nicolette's program I will be learning everything from the science to the biology to the history of treating disease… it's going to be intensive in the best way. I will be writing term papers & doing case studies & even taking on clients during this time (stay tuned for that!!).
And the best part is, I will get the opportunity to help my own body heal in the process.
And if I am getting really deep into the spiritual aspect of it, which I totally can with you guys, Charlotte Gerson (Max Gerson's daughter) passed away last month at the age of 97. I can feel her gently guiding me from the other side as I continue to learn/devour this information about the Gerson lifestyle. I believe she is giving me those gentle nudges when I need them most, and I am so grateful.
ALSO, since then, the Gerson therapy has shown up in my life every day, multiple times a day!!! When I showed up to record this weeks episode of the podcast with Dara Dubinet & Jenna Zoe, Dara quoted Charlotte Gerson within minutes of me walking in her door. "If you cure one disease, you cure all."
I'm sorry, but I believe there are no coincidences in this life!
More details?! //
If you want to look into the program yourself, you can find it here at Richer Health. This particular program starts at the end of this month, and there is another starting in September. Tell them TBB sent you!
Also, they have offered a generous 20% off code off of their Eat Real to Heal 5-week program — ERTHBLONDE1 — for any of our TBB tribe who would like to join that particular program that they also offer.
Also, how wild that it starts at the end of this month?! When I was looking for something to start as soon as possible?! The synchronicities continue to blow my mind.
The is that disease can be cured by removing toxins from the body, boosting the immune system, and replacing excess salt in the body's cells with potassium is such a beautiful thing to hear, especially when you've been suffering for so long. And it MAKES SENSE. I believe in doing alternative, nutrition-based therapies alongside of whatever it is that you're doing with your doctor or naturopath to heal disease.
I believe we can all heal as long as we find the right path for us, and as long as we BELIEVE on a deep, cellular level that we will heal.
I mean, have you heard of this book?! If not, you should read it. We can ALL heal. It's a matter of mindset, nutrition, dedication, community, support, belief, spirituality… it's a matter of knowing there is something greater out there helping us heal. And it's a matter of taking our health into our OWN hands.
I am so, so, so excited & humbled for this experience to come. I have been taking my health into my own hands ever since I got diagnosed with Lyme. I have refused to sit back and let Lyme take over my life, or ruin it. This journey has been a huge learning experience for me. I am still in bed 90% of the time — I am writing this post from bed. It has been hard, really f*cking hard. I am not going to sugar coat that.
But if I can take what I have learned and what I have suffered from, from Lyme to babesia to mold poisoning to MCAS to MTFHR to chronic hives/chronic eczema to chronic fatigue to brain fog and more, then I will be happy. I know we are only given what we can handle, and I am SO thrilled to finally have found a program to learn more about the SOS-free nutrition that I believe so deeply in so I can help YOUUU !!!! HEAL !!!
Would love your thoughts below! Let's hear them! Have you heard of the Gerson therapy? Would you try it? xx