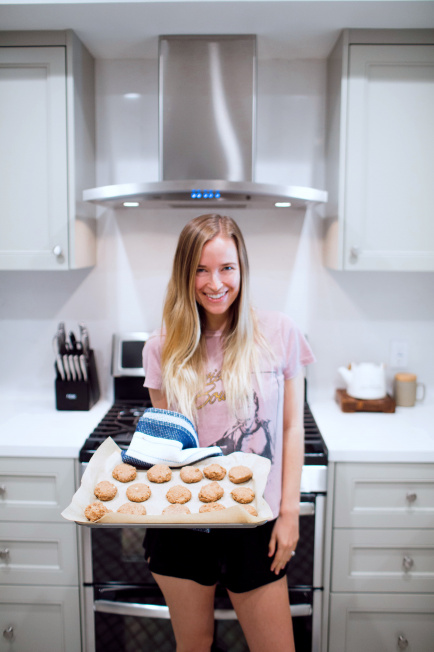 Two Ingredient SOS-Free COOKIES!
Hi guys!! Happpy Monday!! I am so excited to share this recipe with you. It's crazy minimal (I mean 2 ingredients… does it get more minimal than that?) and chock full of nutrients, especially fiber. These make the perfect breakfast, midday snack, dessert, pre-work bite, what have you!
Also a few updates from my end: this past week's new podcast episode with Jenna Zoe & Dara Dubinet was such a special show and I have been getting awesome feedback from you guys. If you haven't listened yet, we chatted about getting "unstuck" in our lives — we all hit rock bottom points in our careers/lives where we feel very stuck, and in this episode we share how all three of us got out of those ruts.
We also discuss astrogeography, the practice that Dara does where she fills in a map of the world with info she gets from your astrological birth chart and tells you where are the best places in the world for you to live, create, find love, cultivate family, buckle down for career, the list goes on!!
I have done a session with Dara and I have my map now and it's literally the coolest thing ever. I was thrilled to find out that living LA is a great place for me — career, love, family, all of it. Also traveling to places like Sweden, Norway, Switzerland, Germany, and even Brazil are great places for my particular chart. I think I need to plan a trip or two. 😉 And how serendipitous that Brazil is one of the homes of my beloved Ayahuasca!
And of course we chat Human Design because we have the fab chart reader Jenna on the show, and there is so much to discuss! It is so fun. Cannot wait to hear what you guys think.
Also, thank you so much for the love on the post I shared this weekend about the Gerson therapy program I am embarking on. I am so overjoyed and honored to be able to turn my chronic Lyme experience (that I am still very much going through…) into a way to help others heal. And myself. It's going to be incredible & I can't wait to take you guys along for the ride.
Now for these COOKIES !!!
Why Two Ingredients?!
I have been eating a Gerson therapy diet (which you can read all about here) as well as my usual SOS-free vegan diet. This is all for healing reasons, living an anti-inflammatory life, and ultimately doing my best to heal and eradicate chronic disease in my body through nutrition and extremely nutrient-dense plant foods. (On top of my Lyme treatments with my doctor.)
In the Gerson therapy, it is a nut-free lifestyle and for the first 4-6 weeks it is also bean-free. This is to eliminate common allergens and a whole host of other reasons that I will be learning about very soon as I embark on this new way of life / a program I am doing with them. 🙂
SO!! These cookies are nut-free. I used to make these all the time with a few other ingredients, like almond butter and chocolate chips or dates and walnuts. So feel free to add in anything additional and yummy like that if your heart desires — even coconut shreds would be heaven, or sliced apples/applesauce!
I have been eating them for breakfast & also putting them on top of my morning smoothies, eating as a snack, dessert, etc. SOOO yummy. SO SIMPLE!
They are vegan, gluten-free (as long as you use gluten-free oats), salt-oil-sugar-free, Gerson therapy friendly, healthy & delish as can be.
2 Ingredient SOS-Free Cookies //
Ingredients //
3 large overripe bananas
3 cups gluten-free rolled oats (I use Bob's Red Mill, which you can get at ThriveMarket.com/BLONDE — using that link for a big discount on Thrive!!)
Method //
Pre-heat the oven to 375 degrees Fahrenheit, and line a baking sheet with parchment paper.
Chop the bananas so they're in their easiest form to blend, and then put both the bananas and the oats directly into a high-speed blender of your choice. (I use a VitaMix, which you can find on my Amazon Shop Page).
Blend until smooth, and add a little water if the mixture gets too thick or dry. I added about 2 tablespoons throughout the blending process.
Coat your hands with water so the mixture doesn't stick to your hands too much, roll the mixture into balls and place on the parchment paper. Press the tops of the cookies down with a rubber spatula.
Pop them in the oven for about 9-12 minutes, or until lightly golden brown. Let them cool, and enjoy!
I have been drinking mine with flax mylk… SOOO heavenly, and also dipping into my fave chaga tonics!! In my chaga tonic I use flax mylk, Four Sigmatic chaga, Four Sigmatic reishi, and a tablespoon of carob powder. One of these cookies with a tonic is my current morning go-to while I journal, do my breathing exercises, and get the day started.
Let me know what you think of this recipe! So incredibly easy, and so gooey and delicious. I keep these in the refrigerator and they stay fresh for about a week. If they last that long. 😉 And as always if you make them, share on social and #tbbmademedoit so I can seeee!!