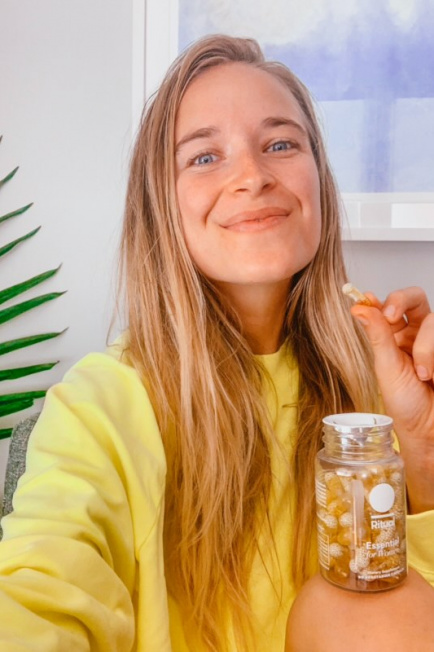 TBB Health Update Part II
Hi beautifuls! What do you think of the new blog layout?! I can't even handle how excited I am to have an aesthetic that matches not only my vision – but how much I have changed & evolved as a spirit in a human body over the last few years.
I mentioned on Instagram the other day that last week marks my six year blog anniversary! I began blogging On June 18th, 2013 at the airport in Maui when my family left to fly back to California and I mysteriously did not have a ticket home.
I had to wait 6 hours until the next flight to LA, and in those hours I made an Instagram account called @theblondevegan where I started posting photo after photo of vegan food, hash tagging the photos, and following other wellness & vegan accounts that I found. At the time – there were barely any!
Fast forward to now – a brand, a business, a book, a podcast, a (now vintage- lol) clothing line, countless partnerships & trips & events & opportunities, an incredible FB community, a massive healing journey, a spiritual awakening / a thriving affinity for Human Design, plant medicine, reiki, mediumship, aliens (hehe!!!) and so much more – WOW, how things have evolved. I cannot imagine my life without this platform, without you guys, and without being able to express myself on the daily on all of these incredible outlets!
Now that I have changed so much, it was time for my brand to evolve alongside of me. This new layout makes me so happy and symbolizes so much of what is important to me. The colors are zen and calming, and the little astrological signs + symbols feel like they're straight out of the contents of my brain. I will never stop being grateful for this journey and all that has transpired along the way.
TBB Health Update Part II //
Today… we are talking TBB Health Update Part II! Thank you so much for checking out Part I if you've taken a look, and if not check it out to get all of the updates on how I am feeling lately & what has been working for me.
As promised, Part II gets more into the supplements, vitamins, and rituals I have instilled into my life that are really working for me. So it's no coincidence that this post was brought to you by RITUAL, the daily essential vitamin for women that I am currently so obsessed with you've been me sharing on Insta, IG Stories, the podcast, you name it.
First thing's first – I want you to know, I never, ever share about companies that I don't 100% believe in and use on a daily basis. Beyond that, I usually use something for at least a month to 3 months before I share it with you guys. But Ritual was different in that I wanted to document my full journey of taking Ritual vitamins for 90 days so I can bring you guys along for the whole process! And I have to say, documenting along the way is super fun in its own way… because we can do it together!
Secondly, I want you to know that you can use the code TBB on Ritual.com to get 10% off of your order. The vitamins are so MINTY & FRESH & PEPPERMINTYYYY both tasting & smelling because of the peppermint essential oil tab they put in there — call me silly for caring so much but that is one of my number one favorite things about them. We love a carefully curated detail in TBB tribe, do we not?
What I also love most about Ritual is that they are non-GMO, vegan, sustainably sourced, gluten-free, allergen-free, and they have no colorants or synthetic fillers. The capsules are also designed for no-nausea when you take them, which is a massive plus for me because with Lyme and co-infections just about everything makes me radically nauseous. So they are TBB approved in every way but even beyond that, their product really blows me away.
Someone asked me on IG the other day after some stories I posted about Ritual, "What makes them different from all of the other vitamins on the market?" Other than the above, it was invented for women by women, so it is specifically formulated for women's daily supplemental needs. It contains nine essential foundational-to-health nutrients in their healthiest & most absorptive form. These nutrients fill in the gaps of a healthy diet to build a healthy foundation for the future, supporting the brain with Omega-3's, blood and heart health with Iron, and bones with Vitamin K.
It helps with… healthy skin, immune support, mood, heart health, hormone support, energy, brain health (!!!), and more. You know, the most essential things women need!
ALSO !!! And perhaps most importantly for me, since I have shared that I have the MTFHR genetic mutation that makes it difficult for me to properly utilize folic acid… Ritual uses a methylated folate so that it can be absorbed by those of us with the gene variation! Even if you don't know that you have it, the gene variation can affect up to 40% of women.
I am about 60 days into my journey with Ritual now and it feels incredible to have committed to taking something so good for me on the daily. I get it, we are all on the go and we are looking for easy ways to stay committed & on top of our health – and this has been easy for me to stay on top of with a hectic routine. Also with a hectic supplement / vitamin routine…  and Ritual is just about the only one I enjoy taking because I know it's going to be minty and fresh.
I genuinely love so many things about the brand, including that they just opened their new showroom on Melrose in LA! I wasn't able to make it to their launch party because of my energy levels right now, but I saw so many photos from it and I love how many mutual friends we have & how cute all of their branding is.
Definitely check them out, use the code TBB for 10% off, and start to think about your daily rituals. What do you do every day that you feel good about? What would you like to incorporate more of into your every day life?
The new course I am creating is full of journaling prompts, so let the above questions inspire you to journal it out today or whenever feels good to you. Also, what are your favorite rituals? Start to ask yourself how much of what you do in your day inspires you and sets you up for success & for feeling your ultimate best.
As far as how I am feeling — my IBS flare up is still going strong, and it's been one of my worst ever flares to date. I think it may have happened because I was getting a little cocky with my healing and incorporating some foods I don't usually eat… like a rather oily (but delicious) vegan brunch at Soho House & lots and lots of vegan cookies last weekend. I am being easy on myself this week, rescheduling what I need to, and getting tons of rest. Movement helps as well, but rest helps even more. Always remember to be kind to yourself if you are in a flare. <3
And as far as energy, my energy is low low low right now. Again, being as kind to myself as possible and letting myself feel everything — the low lows make the high highs that much more enjoyable.
Healing Update Part III is coming soon where I will share some of my Lyme medications, supplements, and treatments that have been the most effective for me. Ritual is not a treatment for Lyme at all, but rather a fun everyday ritual for me to get my essential vitamins in & know that I am supporting my health beyond my healthy diet. It's important to fill in the gaps wherever we can so we don't fall deficient in any area!
Okay what do you think?! Will you try Ritual?! What do you think of my new site layout?! EEEK! So exciting!! Happy weekend you guys… MUAH !!