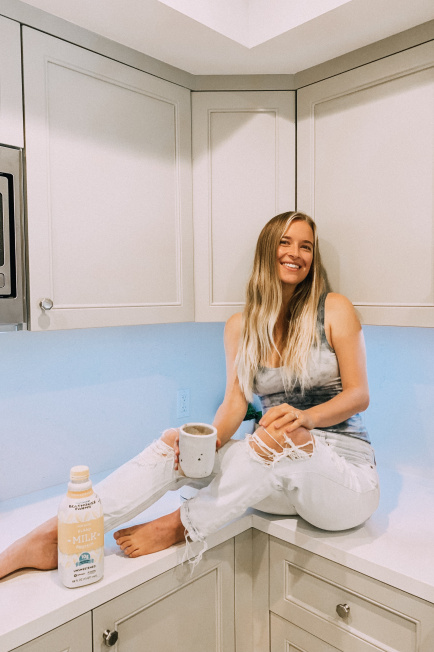 The Future of Milk is Plant Milk! + Mushroom Coffee Recipe
Hi my loves! Man oh MAN has it been a whirlwind of a few weeks… I will get into what this major rock bottom (see my previous post) has been teaching me in a post either tomorrow or in a few days.
For now, I want to focus on a yummy recipe and keep things light hearted and wellness focused for today. 🙂
This post is sponsored by the fab Bolthouse Farms® and I am so grateful.
I have been saying this for so long now and I feel like the world is finally catching up with the trend (hehe)- the future of MILK is PLANT MILK!
What does that mean? The world is moving from dairy milk to plant-based milks and I am ALL FOR IT.
There are so many yummy dairy-free milks on the market right now, from almond to oat to cashew to hemp to flax to PEA PROTEIN mylk. But Pea Protein is hands down the most nutritious, for a few reasons which we will get into.
Today we are talking all about the pea protein life, via Bolthouse Farms® which I have been super into for the last few months. I have been using it to make my morning adaptogenic mushroom lattes (heaven), my daily smoothies, my favorite low-glycemic açaí bowls, and more.
And now that I am healing from this wild Lyme cavitation surgery, I am even more into the anti-inflammatory life hacks (like plant milk and adaptogenic coffee… the topics of this post!).
Also, Jonathan uses it with his favorite cereals and granolas and ends up drinking the whole thing EVERY TIME. I feel like that's such a typical husband / fiancé / boyfriend move, no?! LOL.
Sooo the amazing thing about Bolthouse Farms® in particular is that pea protein is an incredibly nutrient-rich source to make plant based milks from. Their dairy-free milk is vegan, non-GMO, sustainable, and the version I drink is sugar-free. They have plenty of flavors but you know in this household we always go for unsweetened to support my sugar-free, healing lifestyle.
Ya ready for me to hit you with those nutrition facts?!
+ Bolthouse Farms® has 10 grams of pea protein per 8 oz. serving vs. only 1 gram of protein per serving in almond milk (wow, who knew?!)
+ They have 50% more calcium than dairy milk (yes, dairy industry, I am looking at you!!) per 8. oz serving, so you are not compromising your nutrient value when you go for the plant mylk!
+ Pea protein is rich in iron, arginine and branched-chain amino acids and offers benefits like improved muscle growth, immunity boost, feelings of fullness and heart health.
+ BolthouseFarms® Plant Protein Milk is non-GMO and doesn't contain dairy, lactose, nuts, soy, carrageenan, or gluten.
Plus it tastes amazing. There is no reason to not go plant-based when it comes to milk in my opinion!
I am super passionate about supporting plant forward companies whenever possible. For the animals, the environment, and our carbon footprint, going plant-based wherever you can in your diet is an amazing choice. Not to mention for your own health. And in my opinion it honestly tastes better.
What I have learned from my own healing journey is that the plant-based way of life is so healing, anti-inflammatory, immune-supportive, nutrient-rich, and supportive for those of us on the path to feeling better. With Lyme I suffer from so much joint pain, fatigue, migraines, etc. and regular dairy used to make that a whole lot worse for me.
One of my favorite things to make with this delicious pea protein milk is my morning adaptogenic latte! Talk about a massive boost of nutrients — on top of the pea protein benefits, I am fueling my body every morning with high quality adaptogens, herbs, and delicious dandelion root. You ready for this? Recipe below!
Morning Adaptogenic Latte //
Ingredients //
1 cup Bolthouse Farms® Pea Protein Milk (unsweetened)
1/4 cup hot water
1 scoop Mushroom Coffee of choice
1 scoop "Dandy Blend" dandelion root (tastes like coffee / has hints of chicory!)
1 full dropper of stevia
1 large dash cinnamon
Method //
Heat up the 1/4 cup water on the stove or in a tea kettle if you have one. Add the adaptogenic coffee mix and the dandy blend to the hot water.
Add the 1 cup Bolthouse Farms® Pea Protein Milk to a frother (if you have one) to heat and froth! If you don't or if you prefer a handheld frother (or none), simply heat the mylk as you wish.
Pour the frothed mylk into the hot water + coffee + dandelion root mixture, add stevia, add cinnamon, and ENJOY!
I mean… could this get any more simple?! I don't think so. Delicious and packed full of nutrients! You can find this Bolthouse Farms Pea Protein Milk on their site and check out the store locator there too. 🙂 
This is the future of milk!! Who agrees?! Let me know if you want the açaí bowl recipe next!