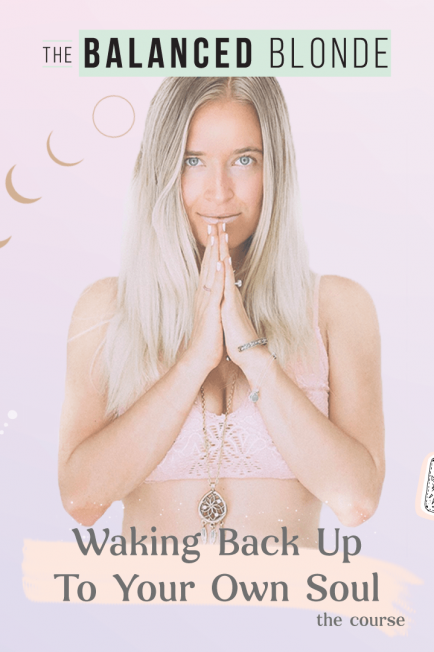 Waking Back Up To Your Own Soul Relaunch TODAY!
Helllooo amazing soul! Yes, that's you. 😉
I am going to keep this REAL short & REAL sweet because today is a big AF day, and it speaks for itself.
The signups will be open for two weeks, so today Oct 1 (don't ya just love when it's the first day of the best month of the year? Because I DO!) through October 15th you will be able to join our group of souls elevating in consciousness & living in miracles.
And throughout that time period, I will be posting about it a fair amount but I would say this post is your official notification & reminder to JOIN US FOR THE COURSE!!!!
We had our first round of course members go through the 9 week experience this summer and it has been incredible to witness their transformation.
Here is what a few of them are saying…
"Jordan's course has been radically life altering through the concepts she introduces in the modules. The meditations have taken me places I have truly never had access to before and I feel so spiritually in touch with my soul after doing this work. This course has been a catalyst for healing my chronic migraines and giving my body what it needs. I would absolutely recommend this course to anyone who wants to get in touch with themselves and their potential on a much deeper level."
– Grace
"I have never in my life resonated with a meditation as deeply as I have with all of the meditations in Jordan's course. After Module 0 I knew I had made an amazing investment and the course had barely even started yet. In my first meditation I saw my grandmother step forward and wrap me in the color yellow. I was in need of some big information to help me shift and elevate and I got it in that VERY FIRST MEDITATION!!! My grandmother told me to move and start a new job and that's exactly what I did. I can't wait to see what course comes next!
– Alexandra
"Jordan's course is so powerful that from the moment I signed up, I needed not even listen to the modules fully to see & feel my life shift before me — this experience is unlike anything I've ever experienced before. I'm now an open channel for light beings, have more confidence in my business, and even beyond confidence — more revenue and systems in place to support my business growth! As a soul-led business owner, this is nothing short of amazing, and yet, what else could I have expected from this Reflector angel?"
– Sasha
What you will get in this course //
+ 9 weeks of audio content through modules that will dig deep into soul awakening, returning to your eternal nature, reconnecting to your ancestors, falling in love with your body, CHANNELING, connecting with light beings, speaking to your angels and team of light, & more!
+ 9 soul-speak mediations with life changing (I mean, life changing) CUSTOMIZED binaural beats that you won't find anywhere else)
+ access to the Soul Awakening FB group where you can seek an accountability partner if you wish, introduce yourself, and have a group of likeminded individuals to go through the process with!
+ a beautifully designed PDF with journaling prompts, highlights from each module,  a reading inspiration list, quotes from the teachers who have inspired this course, & more
Who is it for?!
ANYONE seeking deeper meaning in life. It is open to all levels. And this course is designed to do at your own pace, so you will have access to it for life. You will learn how to become your own teacher & guide, develop new routines and habits, and finally make those lifelong changes you've been dreaming of.
You will learn to recognize miracles in every moment, and view your life as THE miracle.
I cannot wait for you to dive in. You can find all information here, and sign up to join us! The signups will be open for two weeks & will not be open again for quite some time.
If you are looking for a sign… THIS IS IT !!!!!
Creating this course truly feels like my soul's work. I have never felt more in alignment or more tapped in than I have when creating this course & leading the first group through.
I am elated to have you join us if you feel that this course is for you. There is a lot more info here, and we truly can't wait to dive in with you if you so choose…! Head here to learn more & to join us!
All my love & then some! Headed to TULUM this week for my bachelorette party and I am so exciiiiited!!!!