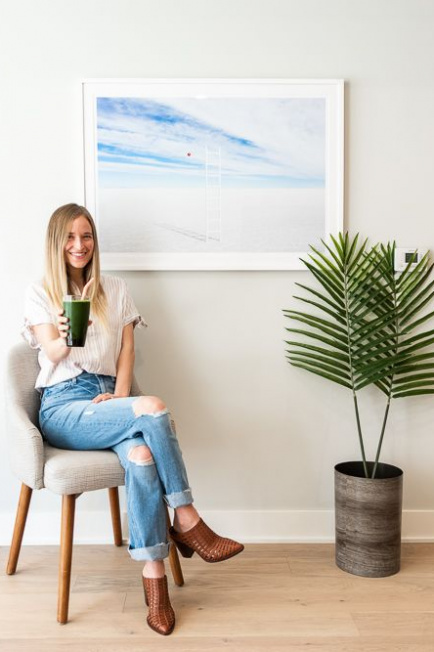 More Holiday Gift Ideas! Wellness, Healing, & Healthy Gifts!
Hi my loves! I was so excited that you enjoyed my TBB Holiday Gift Guide, wooo!! I thought of more fun goodies to add to it, but figured they deserved their own post rather than tacking them on to the last post where you might miss the new additions.
But if you haven't seen Part I of the guide yet, definitely head here! It's full of all the high vibe spiritual books, card decks, crystals, journals, adaptogens, food products, and more. I mean, who doesn't want to receive yummy food on Christmas or Chanukkah?!
This Part II will continue down the spiritual, healing, high vibrational path. I don't have anything against giving clothes, bags, shoes, etc. as gifts for the holidays but I personally have mostly stopped contributing to that trend because I feel so much more passionate about sharing a healthy & heart-centered life with the people I love. They've grown to expect that their gifts from me will usually be energy clearing crystals, sessions with mediums, books about living mindfully, that kinda stuff. 🙂
And I do believe I have gotten them more into the healthy lifestyle that way, even if it's just here and there. I never push this lifestyle on the people in my life, but I have so much passion about sharing it with them. So when I can, I do! Hence why we did a magical shamanic cacao ceremony on my bachelorette in Tulum… 😉 That was definitely very new for my friends as you can imagine, but it was an amazing way to bring them into the shamanic life for a fun, beginner-friendly experience.
Okay, let's get into the gift guide! This is a mini version since Part I was full of allll of the deets, but I couldn't *not* add some of my very favorite items & ideas that popped into my head today during my Panchakarma… there are some pricier options on here & also affordable ones (hellloo, SAJE!) but for my full list of super affordable gifts, head to Part I.
Some of these are for the person who is willing & able to spend a bit more, or for that one person in your life you want to go all out for!!!! Even if that person is YOU! I am all into the self gifts… I think they are energetically very important and healing.
A Very TBB Holiday Gift Guide, Part II!
+ Panchakarma – Since I just mentioned it above, it only makes sense to mention it here too. So this doesn't fall under the category of "gifts on a budget" (a bunch on this list do, as well as almost all of the ideas on my first list!). An Ayurvedic Panchakarma is a five-step, mind-body-spirit healing experience that is comprised of herbal oil massages, steam baths, enemas (both coffee and oil), a healing kitchari diet (or you can make this part your own) and other purifying practices. I LOVE PK's because they really offer a true reset from life.
The first time I did one, I didn't use technology for even speak to anyone for 5 whole days. I went all in. Now I incorporate them into my life more regularly – I try to do 5 days at least twice a year. And when I do them, I do use technology throughout the week and stay up on my emails/life, but you absolutely don't have to. It's a huge commitment to your body and your healing overall, and you can choose to do a PK in whatever way works best for you.
I am doing one this week at Surya Spa in Brentwood, which is definitely the number one place to go in LA. In all of California that I know of. The Ayurvedic doctor there Martha Soffer is a genius! I will have her on TBB Podcast soon. All of the healers I have been going to, from angel frequency healers to Chinese masters who can materialize herbs out of thin air (not making this up), have been recommended by Martha.
If you have someone in your life who suffers from health issues or an imbalance in their health or hormones, or really just needs a RESET from life, and you're willing to get them a very generous and involved gift, a PANCHAKARMA WOULD BE MY TOP REC. But I am honestly mostly including PK on this list because I think it's a fabulous gift to yourself. If you suffer from chronic illness or any symptoms of chronic illness, Ayurveda is a beautiful and holistic way to treat the illness and find balance again.
If you go to Surya, tell them I sent you!!! And send me a message so I can tell you what to expect / how amazing it is. If you'd like to read about one of my previous experiences, head here! That one also links to all of my past PK experiences! Would it really be TBB if there wasn't a mind-body-spirit holistic healing treatment on here? This one will radically transform your life… I will do another full post on it soon!
That post-Panchakarma bliss face on Monday got me like… *I AM IN HEAVEN*!
+ Saje Natural Wellness *EVERYTHING*! – I say everything when it comes to Saje because you honestly cannot go wrong with any of their products. I have been in love with their essential oils, diffusers, skin, and body products forever. But above all I am a HUGE FAN of their peppermint halos!! So much so that I gifted them to every girl & guy at my bachelorette party in Tulum this October. 😉 Peppermint halos are soooo amazing for migraines, headaches, sore muscles, tense jaw/TMJ, you name it.
Saje products are 100% natural, plant-based medicines that help you feel good, more zen, & closer to the earth all in one fell swoop. As far as their diffusers go (which have changed my liiiiife and rocked my world) my favorite is their Aroma Edge. They have a special glacier edition one for the holidays right now & it is SO CUTE! This is the perfect gift for your significant other, a best friend, your mom… yourself! A few benefits of diffusers are as follows…
Diffusers help to revitalize our air by pushing away all the dust and dirt and leaving room for the fresh aromas
It's recreating the same sensation as if you were standing near a waterfall – bringing nature inside!
Cooling your essential oils is the best way to get the full medicinal benefit!
They also have adorable holiday gift sets that make it easy to bundle & gift a few of their go-to items. My favorite of the gift sets is the Pick-Me-Up, which has their fab peppermint halo as well as some of their other energizing mists and blends.
They also have THE MOST ADORABLE 12 Nights of Wellness advent calendar!! It is full of nighttime blends like their sleep blend, tranquility blends, Sleep Well Body Butter (sooo dreamy, you guys I am addicted), & more. And it's so cute & holiday festive — a perfect gift to give to someone who needs that extra sleep boost in their life. 😉 Ahem… me lol or anyone similar to me even remotely!
Look how fun this is!! My kinda advent calendar!
Check out the rest of their products & enjoy!! (GET THE PEPPERMINT HALO! JUST SAYIN!)
+ Pranamat – You guys know I looooove my Pranamat! It feels like an acupressure massage and a bit of acupuncture (without the needles of course) all in one. I have been a fan of them for a long time. I love that it helps with back pain, headaches and stress… all of which I suffer from and I feel like many other people out there do too. It also improves the quality of your skin-tone ANNND quality of sleep. According to their clinical studies, 97% of people reported relief of back pain when using Pranamat frequently!!
I usually lay on mine for 15-20 minutes at a time, put on some calming music or a good podcast, and just zen out. I like using it at night. Plus they have lots of cute colors!! This is the person gift for someone close to you in your life (they're about $230, but you can use my code for a discount) or for YOU! Self-care gift all the way!
+ Nama Juicer – Guyyyys I am SO excited because I just started working with Nama Juicers (not getting paid to say any of this but if you purchase through this link I will get affiliate commissions!). I saw some of my favorite recipe bloggers using it & it looked SO AMAZING and so much more functional and multi-faceted than other juicers I've had and used!! You can even make nut mylks in them, which really hooked me in!!
It keeps the juice super nutrient-dense, by maximizing extraction of the micronutrients that our bodies need to function at their best. It also maximizes the juice so you get the most out of your fruits and veggies. I love the Vitality 5800, and will have a bunch of pics to share of me using it soon, woooo!! You guys are always asking for my go-to juicer rec, and this is definitely it. They also have payment plans for those who are not able to pay up front!
+ 
Nespresso Frother! – 
You guys have probably seen me using my frother up a storm on Instagram stories ever since I got it off of our wedding registry a few months ago…!! I kept telling Jonathan it was my NUMBER ONE PICK on our registry because I wanted to make cool frothy lattes (or caffeine-free elixirs) like some of my blogger friends were always doing on their stories. 😉 (Ahem… Olivia & Sam!!! Froth queens!). It definitely works best with certain types of milks like coconut milk and cashew milk vs. your straight almond, but no matter what type of milk you're using it's always a fun addition to a latte or any type of yummy drink. And pro tip, you can use them with
Four Sigmatic
lattes (code BLONDE for 15% off!), add a pinch of cinnamon and some stevia, & those will rock your world!
Head here to shop
, at the top of my Amazon shop page!!
+ Radiant Life Water Filter – I really felt the inspo to add a water filter to this list because first of all, FILTERED WATER IS SO DAMN IMPORTANT. I don't think most people realize how contaminated our tap water is. And neither did I before I worked with Radiant Life earlier this year & got one of their amazing filters in our home!! You can use the code BLONDE for 10% off of a Radiant Life filter! Head to this post to read all about why filtered water is so important & all of the crazy contaminants in our tap water. Trust me, you'll want to get a water filter immediately! Jonathan & I have their countertop system and we love it – it would fit anywhere, even if you live in a small apartment!
+ Gray Malin coffee table book – I had to add this in because as I am sitting here typing away I am looking at all of our Gray Malin artwork on the walls and our Gray Malin Italy coffee table book! If you haven't heard Gray on the podcast yet, you must. He is such a genius, and truly my favorite artist of all time. And this was my home tour on their site! Depending on how much you are looking to spend, I think a coffee table book is a great investment and a beautiful gift to give to someone you love. (Especially someone who loves coffee table books as much as I do!!! They're my FAVE.)
With some of my fave Gray Malin art!
+ A trip somewhere! – If you're looking for a great gift to give to a significant other especially or a best friend, I always recommend an experience. If a full weekend trip is too expensive, a day trip somewhere is always in the cards. If you live in LA, a drive up the coast to Malibu, Ojai, or Santa Barbara are some of my favorite day trips. In Ojai there are the hot springs that are such a fun thing to do, and in SB there is the beach, cute shops, delicious restaurants! Other day or weekend trip ideas are Palm Springs, Joshua Tree, Big Sur, Carmel, or Yosemite. Sorry for peeps who don't live in California, my ideas are fewer and further between hehe because this is my hood. I won't say what or who (it's still a surprise) but I mayyyy just be planning some fun getaways as gifts this year. 😉
+ Also be sure to check out my Part I of the TBB Holiday Gift Guide for more fun, easy, and affordable ideas!! Also if you're a last minute shopper like me… I GOTCHU. 😉
+ Final ideas are printing out photos and putting them in cute frames or making a scrapbook, and a gift certificate to get a massage (SO INTO THIIIISS- Jonathan & I personally love Zeel because they come to your home, and The Now Massage here in LA!).
Okay my loves, that's all I've got for ya today! I just got so excited thinking about all of the other fun, wellness & health-related gifts to give for the holidays that I didn't include on the first go-round. I think the holidays are such a great time to spread the WELLNESS LOVE to those in our lives who maybe wouldn't normally be into it- because doing so in the form of a gift is always fun. What do you think?! Any of these pique your interest?! HAPPY ALMOST HOLIDAYS! XO