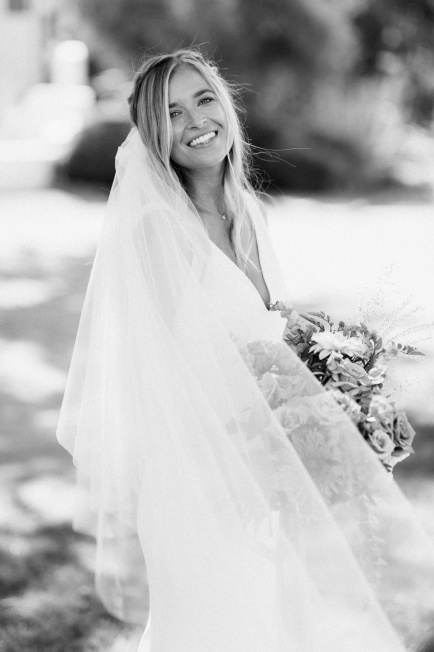 OUR WEDDING, PART II: A WEEKEND OF MAGIC, ALL THE DETAILS LEADING UP TO THE CEREMONY!
Oh me oh my, how to describe our wedding day? In words, in photos, in video? It's so hard to capture the true essence of what we felt on that day, but between those three things I feel it is definitely possible.
First of all, can I just say how cool it is to be able to share such special moments with you guys? I have had this blog for six years, so I have documented my ups and downs, extremely single years, years where I dated toxic people, my journey through sickness and health, many business ventures and very many intimate musings. All in all, to be able to share my WEDDING to the love of my life with you guys, as well as our entire relationship leading up to this point… is so damn cool.
I mean, my first podcast episode with Jonathan in 2016 documents our friendship BEFORE we were dating, and so many of you guys called it that there was an undeniable connection and flirtation between us. And now… here we are. Marriage! Magic! The most special day of our lives thus far! To be able to share it with you guys is everything to me — you are all my extended family, my friends from afar.
AHHH!!
Okay, so let me just begin with Thursday night — arriving to Ojai. And if you haven't read my first wedding recap yet about how I was feeling on our wedding day, check that one out here to set the tone!
All photos taken in this post are by Tynan Daniels & Tony Modugno of Via Imagery. They are amazing and I HIGHLY RECOMMEND THEM FOR ANY / ALL WEDDINGS!!!!
Thursday Night, Arriving to Ojai!
So we got to Ojai on a Thursday, and when we arrived all of my pain, Lyme symptoms, nerves and apprehensions literally melted away. We were shown into our bridal suite, and our jaws basically dropped to the floor. We've stayed at the Ojai Valley Inn many times before, but the bridal suite was actual magic. Multiple rooms, a huge magical bedroom, two gorgeous patios (one of them overlooking the Farmhouse — our wedding venue!), and of course a massive bathtub of my dreams.
Jen, the amazing consultant at the hotel who we'd been working with all year, had champagne and cold green juice waiting for us in an ice bucket. I mean, DOES SHE KNOW US OR DOES WE KNOW US?! We popped some champagne and juice on the patio at golden hour and reality started to sink in — WE. ARE. GETTING. MARRIED. THIS. WEEKEND. WHAT. IS. LIFE?!??!
I have to say, even the most intense pain and Lyme symptoms could not possibly flourish or function in a situation like that. It was heaven. On a huge, gorgeous balcony overlooking our wedding venue, at our favorite hotel in the world, nestled into the stunning mountains of Ojai valley, our best friends and our parents in all of the buildings and rooms surrounding us, watching the sun go down while toasting to our wedding weekend. Just IMAGINE THE SCENE! It was GLORY!
That night, we went to dinner in downtown Ojai with six of our closest friends. We ended up at a cute place called Sage Ojai (because our favorite place, the Hip Vegan was closed that night randomly!) and it was perfect. We told stories, ate yummy food, practiced our first kiss for them (Jonathan dropped me in our practice dip, LOL), talked about how amazing the next few days would be, and got hyped up for the weekend.
Later that night our friends, my parents, my parents' friends, and some family who was already in town came over to our bridal suite for wine in bathrobes to kick off the weekend. Honestly, that night in our suite was one of my favorite memories in my life to date. It was just so perfect, so relaxed, so full of love. I could have stayed there with them for all of time. We told stories from high school (so many of my best friends have been in my life since childhood), laughed, drank (they did — I didn't even need alcohol to feel drunk on life and amazing), and soaked in this weekend finally arriving.
That is my number one tip to anyone getting married! Treat your entire wedding weekend as if it is your wedding day. Soak it all in. The day itself will fly by in an instant, but the weekend is yours to enjoy. Make every moment count — have the deep conversations you crave with everyone who came out to celebrate you. Look around, grab your partner who you're MARRYING, and take a moment to soak in the community and love you've created — that's YOURS! It's yours forever!! Cherish it!
By the time it was about midnight or 12:30 I think everyone in the room was like, "Okay Jordan has to go to bed," LOL because everyone knows that I struggle with chronic fatigue/exhaustion from Lyme and after putting my ALL into feeling healthy and well for our wedding, it would be awful to be too exhausted to enjoy the rest of the weekend.
So we went to bed, and Friday even more magic began!!!!
Friday Day & Night, Rehearsal Dinner & After Party!
Friday morning we woke up and looked at each other and said, "How will today even top last night? Last night was PERFECT." But somehow we knew it absolutely would.
More and more of our friends and family were arriving at the hotel, and we could see them from our balcony so we shouted our hellos to them and some of them came up to see our suite. Jonathan and I had a cozy morning on our balcony, in our robes, finishing our VOWS (separately, of course), and sipping on green juice and decaf coffee. It was… actual heaven. There was angel light everywhere. Pure magic. Again… moments to keep soaking in!
From there, I am pretty sure we went to get smoothies at the spa cafe with our friends and visited the Farmhouse location to show those of them who hadn't seen it yet! The whole thing was basically a whirlwind! I think I was just saying over and over, "Oh my god. All of my favorite people in one place. This is perfect. What is life!"
Then we came back to our room to shower and get ready for the rehearsal!! My mom's friend Jen (and my friend!) who was my hairdresser beginning from age 11 was there for the weekend, and she came over to do my hair that night! She is so talented and put some fun barrettes in my hair with some fun waves (very Dorit RHOBH most recent reunion style if you know what I mean) and I felt so GLAM. I put on my sparkly dress that I picked out at BHLDN earlier this year (in January!!) and had my bridesmaids over so we could all go to the rehearsal together!
Things were starting to feel REALLY REAL at this point!!!! We got to the rehearsal at the Farmhouse and saw so many people we hadn't seen yet — my sister, brother in law, nieces, brother, KELSEY our reiki master and wedding officiant!!! Tynan our photog and dear friend!!! Max our videographer!! And Jonathan's groomsmen!! And our flower girls!! JUST AHHHH! There are not even words to describe.
I am pretty sure I blacked out while our wedding planner was going over the details with our wedding party because I was just staring at everyone in this environment and feeling completely in awe. I was holding our niece Chloe (one of our flower girls) and just feeling so full of love for everyone and every thing that had gotten us to this point.
The rehearsal itself was so special — pairing our bridesmaids and groomsmen for the first time (you better believe we came up with the pairings months ago, and each one felt totally perfect and serendipitous) and watching them walk down the aisle.
Even doing the REHEARSAL walking down the aisle with my dad was EMOTIONAL AS EVER!! He was definitely crying — Byron gets very emotional and it is so, so sweet. We went over some more details for the next day, and then we headed to the rehearsal dinner.
The rehearsal dinner was EVERYTHING!! It was in this beautiful garden area at the Ojai Valley Inn, and they set it up completely perfectly for us. It radiated the best vibes. String lights, candles, flowers, garden magic. It was so fun chatting with everyone who came — we had about 80 people there, because between our families and bridal parties and select dear friends who we invited… the number added up quickly!
The SPEECHES were such an amazing part of the rehearsal dinner night. We had our friends do somewhat of a "roast" of us (originally we were going to do a full-blown roast but we decided against it last minute because roasts can get very raunchy, lol) and it was absolutely amazing. They all roasted/toasted us and so many of them had us rolling on the ground laughing.
My best friends for LIFE (literally, we've been friends since we were children) Katie and Danielle did an EMINEM STYLE RAP to "Just Lose It" with PERSONALIZED JORDAN LYRICS!! I need to post the lyrics to the blog in their very own blog post!! It was literally amazing!!! I still can't even believe they did this and pulled it off so flawlessly. I will never forget one single moment of it.
My mom had an EPIC speech, all about how I am the opposite of the daughter she always thought she would have and the girly, fashion loving, shopping obsessed daughter she dreamed of… but how our relationship is so much more than she ever could have fathomed and that we are the best of friends in the world.
My best friends from college Alexi & Clare had an amazing joint speech with so many hilarious and special memories — not to mention Alexi's memories of me and Jonathan's relationship turning into a couple… as she has witnessed it every step of the way!
My other half JORDAN DORSO had a speech that brought me to tears. He is truly my brother and has been for so long. The love I have for him in my heart is like no other. And my dear friend Anya shared the best memories from high school and so many tidbits about me that people now wouldn't believe (we were wild- very wild. LOL!).
Jonathan's groomsmen had incredible speeches too. Hilarious ones and ones that moved us to tears. I will never, ever forget the words that were shared that night.
After dinner and speeches, we all went to a pub at the hotel called Jimmy's and it was SO MUCH FUN!! We got to see a bunch of people who had arrived that day/night that we hadn't seen yet, and we basically filled out the whole bar/restaurant. It was an UNFORGETTABLE night.
Again, a night that made it so, so hard to believe or fathom that the following night / day could be even better.
That night, we got back to our bridal suite around 12:30 or 1am and Jonathan stayed to tuck me into bed and chat before we parted ways officially until our first look the next day. I am so glad we decided to stick with that tradition even though I must have faltered on it a million times- thinking it would be so hard not to sleep next to him that night knowing what a huge day we had the next day!!!
That is my second big tip — sleep separately if you're up for it!! It makes the heart grow fonder, and makes it super special to see each other for the very first time the next day either during the first look or during the ceremony. And I love that it keeps tradition alive. Weddings are all about tradition, even if you make them completely your own, so it's fun to draw in traditions that people have been doing for centuries.
Third tip is, don't skimp on the speeches! At the rehearsal AND wedding! We had received some advice to keep the speeches on the shorter end (with fewer people speaking) and we didn't listen to it. I am SO GLAD we did what felt right to us, because the speeches are something I will remember forever. Jonathan and I both love speeches at other people's weddings (and rehearsal dinners) too, so this was a no brainer for us as a couple!
The Wedding DAY!!!! & NIGHT!!
My angels, my lights. <3
Waking up on Saturday morning was a feeling like NO OTHER. I knew it was about to be the biggest, most special, most unbelievable day of my life ahead and I could hardly even wrap my mind around it.
Because I do have trouble sleeping, I took a pill to sleep the night before… and I am glad I did, because I did get good sleep and felt really rested. I called room service for green juice and decaf coffee (I had to explain that I was the bride, because they tried to say I couldn't customize a green juice without fruit and MAMA WASN'T HAVIN' THAT on that day!!! The moment they realized I was getting married on property that day, they accommodated! LOL), with a side of almond milk.
I decided I was going to eat super light that day, for no reason other than that my stomach is VERY SENSITIVE, and I was NOT about to risk not feeling 100% or having my IBS flare up on that day of all days. So I sipped my juice, a bit of decaf (because decaf coffee makes my soul happy), and decided to wait until I was hungry to eat any solid food.
My mom came over to give me something (I don't even remember what?) and we chatted for at least an hour about the amazing night beforehand. In typical Jordan fashion I had plans to hand write my vows into my little vow notebook that morning before my bridesmaids and hair/makeup crew came over, which is HILARIOUS because my vows were extremely long and there was no chance I was handwriting them in anything less than five hours, lol.
So I started doing that, took a quick shower, and then hair and makeup arrived to set up! Doing hair was my dear friend Kelcey Barrad who I grew up with, and makeup was my friend Brittany who has been doing my makeup for TBB for years!! I highly recommend them both. 🙂
While they set up, my bridesmaids arrived at our 10:00am set time — which was something I fought hard for in our schedule that day because I know myself and A) I like to sleep in and be rested, B) I didn't want to be stressed at all in the morning or use too much energy early on in the day, and C) I LOVED the idea of everyone having a leisurely morning and not feel forced to be somewhere super early. I wanted the vibe of the day to be CHILL, blissful, fun, relaxing, and full of love and joy… and I feel like that is exactly what we cultivated!
My bridesmaids and I started the day by pulling ANIMAL SPIRIT CARDS (this is the deck we love, at the top of my Amazon book page!) which is our favorite tradition ever since pulling cards together in Tulum at my bachelorette. 🙂 It's become kind of our thing. I pulled two cards that day… one was the DEER, and one was the BUTTERFLY. Very fitting! Transformation being one of the main themes, as well as gentleness… which is my theme of the decade and my overall healing theme right now.
That is tip number 4… keep the vibe CHILL, if you are able to. Sometimes it can feel like WORK to be in someone's wedding, and that is the LAST thing I wanted. I wanted everyone to enjoy the day and truly feel the magic of the process and all of us being together. And do things that you love that are quintessential you… hence why we pulled animal cards in the morning, and started "late" in the morning as far as weddings go!
Then, it was time to start getting ready! We did hair and makeup all afternoon, and it was honestly so much fun. I look back on those hours together so fondly and I always will — the vibe was chill and so happy, and I was surrounded by my BEST FRIENDS. Love that my mama was a part of it all too. (She is one of my best friends too, duh.)
Hilariously enough, I was still trying to record my vows! LOL. IT WAS NOT HAPPENING. I could not focus. So thank GOD the hotel was so, so accommodating because I ended up asking if they could print my vows really tiny to fit in my vow notebook, which they were totally able to do. I cut it down to the wire, but crisis averted.
MY FIRST LOOK WITH MY BRIDESMAIDS. THE BEST MOMENT EVER.
I was also trying to finish (or let's be real – start) this special scrapbook of marriage and love advice I was putting together for Jonathan from our parents and siblings, and again — there was no time! What was I thinking?!?! Thank god for my BFF Danielle (and Maid of Honor) who put the entire scrapbook together for me while we got ready. And for Jillian & Katie (also my Maids of Honor) for pasting my vows into the vow notebook!
Tip number five is- ask for help when you need it! Your people are there to help YOU on your wedding day, and they want to!!! They are waiting for tasks! I was so blown away by the love and help I received on that day, and I really, really needed it. Leaning into that support also made me feel so loved and so taken care of. It was true magic.
REIKI!
Not to mention, during getting my makeup done with Britt, Kelsey did reiki on me. It was honestly so special and so sacred. I was already feeling so good and so calm relatively, but I needed that extra zen. I definitely felt the DAY OF JITTERS, and the day was FLYING by in the blink of an eye. I wanted to slow down, and feel the support of my angels. So that is exactly what Kelsey helped me cultivate. It was amazing.
This moment with my BFF Jill… after she gave me such a special card. Truly indescribable.
During all of that, we got the robe photos of my dreams out on the balcony and on the stair case… and then it was time to do my FIRST LOOK WITH MY DAD!!!!
To be real, my dad had already seen my dress… he was actually one of the main people who picked it out! But I was so, so excited for this first look with him in my full hair, makeup, day of ensemble. My day and I are extremely close, and I am the youngest of four children. So I am his baby. He has always treated me that way, and has always taken extremely good and special care of me. He has warned Jonathan many times, "Do you KNOW what you're getting into?!?!? She's a princess!" Lol…
Our first look was incredibly special. And so US. My dad was shouting at me from around the corner, "DO NOT LET YOUR DRESS DRAG ON THE GROUND! THERE IS DIRT AND MUD OVER HERE!" So I was laughing hysterically before I even rounded the corner, but then when I saw him… it was perfection. He cried, I teared up, my mom and him gifted me a GORGEOUS diamond necklace that was made out of her first wedding ring!!! It was the most perfect moment — with my two magical unicorn humans who brought me to this earth — one that I will NEVER forget.
Then it was time for my first look with Jonathan!! EEEEPPPP!!!
Okay so this is what I had been waiting for, for what felt like forever. This is the moment I MOST LOOKED FORWARD TO ABOUT OUR WHOLE WEDDING! Aside from the ceremony, of course.
Unlike my dad, Jonathan knew zero things about my dress. He didn't know the shape, the fit, or even the color… I mean he assumed white but YA NEVER KNOW OK!! He literally knew nothing. Every time we spoke about it this entire year, he left the room. He wanted to be SHOCKED. He knew nothing about my hair, makeup, shoes, or the entire vibe I was going for. He was going to be stunned.
I however had seen his tux, but I was so, so excited to see him in it and see my almost husband on our wedding day. I could hardly stand it. He was waiting out by the iconic oak tree at the Ojai Valley Inn with his back to me as I walked down. But first, of course, there were about 15 minutes of, "Wait, where's Jonathan? We can't find him!" tag going on between our photographer, videographer, wedding planner, and us. That's my husband… in a nutshell!!!
Walking up to him was one of the most special moments in the world- I will never forget it. I could see him, but he couldn't see me!! He had no idea how close I was getting to him when he called out, "Jordan?!" and I replied, "Jonathan!!" from RIGHT behind him.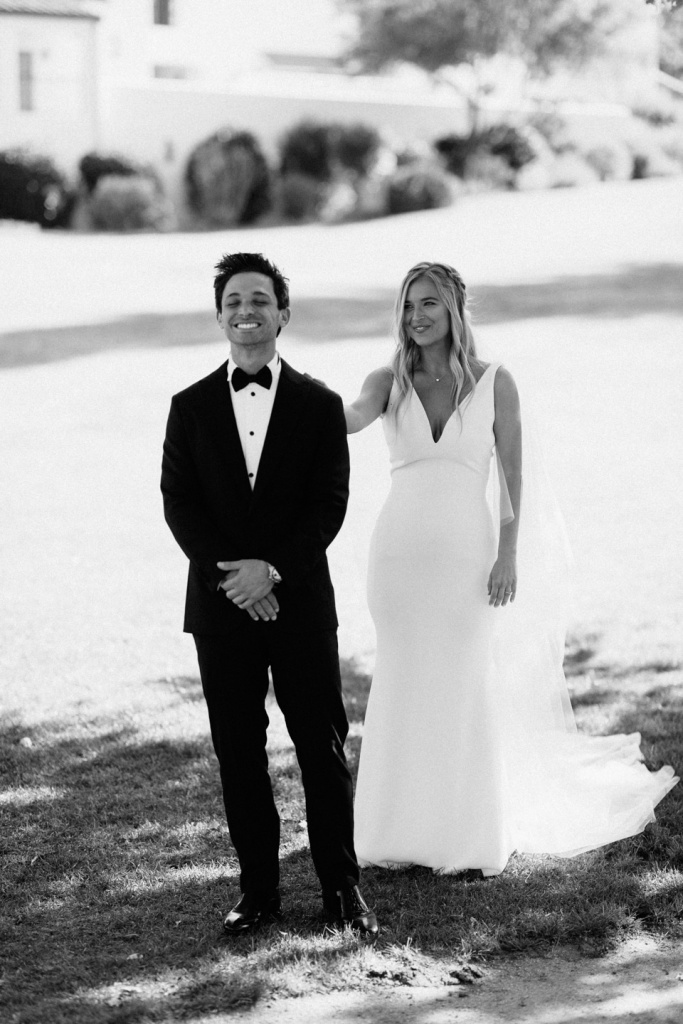 Then came the moment we had both been waiting for…. I tapped him on the shoulder, he turned around, and took me in. He was ASTONISHED by everything, head to toe. The dress! The hair! The makeup! His bride!!! He had no idea I would pick such a simple dress, and honestly neither did I. I always thought I would go with something super flowy and bohemian, but this was super form fitted and elegant and simple and classic all in one. With buttons and a cute little drape. And a FLOOR LENGTH veil.
We describe Jonathan's reaction as "convulse-crying." Which is exactly what it was. He couldn't catch his breath or even believe what was going on!  This moment together was SO special. I twirled around to show him my full look and we took each other in. Then, I whipped out the scrapbook of marriage advice and he REALLY lost it. You can see him crying in these photos… I mean sobbing. It was amazing.
I will NEVERRRR forget out first look and I highly recommend doing one!!!! It is SO SPECIAL and a memory we will keep forever.
THE SCRAPBOOK MOMENT!
Ok next I will get into our pre-ceremony, our CEREMONY (BEST MEMORY OF MY LIIIFEEEE), PARTY, AFTER PARTY, and SUNDAY BRUNCH !!!!! I feel like this post is full of juicy info and I will hit you with round three either tomorrow or the next day. Who is ready?! What questions do you have?!
I will also include all of our VENDORS, wedding planner, etc. in the next post so you have all of that info on hand!! OKAY I wanna hear it all! What do you think!?!?!??! The pics?!?! I AM DYINGGGG and have been all day — we received the photos this morning! And the VIDEOOO ahhh!!