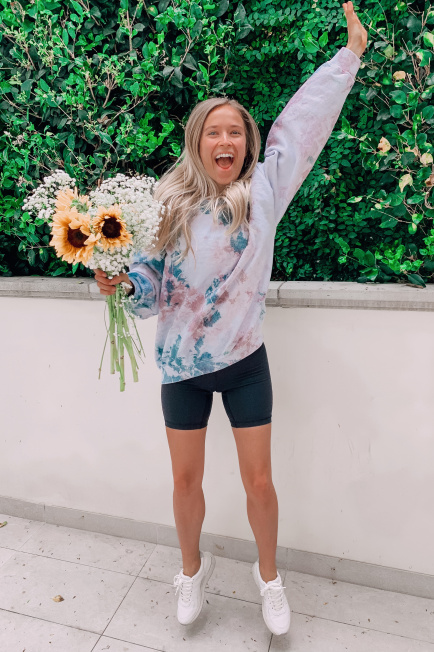 7 Things I Have Learned in 7 Years of Blogging + My Blogging JOURNEY !!
Hello my loves! Happy June 18th, aka my 7 year blogging anniversary. 🤍🙌🏻
I want to say time flies, but I also feel like I've been doing this all of my life. The crazy thing is, even before I had this blog I was "blogging" for as long as I can remember.
The other day I dug up my old health and fitness blog called "Jordan Health & Fitness" (lol) that I created in college to share healthy recipes, workouts, musings about staying healthy in college and finding the best yoga studios in LA and stories from being the Director of Health & Fitness of my sorority, Alpha Phi.
I barely remembered that I'd had it because it's always just felt like second nature to me to live this healthy lifestyle but to share what I'm doing and learning. Before that blog, I had "Meanwhile in Florence…" which was a travel blog about my study abroad experience in Italy and our travels. I remember pressuring myself to write 8,000+ word posts so I wouldn't leave out a single detail of our experiences there 😂 which also made blogging very tedious and not so fun…. LOL.
Not to mention, the hosting sites of my old blogs were not great (I had no idea what I was doing back then!!) so it took some SERIOUS digging to even find them!! The Florence one is gone but I remember that one fondly because I felt like such a serious "blogger" and shared every post to my Facebook, MySpace, all the places.
Speaking of MySpace… before I even started blogging I was a HUGE MySpace girl. I took it extremely seriously to decorate my page, learn all the codes and hacks to have the best colors, fonts, music, artsy photos, massive Top 8 (mroe like Top 50 with all of the hacks and codes I used), and I took it upon myself to ~*tYpE LiKe tHiS aLL oF tHe TiMe bC iT wAs tHe COoLLLL tHiNg 2 Do!!!!!*~
And pre-MySpace, it was Buddy Profiles on AIM. PLEASE tell me someone remembers this!!! Same thing there, I learned all of the backend coding so that I could use the rarest fonts and rainbow colors. I used Dashboard Confessional and Taking Back Sunday quotes in my bio and away messages like it was my job. And I think I left my AIM screen up 24/7 with various detailed away messages so I could always share what I was doing or what was on my heart.
Am I crazy or is that… BLOGGING?!??! IT ISSSSSS.
So that's why when I say I have been blogging for 7 years but it feels like a lifetime, it really started in 4th grade when my brother made me my @jojoyounger screenname for AOL. I vividly remember only one or two of my friends had a screenname or even an email address at that time (Eleni and Kayla, I am looking at you) so I would message my friends' parents on there just to utilize my AOL messenger. 😉
It's wild looking back at it all. Now that I know my Human Design (REFLECTOR !!) I know that I was living my best Reflector life all along. It has always brought me so much joy to share my life and my heart with the people around me, whether no one was reading or now, hundreds of thousands of you. ❤️
Which brings me to my next point — THANK YOU.
I may have been blogging for a lifetime before TBB, but it's you guys that have made TBB what it is. A community, a place to share our hearts, a hub for spirituality and wellness and going deep, a brand that has ranged from a clothing line, to books, ebooks, an APP, events, a podcast, retreats, Facebook groups, courses, and of course the forever mothership — THE BLOG.
I am forever grateful I started this blog (really originally my Instagram account) sitting in an airport in Maui on June 18th, 2013.
I was a brand new college graduate in love with the vegan lifestyle, and the vegan blogging community was JUST starting to get a bit popular and a select few people were sharing recipes and musings on Instagram. I had this thought while I was in Hawaii that I could do the same thing. I had plenty of food photos on my phone, I loved creating recipes, food styling, teaching people how to live healthier, and of course I loved sharing my life.
So boom, on a whim, @theblondevegan was created. I spent the summer creating content all day every day. It was a DIE HARD passion from Day One. A few months into it I decided to write a Facebook post asking if anyone I knew could help me create a website… and I got a message from a guy I went to college with saying he could do it.
We kind of dated for a bit   and he took it upon himself to be sort of a business advisor on top of building my website. He saw the blog traffic on the very first day and said, "Jo… You know you could make money off of this? We should put ads on your website."
So we did and the revenue was super minimal but I was not in it for the money and keep in mind the blogging industry as we know it wasn't even close to existing quite yet. I was just thrilled to get free vegan protein powders and was stunned every time someone new found my blog and told me it was impacting their life for the better.
Then the same guy who built my website came to visit me in NYC and gave me a real talk about how people were kind of starting to blog for a living. I couldn't believe it. I had JUST committed to grad school for creative writing and was halfway into my first semester… but the only thing I could focus on was my blog already. Now someone was telling me I could actually do this for work AND fun?
I finished out my first year of grad school but the rest was history. I was hooked. By that time I had created vegan cleanse programs and we had launched our first batch of TBV Apparel t-shirts. If you weren't here back then, think cheeky health-related sayings on shirts which may be a-plenty now, but back then let me tell you they were very original. "Health is the New Black," "Yoga Junkie, and "Oh KALE Yeah!" Were some faves. 😉
I could tell you my blogging story forever. I plan on writing a book about it one day soon, because this blog has been my baby and has gone through so many iterations. I've seen the industry flourish and then blow up during these 7 years, and it has been the coolest thing to be in it as it has grown. I fully believe that everything happens for a reason… and creating TBV (and then TBB) when I did has been nothing short of one of the top two greatest gifts in my life (number one being J + Hud obvi).
So let's get into 7 things I have learned in 7 years of blogging!!
1. The best things are born out of pure passion. This blog was created not for the sake of creating a career or even growing an audience, but to share what I love most- health, fitness, spirituality, and my heart. I have seen many blogs come and go because they aren't rooted in that passion. I heard something lately that said, "Brands have to have a SOUL. If they don't, they won't last." That is the ultimate truth, and TBB will always have a living, breathing soul of its own – which is my proudest accomplishment of all.
2. You never have to do what everyone else is doing. Actually, it's even better if you don't. I have done things quite differently than a lot of other bloggers in the sense that right out of the gate I tried a LOT of things— having managers, agents, employees, business partners, so many ventures, I was really all over the place and so excited to be living this entrepreneurial life. Over the years I have REIGNED it in. And now I keep things very tight around here, I really only work with family and a select few people on TBB. My goal is not to have a huge office of people but rather to keep things true to how they started. That is what makes me happy and that's what I focus on building upon every day.
3. Let your blog grow WITH YOU!!! I can't even begin to name the ways I have changed and evolved over the years. I went from a passionate diehard vegan to non-vegan and back to veganism, but in the process I have changed. I have opened up psychically, gotten married, and now I am freaking 29 vs. 23 when I started. In short… everything has changed, and my blog has grown right along with me. Have I lost so many followers and readers along the way because I am not who I once was? YES. Is that okay? Yes. I believe our true audience and who needs to be here reading will always find their way here.
4. Breaks are good. When I first started blogging it was all about working 24/7 and never taking a break. I would stay up all night creating content and forego many, many other things in my life to be "on" all the time at events, festivals, traveling for work, photo shoots etc. etc. A few years ago I realized that wasn't a life I wanted to continue living, and I made some changes. I never again want to work my ass off at the expense of missing important events and memories in my close circle's life. Oh and the real breaks I have taken for my health have been GOLDEN.
5. It's okay to pivot. I used to be so afraid that if I switched up my content in a big way people wouldn't be into it anymore. It turns out, you guys are the freaking best and we have developed such a friendship over the years — many of you are here for it all, and you are ON THIS JOURNEY with me. When I pivot, many of you are pivoting in your lives at the same time. I am really just sharing the journey that so many of us are currently on and if I tried to keep it the "same" as the past it wouldn't be true to reality.
6. Long term partnerships with brands you love are the JAM versus one off things. For a while I did a lot of one off partnerships, many with brands I loved and many with brands that I wasn't so into. It was a nice way to make $$ for a while but there is no soul in doing that. Now, I am only interested in creating lasting, real partnerships with brands I love that have to meet certain super specific criteria. For a few years now I have seen the importance of the long game vs. the short game, which also helps keep the brand true to its core vs. ever being about $$.
7. IT IS ALL ABOUT THE AUDIENCE!! You guys are my true friends from all over the world. I mean it when I say that you guys feel like my best friends who know me inside and out. When I meet you guys out in public sometimes people say, "I hope this isn't weird but I really feel like I know you so well," and I always say "YOU DO!!" The Internet is a wild place but it is a beautiful place too. At the end of the day you guys have made this blog what it is — a brand with readers — so thank you, I love you, I am always here for you and right there with you.
Wow. HEART SPILLLLLL. AHHHHH!!! Pleeeeease tell me below how long you've been here, how you found me, your thoughts on this story, all of it!!! TBB Tribe is my heart and soul. Cheers to 7 more years and beyond, and to continuing to grow TBB right alongside of me. Maybe in 7 years I will be mommy blogging ?!?! But I will never lose the core and foundation of where this all started. Love you all HUGELY. Thank you. 💜😭