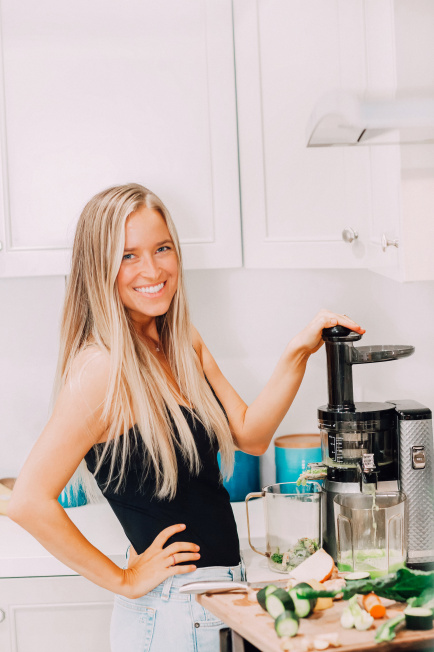 Brands I Am Loving Lately – HEALTHY, Non-Toxic, TBB Approved!
Helllooo, hello my loves!! How is it almost September already? What is this world coming to? How is 2020 flying on by yet also the longest damn year of all of our lives? I for one feel like I am in a time warp. All who agree say "I 🙋🏼‍♀️🙋🏼‍♀️🙋🏼‍♀️🙋🏼‍♀️!!"
Yeah, so that's the dealio. It has been a wild one. I am so grateful for this connection with you guys now more than ever, where seeing people IRL is a commodity and our online community is stronger than ever. I love and appreciate you guys more than you know. I see you — and I am full of gratitude for you seeing me and being here. I will never stop feeling that way.
I would love to know how you are doing below. We have had a lot of fun on our Monday TBB fam newsletter where I have had the chance to connect with a lot of you one on one and hear how you're doing and what you've been up to to, ya know, stay sane.
One big perk of all that this year has entailed is that I have become even more of a connoisseur of healthy, organic, natural, plant-based, non-toxic products — because I am never leaving my freakin house!! Lol. But really, it's been kind of cool to try out so many awesome products and really stick with a routine when it comes to what I do and what I take on the daily.
I have experienced so many health benefits lately from the things I have been taking, and also from being home way more and giving my nervous system a chance to breathe. It is pretty wild to think about all the places I would have been going this year, all the planes I would have been on, all the travel and stress and hosting and events and on & on, and this chance to be home… in bed (currently)… resting and healing this body… cuddling with my Squeak (Huddy) has in many ways been a gift.
So I wanted to put this post together to share a handful of the TBB Approved products — both food & home — that have been the biggest game changer for me. You guys know I am the ultimate guinea pig and I am as PICKY as picky can be when it comes to what I use and what I consume.
I also have lots of good discounts for you guys, as always, because that is how I roll!! I like to spread the love. So let's get into it!! You have probably seen a lot of these on my stories because I am obsessed — and when I am obsessed, I go ALL IN, but I wanted to keep them all in the same place!!
TBB Approved Products Galore //
Food & Supplements //
Arrae Bloat Capsules: This is an OBSESSION right now you guys. Like, obsession obsession. I cannot get enough. I take 3 bloat capsules after every meal, which has helped me so much with the horrible indigestion and bloating I have been experiencing my whole life, and especially in the last few years dealing with Lyme. Arrae is full of completely natural, organic, PLANT BASED ingredients, all herbs!!
Think lemon balm, dandelion root, ginger root, slippery elm, etc. Which are all also herbs that are used to treat Lyme disease holistically — so when I say win-win, I really mean it! Bonus, this brand was founded by TBB community member Siffat Haider. Soon we will have a code for them too, but for now check them out & support!! ALSO you will love their Calm capsules as well, which are also a dream. Head here to shop, you will fall in love. I also got my dad and my nanny hooked, and SO MANY of you have DM'ed me and emailed about how this product has changed your life. I can't recommend it enough.
Athletic Greens: We all need a good greens powder in our lives, and this is the best one I have found by far. It is full of 75+ vitamins, minerals and whole food sources ingredients – and it is so powerful it can actually replace your daily multivitamin if you take one. What I love is that it gives your body a powerful boost of chlorophyll and plant-based nutrients needed to fight off disease, boost immunity + gut health, and ultimately start your day off by getting that daily dose of greens first thing in the morning (that's when I drink mine). I also love that it tastes delicious. With the code BLONDE, you will also get a free year's supply of Vitamin D3/K2 which is amazing for the immune system & respiratory system.
I also love that it tastes amazing. You will see me sipping on it after my daily sauna sessions, right after my celery juice and before my cold brew coffee. SO GOOD !! Go here to shop and get those free perks from being in TBB fam!
Four Sigmatic adaptogenic shrooms: We all know that I am obsessed with mushroom coffee. Mushroom lattes, adaptogen hot cacao, chaga and reishi mushrooms, all the things. Four Sigmatic has been my obsession and my love since my very early days in the health world, when I first started learning about the magic and health benefits of adaptogenic mushrooms. The code BLONDE will get you 10% off of Four Sig products, and my must-have items are the chaga, adaptogen coffee (purple label), reishi (for nighttime), & mushroom hot cacao.
They have skincare now too but my FAVE items are the adaptogen coffees + mushroom powders – I often add them into my cold brew coffee for an extra boost, and it keeps my body from getting too jittery from the caffeine! Also their coffee is very low caffeine which is definitely a benefit for my fellow sensitive bods, AND they also have caffeine-free options!
Cured Nutrition CBD: As an endlessly anxious human, CBD has been a real game changer in my life. CBD has active compounds from the marijuana plant but will not get you high because there is no THC in it. You have probably noticed that there are a million and one CBD brands popping up at the moment (and for the last few years), and I am extremely picky when it comes to CBD specifically because there are so many brands out there that are very low quality & hard to trust. Especially with the oils I find that a lot of the oils are either not up to par when it comes to organic ingredients, and/or not totally ethical, and/or not very potent when it comes to the quality of CBD.
Insert CURED Nutrition (code BLONDE for a discount, obvi). Jonathan and I had the pleasure of meeting and majorly vibing with the founder of Cured, Joe Sheehey, a few years ago at a mutual friend's party. Since then, he has been on the podcast (listen here, such a good ep!) and I have gone super deep with him about their products and the integrity behind the brand. Their CBD is harvested in Colorado locally to where the brand is based, is always third-party lab tested, organic, natural and REALLY WORKS. I love that it's an alternative to pain medicine + anxiety medication. I got my dad hooked too. 😉
I love their new Aura product (major major improvements in focus and clarity) and I take their mint tincture CBD every night, AND use the pain salve DAILY. Use code BLONDE for a discount and you'll fall in loooove. 💜
Seed Probiotic: I have been on the hunt for a good probiotic for EVER that really, really works, and partnering with Seed has been the coolest experience. They are definitely in the highest integrity of any probiotic I have encountered, with so much science and research backing their product. They are a combo of a probiotic + a prebiotic, meaning the strains of probiotics can actually survive in the gut and get their job done. They have all of their partners take a full blown university class on their product before working together, so after going through that experience I am fully beyond confident in this brand and what they bring to the table. Code BLONDE for a discount — I take two every morning on an empty stomach and it helps so much with bloating, indigestion, and beyond!
Philosophie Superfoods Powder: Probably the question that I get asked the very most frequently is… what protein powder do I use?! For years I have been using my dear friend Sophie Jaffe's Philosophie protein powder, and you can use the code BLONDE for a discount. 😉 It is one of the only discounts they offer! I especially love the cacao magic and add it into almost everything… it is organic, raw, paleo, gluten-free and super minimal ingredient. In fact I have blender muffins in the oven right now with Philosophie in them! PS have you heard Sophie on the pod from last week? Such a special ep, highly recommend!
Chocolate Dreams Do Come True smoothie from TBB Detox & Recipe Ebook!
Silver Fern protein powder: This is another protein powder I am a huge fan of and have been using for a long time. It is full of probiotics and so good for the gut, and easy to digest. The chocolate flavor is my fave but I also love their vanilla. You can use code BLONDE for a discount!
Coffee: I am a PSYCHO about my coffee and always have to make sure it is completely mycotoxin-free, especially since coffee is a big attractor of mold. My favorite and most trustworthy brands of the moment are Kion & Purity for when I roast my own at home, & Chameleon cold brew for when I am more on the go. And Mingle's coco brew from the farmer's market makes me the happiest in the world!
Chocolate: Chocolate is a big attractor of mold as well, and the brand I trust unequivocally (the only brand I trust actually) is ADDICTIVE WELLNESS — they are phenomenal and so in their integrity. Pure, delicious, sugar-free cacao with no mycotoxins ever. The founders have been on the pod too. Use the code BLONDE for a discount with them! You will fall in love!
Home, Skin & Self-Care //
Nama Juicer: OKAYYYY so I try not to play favorites, but with all of the products on this list, if I have to recommend JUST ONE… this would be it. 🙈 Not kidding. A good juicer will change your whole life. There is a reason why I have one for LA and one for my house in Sac, and why my parents also have two. Because we can't live without it! And also because juicing at home is so much cheaper than buying juices out. If you add up celery juice out every day at $5 (which is liberal in LA, ok?) that adds up to almost $2,000 in a year, and when you have your own juicer you can also play around with all of the combos, batch them, and all around make healthier choices every day.
The NAMA is the best I have found BY FAR (FARRRR, far) because not only does it make juice, it can also make nut milk, sorbets, frozen fruit drinks, etc! It retains the most juice and the most nutrients from the produce, and is also super easy to clean when it comes to a juicer. It reminds me more of cleaning a blender. ANNNND the code BLONDE will get you 10% off of your juicer!!! Go here to check them out & to buy if you feel inclined. 😉 Also celery juice every day has changed my life… big post coming soon on that topic!
Clearlight Sauna: Every single day I get asked about which sauna I recommend and why, and HANDS DOWN my recommendation time and time again is Clearlight Saunas, for so many reasons. For one, they are the lowest EMF option and the most trustworthy brand by far. They have colored light therapy in their saunas now too which adds a whole special extra healing benefit — I personally like to rotate the lights but the red light is my favorite, especially at the end of the day. Infrared saunas penetrate the skin 5-8x deeper than regular heat alone, which draws up toxins and heavy metals and is one of the most effective and healing ways I have found to heal from mold, Lyme heavy metals, co-infections, and beyond.
Use the code BLONDE (!!!!) for $450 off of a Clearlight Sauna at HealwithHeat.com, plus free shipping. They are magic!! I use mine every single day fo r at least 45 mins a day. The benefits of infrared are endless, from detox to better sleep to relaxation to improved circulation to improved collagen in the skin to improvement in the body's ability to fight stress, immune system boost, and BEYOND. YOU WILL LOVE ! 🙂
Cocokind Skincare: I am super extremely picky with my skincare, and my favorite brand by far is cocokind, made and created by my dear friend Priscilla Tsai (who has also been on the pod, you must listen!). I love their celery duo, sea kale mask, turmeric tonic, and all of their mushroom-infused highlighters (legit the only makeup I wear). And you will be supporting a badass female owned and operated business! I can't get enough of their products.
Branch Basics non-toxic cleaning products: After getting sick with Lyme and mold, I have become extremely cautious about the home cleaning products we use. They must not only be non-toxic but COMPLETELY chemical-free or else my body goes haywire. Especially when cleaning the kitchen and kitchen products, because our food does end up touching so many surfaces and it would be horrible to ingest any toxic chemical of any kind. I love Branch Basics for so many reasons, and one of their amazing founders was recently diagnosed with Lyme so we have connected on a deep level. You can use the code BLONDE for a 15% off discount… I highly recommend ALL of their products and will be doing a deep dive blog post all about their products in September!! But if nothing else, start with their Starter Kit and go from there. 😉
Okay my loves, there you have it!! As you can tell, I end up working with almost all of my favorite brands to get you guys a discount code (which is almost always BLONDE) so I can spread the love and make it hopefully more accessible for you guys to get in on these fab products. 🙂 For other fave products of mine including books & all things spiritual, check out my Amazon shop page, which I am always adding too!
What did I miss?! Hope you guys love these and that they help you on your journey to living a more non-toxic, chemical-free, healthy & plant-filled life! XO