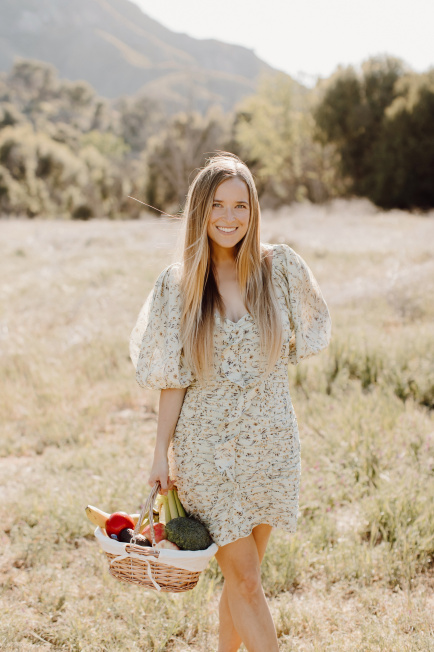 Top Benefits of the Celestial Diet & Your Questions Answered ✨🌿
Hello loves!
I cannot believe that the Celestial Diet & Lifestyle Program has been out in the world for the last WEEK! After working on it, creating it, and manifesting it for so long it feels truly surreal that it is now in so many of your hands.
And there are two more days to join us before the cart closes & the live version will no longer be available!! We have the cart open until June 6th (Saturday!!), and then we will begin as a group on June 7th. From there I will be guiding you through the 7 days with daily emails, two live calls (the BEST PART), accountability & connection in our private celestial FB group, and of course with the mediations, meal plan, grocery list, daily journaling prompts, 7 pillars… I could go on!
So I wanted to pop in today to tell you the top benefits of eating & living the celestial way, and also answer a bunch of your FAQ's in one place!
Let's get into it!
Top Benefits of the Celestial Diet & Lifestyle //
+ this lifestyle is extremely anti-inflammatory & supportive to healing from chronic illness, longevity, heart health, healthy & sustainable weight loss, and beyond. If you want to learn more about this way of life in detail, feel free to read this post all about living SOS-free! Celestial is the new SOS-free. 😉 So that post will break it down, and the program will take it way further!
+ This way of life is preventative. It sets us up to be healthy as we age. I know that everyone reading this does not want to have a nasty decline in old age like many of us have seen with our grandparents and people who reach a certain age. We want to set ourselves up for the best possible outcome of NO heart disease, NO stroke, NO cancer, NO Alzheimer's, NO dementia, NO osteoporosis, and no unnecessary pain.
+ It is cruelty-free, so it is the kindest diet for the animals, environment, and the earth as well as for our bodies!
+ The simplicity of the diet helps us return to the natural simplicity of food and the healing properties of eating delicious foods from the earth. In that way it resets our palate so we no longer crave sugar, salt, and oily / fried foods. This part is huge, because it brings the joy back to natural foods again!
+ Because this is a natural, whole food plant based way of eating, it purifies our bodies and acts as a natural detoxifier. When we are clear, pure channels, we can be more easily in tune with our higher selves, our ancestors / angels & our channeling abilities! This part is huge. My medium Nikki often reminds me that so many people who are opening up psychically are still eating very dense, earthly, 3D foods and in many ways it holds back the awakening process from happening in full. The Celestial Diet was designed to open you up in every way possible.
+ In my own personal experience, I have lost about 20 pounds going SOS-free. For me this was great because due to the hormonal changes I experienced with Lyme, I gained a ton of weight. I didn't feel like myself in my body at ALL. Going vegan helped me shed inflammation, and hen this lifestyle is what brought me back to my ideal body weight. It feels SO good not to have that extra weight, which is also extra inflammation in the body. It makes me feel more confident, more alive, more in tune, and makes me want to be more active!
+ The food combining element helps drastically with eliminating bloating & improving digestion!!
+ The SOS-free diet is known to be the most heart healthy diet on the planet. 🙂 For more info, check out the work of Dr. Dean Ornish, Dr. Joel Fuhrman, Dr. John McDougall & Dr. Alan Goldhamer to name a few!
+ & SO. MUCH. MORE! The rest you can dive into in the program!!
And now I want to answer some of your FAQ's, so you have a bunch in one place!
Q: LOVING the program so far! Any celestial go-to's when out at restaurants?
A: Omg yay! Makes my entire day to hear. Yes there are so many delicious celestial meals you can find out & about. I love asking for steamed veggies (sometimes I will bring my own tahini or coconut aminos) with a salad full of greens, legumes, nuts, and herbs. Also a baked potato or sweet potato is always celestial and is usually available anywhere. And if I am at a vegan restaurant, then the options widen considerably and I will have fun with it and mix and match a bunch of items!! Right now my go-to at vegan restaurants is a delicious lettuce wrapped black bean burger and a sided salad. 🙂
Q: Is it possible to do the celestial diet while also eating Low FODMAP?
A: Yes, completely! The program was designed with all food intolerances and healing protocols in mind. And the best part is, it's very customizable!
Q: This may sound strange but when you roast veggies do you put them in the oven dry (because of no oil)?
A: This doesn't sound strange at all! Yes I put them in dry with spices and nutritional yeast usually. 🙂 Major tips for this in my 22 day detox by the way which in many ways is a precursor to the Celestial life!!
Q: How is this similar to your 22 day detox or WBUTYOS?
A: It is very different from both of these programs but contains a few elements from both of them. Similar to WBUTYOS, it is an awakening guide that will help you tap into your truest, most divine nature. It contains new elements and new things I have learned about channeling, awakening, ascension and frequency since I created WBUTYOS in early 2019! And similar to the 22 Day Detox, it is a nutrition guide full of SOS-free recipes.
None of the recipes overlap except for my TBB nacho cheese because, well, let's face it — it's my favorite recipe on the planet! Otherwise everything is new, including all of the photos & brand new information! If either of those programs resonated with you, you will love this one. 🙂
The meditations are all brand new & completely magical! So if you did the 22 Day Detox, you are in for a big treat because this course is very much audio, journaling based, and written.
Q: I am busy and don't have a lot of free time! Is this program for me?
A. The program is a lot more simple than you may think — it's probably easier than eating what you are normally used to! Especially with the meal plan all laid out for you! B. Take it at your own pace, you can get started now and dive in whenever the time is right for you. At any rate, I encourage you to fully commit, because when we keep a promise to ourselves, that is when our lives can truly shift.  There are no shortcuts to the path of true healing, and I promise this is a fun way to get there! "The most effective way to do it, is to do it." – Amelia Earhart.
Q: Will there be a self-guided version down the line? I will be on vacation but I don't want to miss out!
A: Yes, there will be a self-guided version down the line but I highly recommend getting it now so that you can save the live calls & daily emails and then just look at them when you are ready to begin! There is so much extra goodness included in this live round. Also, you could join in with us when you can during the 7 days (even if it's just for one call or one little hello in the FB group!) and then you will be even more prepared to start when it's time for you to begin!
Q: Is it easy to meal prep?
A: Yes! The simplicity of the program is the best part! The ease and simplicity of the food itself makes it very easy to meal prep and plan ahead. Plus we have a special grocery list for you!
For more fabulous Q&A's, head to this page where we've broken it all down for you!! You can also look on my IG Story Highlight's "Celestial Diet" & "Celestial Q's" & "Program" to learn even more & get more questions answered!!
Lastly, here are some responses from people who have started the program!! I love, love hearing how it is going for you!! Keep the feedback coming. I love you guys so much.
And head HERE to join us, we start Sunday! YAY !! TOTAL magic. Leave any additional questions you have below!! XO