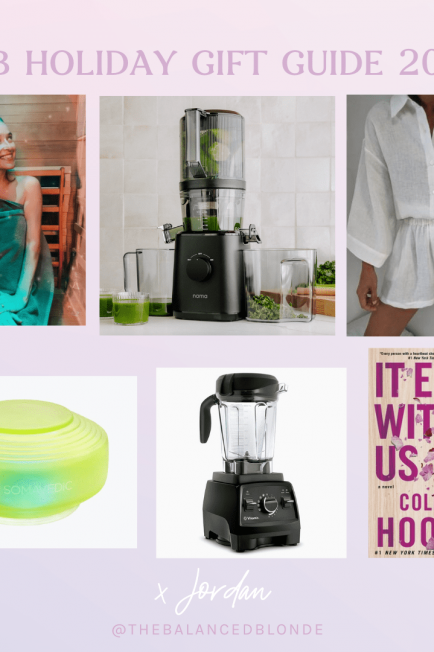 TBB Approved Holiday Gift Guide 2021!
My loves! Hi hi hiiii. I am here popping in with a holiday gift guide, even though yesterday was quite an eventful day and I thought I was going into labor. 🥲 We spent the afternoon in the hospital getting checked out, and all was very much well & healthy, but I am now 1cm dilated and definitely experiencing contractions!! I still think it will be a few weeks before our baby boy makes his arrival… but I am feeling a slightly early delivery date. 🙂
So you know I like to keep my holiday gift guides short & sweet. I love the long ones, but why not keep it simple and to the point, full of stuff I actually 110% recommend and would want to receive?! I also have lots of special discount codes for you (especially now with Black Friday & Pre Black Friday!!) & while none of this is sponsored, I do get paid a small commission from some of these brands when you use my code. Which I appreciate more than you know.
I also like to keep it short and simple because I feel like the holidays over the years have gotten extremely excessive. I am all for celebrating the holidays all out (our Christmas tree is already up! AND our Menorah!) but what used to be simple and lovely has gotten really blown out of damn proportion when it comes to gifts. Every time I check my email I have 1938293829 new messages in my inbox about deals and different days of different discounts / some of the holiday gift guides I have seen have literally hundreds of items. And that is completely fine, but I am here to keep it simple and sleek for us. 🙂
ALSO I do have a section for new mamas in here and will be sharing more new mama stuff soon, which has been highly requested!!!!
Let's just get into it. I am feeling another big pregnancy update post coming in the next few days (have you seen the first photo I shared from our maternity shoot yet?!), but for now let's dive right into the gift guide.
This guide is for the wellness lover, the conscious consumer, the health nut, the spiritual bestie, the NEW MAMA, the baking queen, you know the person. I am sure you all have a handful of these in your family or friend circle, or maybe this person is YOU and you can send this list to your loved ones! Let's dive in!
TBB Holiday Gift Guide 2021 //
I tried to sneak in enough variety for everyone, so that you can go big or small when it comes to budget, but all of this is quality AF and the best of the best when it comes to the brands !!
Juicers & Blenders:
Nama Juicer – 
You guys know I am not being dramatic when I say this, that this juicer changed my life. I got their original Vitality juicer right when it came out a few years ago and it CHANGED the juicing game for me. It is so easy to use, simple to clean, and doesn't take up a counter space and a half in the kitchen — it's just the perfect size. Juicing has been the hugest part of my health and healing journey. And NOW they have their new J2 juicer (I have it in white!!), where you can juice whole produce with ease. Game-changing new technology allows you to load your entire recipe and walk away so you can multi-task in the kitchen with less prep time. The J2 is changing the way people juice… including me! Check out my IG story highlights to see how you can place the produce in & then walk away. Use the code BLONDE80 for $80 off as part of their pre Black Friday & Cyber Monday sale. Head here to shop! (The juicer also makes NUT MILKS & sorbets… it's one of a kind in every way!).
PS I have gotten this juicer for my mom and dad (one for their house in Sac and one for their place in LA), my sister, so many friends, my nanny, basically whoever I can convince to start using it. 🙂 It will change your life and your health. And the code I have for you is priceless!
Vitamix Blender –
This is my tried & true go-to blender. I get asked pretty much daily which blender I recommend for smoothies & soups, nut milks and TBB nacho cheese sauce (literally the best I never go without it) so I couldn't not add a Vitamix to this list. This is my go-to Vitamix because it has all the bells & whistles. If you are going to go all out on a Vitamix you may as well get one with the highest quality. This will last you forever, I have had mine for probably close to 7 years now and it's not even close to slowing down. I use it every day! You can also use it to make blender muffins, pancake batter, literally all the things. If you are looking for a life changing blender, I got you!!
EMF Blocking Devices & Blue Light Glasses:
Somavedic EMF Blocker –
Another product I get asked about daily is my top favorite EMF blocking device. I love my Somavedic because it creates a coherent, life-supporting field of energy that expands in a radius of 100 feet in all directions. It mitigates EMF radiation (4G/5G, WiFi, phones), oxidative stress, free radicals, and can even harmonize and structure tap water. If you are like me and you are just a wee bit concerned (ok a lot concerned) about the EMFs running rampant in our homes and lives these days, you will want to get one of these stat. I noticed a huge difference in the way that I felt when I started using mine. I keep it near my podcast equipment in the living room because trust me when I say wearing those headphones everyday is a LOT. You can use the code BLONDE20 for extra $ off for their Black Friday sale (starting tomorrow!) or the code BalancedBlonde for a discount at any time!! Shop here!!
Bluelight Blocking Glasses –
If you are into mitigating the EMFs in your life, blue light blocking glasses are also a great gift or self gift. 🙂 I found these cute ones on Amazon (super affordable), or some other options I love would be Warby Parker or DIFF Eyewear! I have a bunch of all of the above laying around in every room so that I always make sure to have them nearby! Especially at night, mitigating blue light can help you sleep a lot better and help to regulate your circadian rhythm.
The Best Sauna in the Game:
I meannnn you guys have heard me talk about the most game changing sauna of all time, the CLEARLIGHT! When I'm not pregnant I live in my sauna. The benefits of infrared sauna range from detoxification to increased metabolism to healthy weight loss, muscle pain relief, skin elasticity, healing and beyond. It has been such a big piece of my healing toolkit. You can use the code BLONDE for $450 off + free shipping at healwithheat.com, and huge bonus — they are the kindest people ever.
Books:
You can head to my Amazon shop page for a big list of my current fave books & reads that have changed my life this year — and I honestly recommend any & all of them! I have been super into fiction this year & I feel like books always make a great gift. On the top of my Amazon page you will see fiction by Colleen Hoover & Taylor Jenkins Reid- I have been so into their stuff this year. Highly recommend for all of the book lovers in. your home!!
Among the list that are other top favorites right now that I would highly recommend gifting would be…
+ The Daily Stoic (& The Daily Stoic Journal) by Ryan Holiday — This book is for one of your more deep & philosophical friends, but don't be worried, it's still a very easy read when it comes to philosophy. It's curated so that each day of the year is matched with a quote from one of the ancient Stoics. Stoicism is an Ancient Greek school taught that virtue, acting from the highest good, and living in harmony with nature and with others. If you're looking for a great way to start your year off on a new and inspired foot (or if anyone in your life is, GO WITH THIS BOOK & the accompanying journal!!!!). Also, he was on the podcast last year — take a listen here!
+ My 22 Day Detox Ebook — I created this in last year to help people heal, find balance, find food freedom, enjoy delicious plant-based vegan food, embrace the SOS-free lifestyle, and overall live a beautiful anti-inflammatory life. It goes deep on spirituality, emotional eating, tips for eating out on an SOS-free diet, meal plan ideas, beautiful food photos, stories, my journey, and more. It also has more than  50 Exclusive Healthy, Plant-Based, SOS-Free Recipes To Enhance Your Life, Help You Find Food Freedom, And Fall In Love With Your Lifestyle. The code BLONDE20 will give you a onetime offer of 20% off for Pre Black Friday, BF & Cyber Monday!!! Get on it, yippee!! Same with the Celestial Diet ebook!!!!

+ Super Attractor by Gabby Bernstein — Gabby is one of my ultimate spiritual teachers and guides. I go to her books and her programs every time I need a boost to tune back into myself and drop the bullshit of negative self-talk and fear-based actions. Her books are also great for friends who are just getting into spirituality, as she writes them from her approachable and very personal experience and shares many intimate details from her own life. She draws on the teachings from A Course in Miracles (another great read, also on my Amazon page, for someone who is ready to go MUCH DEEPER) and from her own teachers like Marianne Williamson, Wayne Dyer & Deepak Chopra. HIGHLY RECOMMEND, and would be great to give to a girlfriend, your mom, etc.! Similarly, her Super Attractor Card Deck (also on my Amazon page), would make SUCH A GOOD GIFT!
+ Bringers of the Dawn by Barbara Marciniak. I get asked daily how and where you can dive deeper into the teachings of the Pleiadian light beings, and this is the top book that I recommend. 🙂 Her book offers key teachings about the original records of the Earth that are filled with power, love, and clear intention about how to reach a new stage of evolution. I revisit it often, and it has a permanent spot on my bedside table.
Spiritual Gifts:
+ Waking Back Up To Your Own Soul // The Course: My 9 week audio course that can be listened to like a podcast! We go deep on 5D consciousness, healing ancestral trauma, healing pain in the body, manifesting, channeling, opening up psychically, the Kabblah, the Law of Attraction, and beyond. Essentially, it aligns us with what lights us up, helps us to relearn our inner cosmic power, and to reclaim the true essence of who we are.
+ CRYSTALS! My absolute favorite place to shop crystals is Energy Muse, which was founded by the amazing Heather & Timmi who have been staples on TBB Podcast. Not only do I love their crystal gift bundles to give to people, I also love their jewelry! They have beautiful bracelets that come with intention setting exercises that I love gifting to people in my life (you can choose a set of Love, Health, or New Beginnings). I also love gifting their Energy Clearing Kits to my friends and fam that comes along with crystals, sage, and a singing bowl! You can now receive a discount off of Energy Muse products & crystals with the code BLONDE!!!
+ JOURNALS! I 100% love receiving journals as a gift. It's definitely the writer in me but there has never been a holiday season where I haven't gotten a journal from my parents and I love the tradition so much. There are so many cute ones online so just surf the web, support a small designer on Etsy, or the one I linked is super cute!
+ The Wild Unknown Animal Spirit Deck & Guidebook! You can find these at the top of my Amazon shop book page and OMG, you guys. THESE ARE SO FUN! My bridesmaids & I pulled these cards at the beginning and at the end of my bachelorette party in Tulum, and they were SO SPOT ON. The first time we pulled, I was the Golden Egg card which is a spirit card and it spoke to my heart so truly and in such alignment it was just WILD. Then, we pulled them again the morning of my wedding! Now it is a tradition to pull cards at all of my best friends' weddings — it wouldn't be a wedding without the deck. 🙂 HIGHLY recommend these as a gift, along with a journal and a book for a fun bundle, or on their own depending on who you're gifting to!
+ You can always gift an EXPERIENCE to your friends, like a phone call with a medium, a session with a Reiki master, a sound bath experience, a trip to a kundalini class or yoga class, or a yoga retreat together! The options are endless!! My best friend and I are going to see a medium together for our gifts to each other this year… and I am SO EXCITED.
CBD & Supplements:
Cured Nutrition CBD –
You can use the code BLONDE for a discount! What would a holiday gift guide be without a little CBD?! So, for the record, CBD doesn't get you high. CBD is a phytocannabinoid found in cannabis plants that has been found to help alleviate anxiety, boost cognition, and help with movement disorders and pain. I LOVE using CBD for joint pain, to help calm my anxious mind, and to help me fall asleep at night.
Cured Nutrition is my faaaavorite CBD brand for so many reasons – one, because their founder is amazing and I have had the chance to get to know him well over the last few years. Two, because it's simply the best brand I have found on the market so far (and trust me, there are SO MANY right now, it's kind of insane and can be overwhelming to choose). Products of theirs I love specifically are their MINT TINCTURE, and their hemp-infused max salve for pain (it has shea butter in it and literally smells and feels amazing on the skin… I use it when my hands start to really hurt from some major joint pain I have).
I even got my dad started on it with his arthritis, and it is helping him a lot. So if you have a parent or a friend in your life who suffers from arthritis or pain, get them hooked on the salve!! It's NEXT LEVEL. & use that code BLONDE for a discount!
Beekeeper's Naturals Propolis –
I am such a fan of these products & I feel like they would make a very fun stocking stuffer or just a fun holiday gift all around. I had the founder Carly on the pod earlier this summer, and she shared all about the inspiration behind the company and her mission to bring NATURAL healing to the wellness world. I am a particularly huge fan of their B. Immune Propolis (it's a delicious honey throat spray that helps to boost immunity & also feels amazing on a scratchy throat), and they also have a brand new probiotic!! Plus delicious honey, bee pollen, throat lozenges, & more. Like I said- stocking stuffer extraordinaire!! Code BLONDE will get you 25% off of your first order… hop on it!! 
MaryRuth's Organics – 
You probably heard the founder of MaryRuth's Organics on TBB Pod earlier this year (she was actually one of the FIRST people I told that I was pregnant, because she was over the week I found out and I wanted all of her expert tips!!). I AM OBSESSED with their products. From their Liquid Probiotic, to the Prenatal Liquid Iron (it tastes like candy OMG), to their bundles & gummies… literally all of it. I really believe they are changing wellness from the inside out, and I am so honored to be along for the ride. Code BLONDE25 will get you 25% off and extra bonuses for their pre Black Friday sale!! Try their Winter Health Bundle — it will change your world!! And if you have kiddos, they have so much good stuff just for kids!!
New Mama Magic: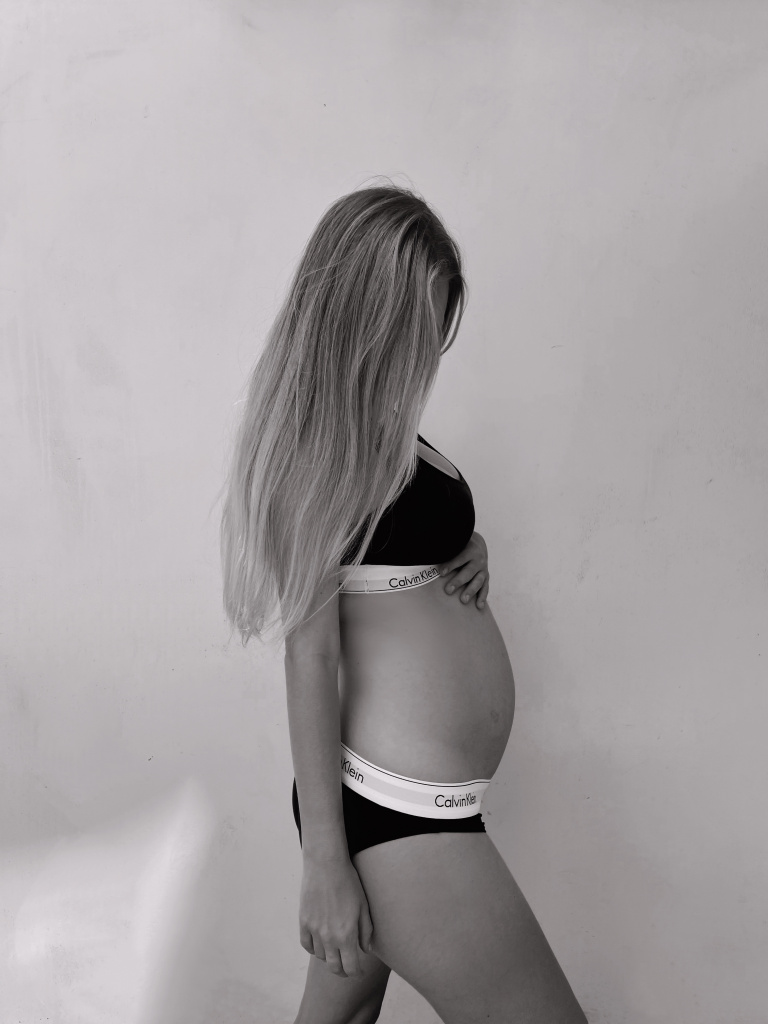 This cozy, sleek robe! SKIMS is life.
Our Place pans!!! Non toxic & have been a true game changer.
Personalized baby mug. 🙂 HOW CUTE IS THIS! Can't wait for you guys to know our baby name eeeek!!
All things SOLLY BABY!!
SKIMS HIS & HERS PAJAMAS! Literally I want & need.
I mean, who doesn't want a SNOO?! (Splurge but maybe a gift for your daughter / best friend / sister if they are expecting! Or go in on it with some other people!)
Calming, organic bath salts for a nice soak in the tub. 🙂
Puffy under eye patches for those up-all-nighters!
Mom's Floral One Line a Day memory book! So cute. 😍
Cozy Barefoot Dreams Blanket that I HAVE BEEN LIVING IN / sleeping with constantly!!
This Barefoot Dreams long cardigan is so chic & sleek & I am in love (someone get this for me? LOL)
Spell It Out Custom Throw with baby name on there…. SO CUTE!
The Skinny Confidential ice roller!! Made by my sweet friend Lauryn- the best of the best. Every new mama (every human) needs one of these!!!
For the Baking Bestie (We all Have One.. or a few!!):
These adorable copper measuring cups!
French kitchen marble rolling pin with stand!
Our Place Pans again bc so gorgeous. 🙂 I love the BLUE & the pink! Non toxic FTW forever.
All things Caraway Home. Also non toxic & amazing for all things kitchen!
Vitamix makes an appearance here too bc duh!!!
TBB Approved Clothing Brands:
I am just going to do these in list form because it's easy!! But I am a huuuuge fan of these brands right now. No codes, because I don't have any & just purchase at full price for myself but I am such a fan of everything they make!
+ Deiji Studios adorable lounge sets
+ Teressa Foglia hats 🙂
+ Mate the Label EVERYTHING
+ Joah Brown tees + shorts
+ Bumpsuit for all things pregnancy
+ Juillet swimsuits
+ Anine Bing everything
OKAY well as usual I added more than I thought I would!!! I hope this gives you a great starting + jumping off point, and I will keep adding things as I think of them!! As always, so grateful to have you all here & love you so much. Happy early holidays. 🤩 LMK what you're thinking of shopping from this list!