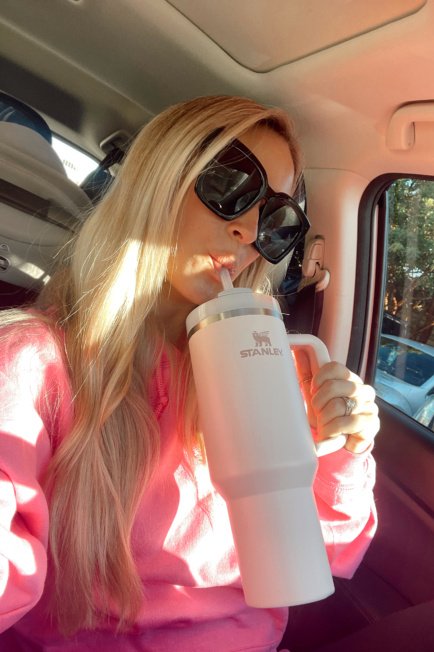 Hi loves!! Happy Tuesday!! I was inspired by Amber Fillerup, my forever favorite blogger, to do this 12 things blog post today. 🙂
I received her 12 things in an email newsletter, and she said that she was reminded by a podcast that she was listening to the importance of connecting with your community off of social media. Because one day… we may be off social media completely! I know that's a vision I see for my future — not soon at all, but one day far out from now for sure. 
And in that case… I still want to be connected to you guys always! So the blog will always be the hub. My newsletter too. And of course, the podcast. I don't ever imagine giving that up. 😉
So on that note I really want to make this a weekly series! Who is here for it?!
So here are my 12 things for you today, besties!! 
1. Loving binge-watching TV series with Jonathan at night!! For years I wasn't a TV person. I was even one of those people who kind of bragged about not watching TV. *Cue Kourtney Kardashian: "you don't win an award for watching less TV* viral moment – lol. These days I cannot get enough of watching shows with J in bed. After a long day of working, baby stuff, workouts, self-care, etc… it is SUCH a nice way to unwind together and let our minds relax. Lately we have been loving: White Lotus, Emily in Paris, Dead to Me, & Firefly Lane. To name a few. 😉 We always love docu-series too! LMK any good ones!
2. Reading on my KINDLE!! I have always been a big book gal, but having the Kindle has been a game changer for me. And I realize a lot of people still don't know what Kindles are — because when I posted mine on my IG story the other day I got so many messages along the lines of, "What is this device?!" I love it mostly because of the built-in light adjustment so I can read at night and then not have to get up and turn the lights off after. 🙂 I also love it because I go through books VERY quickly, so it suggests other similar books, and I can download them on the spot without having to wait for an Amazon delivery… I know we are such an immediate culture, lol, but for a reading obsessed girlie it has been a DREAM. The model I have is the Kindle Oasis!
3. This is my year to change my habits — I took the turn of the new year VERY seriously and it almost blows my mind how much I have been keeping up with my goals and intentions. I haven't missed a single day of working out (even if one day a week it's just a long stroll around the neighborhood with Attie), I've been waking up earlier, committing to my writing, getting out of the house to work more, and having a lot more of a routine. I highly recommend this — it is making me feel so much more confident, productive, and like my OLD SELF again… after a long, long time.
4. I am loving TIKTOK!! Call me gen z lol but it is truly so much fun. I have definitely had to instill some TikTok boundaries for myself because let me tell you, that app is addicting. I didn't think so at first, but once the algorithm figured out what I like to see — dayummmm I can get lost on there for HOURS!! Especially at the end of a long day. But it is so fun creating content on there. As always, my tip with social boundaries is: create > consume. 🙂
5. My fave TikTok follows right now are Jaci Marie Smith (she is so cute and always makes me laugh), Cara Loren & Amber Fillerup (my OG fave bloggers), my girl Kale Junkie for recipes, and to shamelessly shout myself out 😂 @thebalancedblonde… I am really working on posting consistently and having a blast! 
6. INVESTING! Something you guys may not know about me is that I have invested in a lot of wellness brands over the last several years. One of the perks of being a wellness influencer is getting to try out / be exposed to a lot of incredible up and coming brands, trends, products, etc. I have invested in some brands recently that I am really excited about. LMK if you'd like to see a post all about investing!! Some of my faves that I have invested in are: Liquid IV, DEUX & Pathwater. 🙂
7. The GENE KEYS!! You guys know I am so obsessed with all things spiritual and personality types — and the gene keys hits all of those on the head. My friend Lily has gotten me really into it. I want to have her on the pod to discuss… are you guys into it?! It's kind of like Human Design but gives you a roadmap to YOUR soul and your path, your reasons for being here, and beyond.
8. My STANLEY WATER BOTTLE!! It should almost be illegal how much joy this purchase has brought me. Yes the tumblers themselves are pretty pricey (for a tumbler, that is) but OMG — I have probably quadrupled my daily water intake. No lie. I have the rose gold one, linked here, and it is LIFE. I carry it with me everywhere and I also feel like it's a trendy statement piece at the moment?! Just me?!
9. This year I am really carving time into my schedule to do fun mom things. I spent the first 6 months of Atticus's life being a (pretty much) full-time stay-at-home mom, and then the second half of last year I worked what felt like way too much. I do not want to miss a second with him. I planned a bunch of fun baby music classes, am taking him to the park a lot, all those fun things. He is the joy in my LIFE and the most heavenly boy on the planet…
10. Which brings me to… how did I get lucky enough to have such an angelic bundle of joy baby? I know everyone feels this way about their kids and they should. Perhaps it is the fact that he is a social Sag, or super easygoing like his daddy, but everywhere we go people stop us to ask, "IS HE ALWAYS LIKE THIS?! SO SMILEY AND HAPPY?!" And the answer is… yes, he really is. 🥲 He blows me away, and I do not want to miss a moment with him.
11. People have asked me lately which baby carrier I love the most. We have the Artipoppe (x2) and the Ergo Baby (Omni 360). I LOVE Artipoppe the most for cuteness and style — but when Attie turned one and was noticeably really growing out of it, we transitioned to the outward facing Ergo Baby and that has been awesome. I still use the Artipoppe for inward facing when he is sleeping/napping and we are out and about (which is rare because… sleep schedules. Are a real thing. Coming from the least scheduled person ever lol I actually swear by how awesome it has been for us!)
12. Boundaries!! Have been such a huge thing in my life recently. If you have heard my recent episodes with Erin Falconer (How to Break Up With Your Friends) & Terri Cole (How to Become a Boundary Boss) — then you know this topic is huge on my mind. Let me tell you, I am a million billion times happier not stressing so ridiculously hard about "letting other people down" and not putting myself first after instilling so many new boundaries into my life. I have recategorized people/things, and am no longer losing sleep about friendships that no longer felt aligned. Plus phone boundaries and all of the things. Highly recommend!
Okay, that is it for today! Love the idea of making this a weekly series. LMK below if you are into it!! We made blog commenting easier with the new site upgrade, so post awayyyy bc it is easier than it has ever been! Love to connect with those of you who are reading. <3
ALL OF MY LOVE,
Jordan