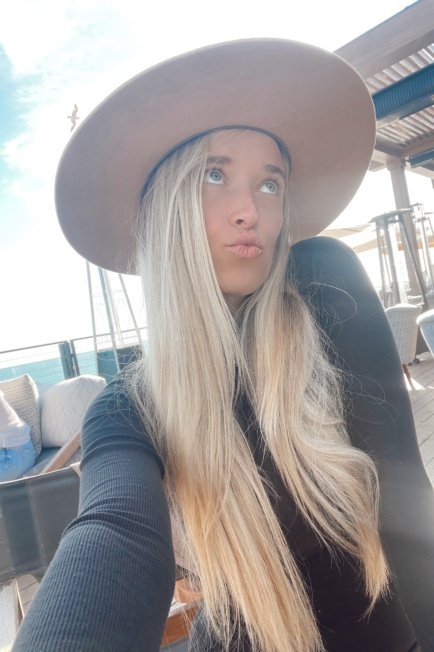 Hello, hello! I cannot even tell you how much I am loving being back in my weekly blogging routine. It might sound dramatic to say this but I feel like a piece of my soul is BACK because I am blogging regularly again. It's like I lost my way for a while and wasn't posting for so long, but I am back on my path and it feels really good.
And again I know it sounds simple to just make a post every week, but when juggling all things in life I guess this took the back burner for way too long. Petition to make regular blogging a thing on the internet again, please?! Who remembers "blog rolls" too where we would link on the side to all of our other fave blogs and support each other?! Ahhh I miss those days so much!
Ok with that, let's get into today's 12 things Tuesday!!! 🤍 Leave comments below and tell me your thoughts, your take, what you're loving lately, all the things!
1. One of my best friends in the world, Jenna, is in town from Europe and it's reminding me how amazing it is to just sit outside with your best girlfriends and talk for hours. I have been taking a lot of downtime lately to just hang with her and our other friends, and it feels so good. Never underestimate the power of a close knit community to support you (and you them) through the hard times, and the good. It is truly life giving.
2. I need to reiterate the point I made last week – I literally no longer check my email 😂 no but really I have a catch-up day every couple of weeks, and a redirect to my assistants so that anything urgent can be taken care of appropriately. But my life (and my mindset and brain most importantly) is feeling so much better and more at ease taking this off my plate right now. So if you haven't gotten a response from me by any chance please know it's not personal lol!! And then when I DO check my email every so often, I can put my all into it and give people real responses that are not rushed / part of the constant flow.
3. I am BIG into my reading game right now. Currently I am reading Rick Rubin's The Creative Act: A Way of Being & Bradley Nelson's The Emotion Code. Both are insanely good and resonant for everything I need right now. Also Dr. Nelson sent the book to me in the cutest way and I am still not over it… with a personalized note, a full page typed out about why he would be great on my podcast!! I don't take many guest pitches but this really stuck with me and I appreciated the personal nature of it so, so much. Def going to have him on the show.
4. Remember when I said Huddy is going to get more airtime on my IG again? I got more responses to that story than probably any other I have ever posted, so thanks for loving my kitty boy as much as I do. Sharing him less was totally unintentional, but I suppose it's true what they say, when you have a human baby… they take the front & center space!! I love sharing Huddy with you guys and he loves it too. <3
5. If you kept up with our weekend, we hung out with donkeys at my friend Lacy's bday party and it was everything. Atticus played in the dirt to his heart's content and it just felt like this is what life is all about. I am manifesting our home in nature to come our way in the most divine timing. 🙂
6. Best non toxic cookware: CARAWAY. OMG they just sent us their entire line of cookware and I am obsessed. Not only is it the cutest ever (I got the cream color way) but it is truly non toxic, free from harmful materials like PFAS, PTFE, PFOA and other nasty chemicals. Also, this is not sponsored, just legit wanted to share with you guys because I feel like everyone needs to know about it. And the code BALANCED will get you 10% off — the hookup!
7. I have been really into my wind-down routine at night again and it feels so good. After Attie goes down it's sauna, reading, dry brushing, skincare, shower, more reading, time with J, & no screen time at all. It's heaven. One of the main questions I get asked is where my sauna is from — it is a Clearlight Premier IS-1 sauna, and I got mine from Heal With Heat. Tell them I sent you for a big discount! They are also the kindest people… and they live in Ojai!
8. Another main question I get asked a lot is if I get Botox / filler and what my thoughts on these procedures are. I have never had Botox or filler, and the main reason why is because I know how sensitive my body is. I never do well with anything injected into my body, and my Lyme doc has always been clear with me that it is not a good path for those of us with autoimmune issues. But I have no judgment whatsoever and I BARELY know anyone my age who doesn't at least tried it. I think that is awesome. I am the last person to judge — I want everyone to feel amazing in their skin and I feel like we should all just support each other's choices. Also, I will never say never! I like facial acupuncture and lymphatic facials for anti-aging benefits. 🙂
9. I am practicing doing this thing right now where when people ask how I'm doing — I don't try to pretend or sugar coat anything. I just tell the truth. And if I'm experiencing a lot of sadness/pain, I say it. It feels so good to just have no facades and beeee free to be me. It's healing. Highly recommend.
10. I absolutely love the smell of sandalwood. I'm typing this in my bathroom late on Monday night (you guys know I'm a late night owl) and Jonathan must have had a candle going in here or something before he fell asleep. It is giving me LIFE!!
11. Also since I'm in my bathroom I am looking at my cocokind products for skincare and makeup. They're my fave. It reminds me that Priscilla, the founder of the brand, was on the pod 4 years ago and that also reminds me – you guys should go back and listen to old episodes on topics that you love!! Especially if you've never heard the eps before (but even if you have). There ain't 300 eps of content for nothin! PS their milk cleanser is my FAVE product.
12. If you entered my giveaway for the 300th ep I PROMISEEEEE I am picking winners this week. I have been so so delayed because I simply haven't been on my email (hence number 2 😆) but this week my assistant and I are choosing winners & shipping out product! Yay!
Having a writing day with my bff today. And tomorrow's guest on the show was fully manifested. And she's a reality star. That is my hint to you. Any guesses ?!?! And tell me your thoughts on ALLL of the things below!!
& PS have you seen the TBB x MATE the Label collab?! Our mushroom sweat set?! It is giving me LIFE & I have not taken it off!! Shop now as it is extremely limited edition. Lmk any q's about it below! <3