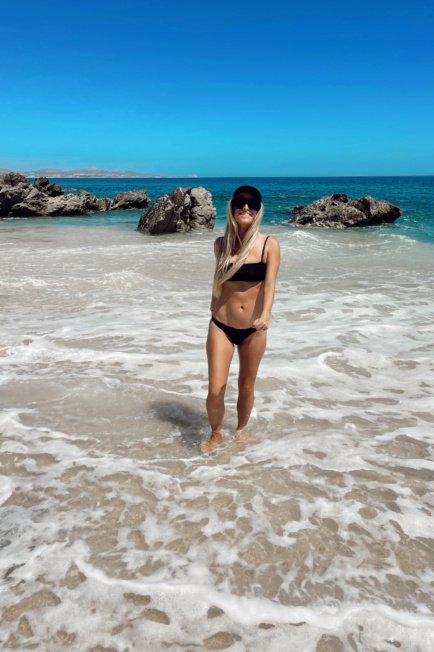 12 Things Tuesday from Cabo, woo!
HIIII from Cabo! It is absolute heaven here. I am on the beach with my family for a much needed family vacay and it has been absolute heaven. When I tell you this is the first time that I have looked at my computer or even a screen since we arrived 48 hours ago… you guys, I am in bliss.
We are here with the whole Younger clan so my parents, my sisters + brother-in-laws and their kids, and of course J and Attie. I will be sharing lots of pics on Instagram, so come hang!! After I keep taking a little social media detox, that is. ;)) Because nothing has been better than taking a serious phone break here in Mexico, let me tell ya.
Let's get into today's 12 things Tuesday!! 💕
1. I told my dad today that I was going to be writing this post, and told him how I write blog posts every Tuesday called 12 things Tuesday. He doesn't have a computer and doesn't use a phone, so he truly had no idea. I told him he should read it sometime, and he said, "You know I'm not techie like that!!" But I said he should find a way to do it anyway. 😉 Then like 6 hours later I quizzed him and asked him what my Tuesday blog posts are called, and he said "12 steps Tuesday!" So he is kiiiinda getting the hang of it. Oh and he reminded me all day to write this because the man loves for me to #work, lol.
2. I don't consider these blog posts work at all, for the record. 😉 They're my favorite thing.
3. Especially because, I decided that I don't ever really want to throw sponsorships into these 12 things blog posts because I want them to be a VERY unfiltered place for me to just spill my thoughts. If I am sharing a product here ever, it's because I really freaking want to talk about it. And I love all of my sponsors, but you guys know it's diff to just talk off the cuff. It also means I can share about products I don't like and don't think are worth the hype, too. So I can just spill it all.
4. To set the scene for you right now, I am in the living room of our house in Cabo overlooking the ocean (!!!) and it's 9:30pm on Monday evening. My niece is doing her math homework right next to me (she's in high school) and Jonathan is reading a book on the other side of me. My sisters are talking in the kitchen and my parents just went into their room to read. Sade music is playing throughout the house. Life is GOOD.
5. Back to what I was saying before, I have been taking not just a social media detox for the last few days but also a full PHONE detox. I have accumulated a lot of unread texts (sorry if you're one of them, hehe) and am really only answering back to my assistant Shelby because she is staying with the Huddy man. 🙂 I mean, I need my Huddy fix and that will never change. But the phone detox is literal heaven and has been so needed… I feel like we don't talk enough about how our nervous systems are NOT cut out for 24/7 communication and being on.
6. Talking about nervous system regulation, I have been really focused on this lately. When we were in LA and even flying here to Mexico I could feel my entire system and body wound so, so tight. Even when we woke up here on our first day, my mind went immediately to "what's wrong that I can focus on" and started to LOOK for negative or stressed out thoughts to be attached to. Even though, I have been looking forward to this trip forever and there is nothing to be stressed over. After a full day off of my phone and leaning into the present moment family time, this feeling started to dissipate. And after 24ish hours I started to feel brand new. This is something I want to carry back into my day to day life with me.
7. Stay tuned because the first TBB retreat in a long time is more than likely getting planned right now for later this year or early next year… who is in? 😉 You guys have been asking for this for a long time, and I am so lit up even just beginning to think about it again!!
8. The last retreat I hosted was in 2018 with Kelsey Patel in Palm Springs. About 25ish of you came and it was AMAZING. If you were at that retreat and you're reading today's blog post, I have to know. Please tell me below. I remember each and every person who came and have such fond memories of that trip. <3
9. I have been deeply into affirmations lately. I think you guys know that my main one is, "Every day, in every way, I'm getting better and better." I also love: "Everything always works out perfectly for me" & also "I am enough, exactly as I am. I am right on time." AND lastly: "I have permission to change and evolve day by day, and I am evolving into a better and more blissful version of myself with each passing day. Today, I am more me than I have ever been."
10. Tomorrow's solo podcast episode is extremely dear to my heart — for several reasons. For one, I recorded it when I was in a very vulnerable, open, and chit chatty mood so I spilled a LOT of stuff. Second, solos are my favorite and I really want to prioritize releasing at least one solo episode every month. And three, it is a deep dive into where I have been with my mental health (panic attacks, debilitating anxiety, severe OCD and beyond…), and I think and hope that sharing all of this with you guys is going to feel like the biggest cathartic relief of all time. If you've never listened to the pod before, tomorrow's ep is a great place to start.
11. I feel like you guys may or may not know this but I have been told that I am extremely talkative. My mom used to pay me to not talk in the car ride home sometimes and I would do it just to get a PENNY from her, lol. (Kind of sad!??!) But I notice that about myself to this day. I think it makes sense that I ended up starting a podcast. (And for the record I can also be extremely quiet it just depends on my mood.)
12. I have been VERYYY lit up by fiction writing lately and if there is a single thing in the world that I am most excited for, it's for you guys to read my novel one day and hopefully that happens much sooner than later.
13. This is an extra one, but… I decided today that if I lived in a beachy, laid back, nature-filled place I would be a hell of a lot more inspired on a daily basis. I went on the longest beach walk with my dad today and ideas just came flowing and flowing — I felt so inspired to write this blog, write my books, record meditations, the list goes on. Nature (and this slower paced life) really is so incredibly healing.
How are my favorite people? I loved all of your comments last week, it made me so happy to know that this weekly post is landing with you guys. Keep them coming, I love connecting with you guys here more than ever. & I hope you're having the most amazing week. <3 xx