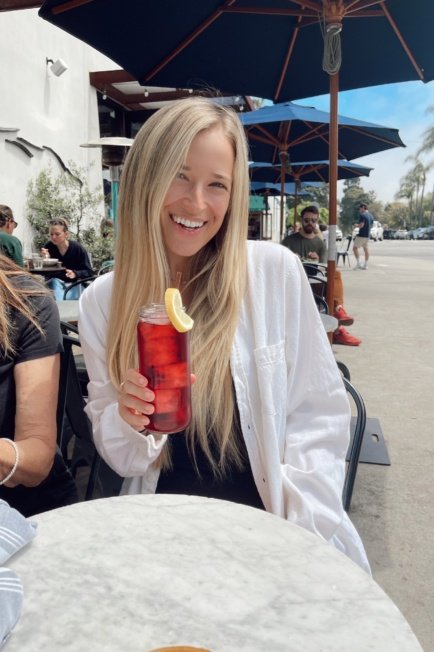 Happy 12 Things Tuesday! <3
Hello my favorite humans! I hope everyone had a beautiful holiday weekend. We had such a nice Easter brunch with my fam on Sunday, and then I decided to take the day off yesterday. I am always so confused about certain holiday weekends — like, are people working or are they fully off? Lol. First of all I am always the last to know when it's a holiday weekend! Some are more obvious than others but this one I wasn't sure, and needless to say it was a breath of fresh air to take the day off.
I woke up slow, went to the gym, went to lunch with my parents, went on a hot yoga date with J, went to Erewhon (twice, hahah) and made Attie a special dinner and then did our nightly routine! It was just so nice to be offline for the day and be stress-free. It's very rare that J and I get to spend that kind of time together lately, because on the weekends we don't have a nanny and during the week we are both working a lot!
ALSOOOO today is my half birthday!! I freaking love things like this. Especially with Aries and Libra being the opposite on the zodiac wheel, today just feels like extra special medicine for my Libra soul. 🙂
OK I digress though… let's get into 12 things Tuesday! Tell me below how your weekend was, what you did, and your thoughts on 3 day weekends!! 😉
12 Things Tuesday!! <3
1. I am writing this from my bed on Monday night — we all know I think best late at night. Cue Jennifer Coolidge saying, "I love nighttime, and I feel like it's the only time I'm really alive. I was just meant to be a night person." (Watch this video if you're confused hehe.) She IS my spirit animal, btw. Anyway, Jonathan and I are going to watch Unstable on Netflix after this… has anyone watched it?! We watched the first ep last night and it was really good!
2. The reason we watched it is because I saw John Owen Lowe (Rob Lowe's son) on WWHL with Andy Cohen & Tom Schwartz last Wednesday and it was SO GOOD. Not only was I won over by John Owen's sweet personality but I also thought the episode itself was insanely good. For anyone who's been keeping up with the VPR drama (#Scandoval, babyyyy) it was kind of unreal how much tea Tom ended up spilling that night. And if you're not a reality TV person, I honestly swear doing a case study on all things VPR could entertain even the most non-reality TV lover. I get really into it for the people and feel like I know each and every one of them. Again, this is why it was so special having Scheana on my podcast in January! Did you guys listen?!
3. Ok so I have been shouting this from the rooftops on Instagram, but I am LOVING the new app Lemon8. At first I was really not sure if I wanted another social media app and was not even sure what it was going to be about, but when I heard it was a blend of Pinterest, IG, TikTok & OG blogging then I knew I had to get my hands on it. I mean, that IS TBB in a nutshell! I have been feeling a little jaded with Instagram lately (all social media really) and just feeling extremely nostalgic about the original social media and blogging days. Like, circa 2013 and even earlier. I am hoping Lemon8 will bring that vibe back. Find me on there @JordanYounger and follow along! Come say hi and tell me your thoughts!
4. I really feel this is an important one… I am feeling like IT IS TIME TO START TBB BOOK CLUB!! All in favor say "I" 😘!!!! Like I am thinking on the blog itself, or maybe Insta or maybe pod? I am all over the board about it but I think the blog would be a good place for it!
5. But really, I have been reading so much lately. You guys know I am an obsessive reader to begin with, but I have really been reading a lot of good books this year. I just finished Tomorrow and Tomorrow and Tomorrow by Gabrielle Zevin, and I am honestly devastated that it's over. It was so insanely good… truly the first mindblowingly absorbing fiction I have read in as long as I can remember. (Don't hate me, but I kind of think most of Colleen Hoover's books are just word candy and not really that well-written. I hope this doesn't make me a book snob but I think I kind of am one.) I am beside myself over how good that book was and need another amazing book like it stat. Any recs, anyone!??!
6. Huddy is on my legs purring up a storm right now. I cannot believe he is going to be 8 this year. Who was around when I first got Huddy?! Animals are medicine for the soul, I swear. He is such a healer and I love watching him and Attie bond more than anything. 🥺
7. I absolutely cannot be trusted to book things or get anything done that's outside the realm of work/Attie related. For example… I got my friend Krista a spa ay together for her birthday, and when it came time to book it she said, "Should I book it or you?!" all the while knowing that she books EVERYTHING for us of this nature, I said of course I'll do it since it is a bday gift to her!! But alas, I let too many days pass by and by the time I went to book it (weeks later if I'm being honest), all of the spots that we wanted were taken. We found a new day to do it on and it will be great, but honestly just had to share this because I need to know if anyone else out there is like me. #TripleAirSignLife, beyond.
8. The raging eczema on my body is back, and it's baaaaad. Like bad, bad, bad. It was doing so much better for a while and I was feeling really amazing and inflammation-free. But something took a turn around the time I went to Mexico and ever since then the rashes have been explosive again. I am working with some great functional medicine/Lyme/MCAS doctors so I know we will get it figured out, but damn does it suck to be itchy all the time. Especially when it's chronic. For the last, you know, 6 (!!) years.
9. Reading the book I told you about in #5 has me insanely excited to write fiction again. I have a whole fictional world in my head just waiting to come to life, and I see it all so clearly. I think when us creative artist type souls have these stories that live within us, we truly don't feel whole or fully functioning until we get those stories out of our systems. It's like a full on fantasy LAND that lives inside of me… I cannot freaking wait to share it with you guys. I just need to keep working on my focus. The focus thing is the bane of my existence… and why I am so, so, so present on social media, because it moves as quick as my mind does. But I know I can slow it all down and get into the groove. This is my mission. <3
10. On that note, any great focus tips? You guys showed UP with the decision making tips in last week's blog post!! If you struggle with indecisiveness, go check out the comments on that post because it's full of helpful advice from our amazing community.
11. Soooo many people have been asking me (online and IRL) if I am ready for a second child, when I will be ready for a second child, if we're trying for a second, etc. And while I am an open book and I am happy to discuss it with my close friends/family, overall I think that to ask people online that question is a little too much. I think women already have enough pressure to have kids and then have the kids close together, and the moment you have a child people are already chomping at the bit for you to have another!!! It's kind of a weird thing in my opinion. I know I want a handful of kids and I cannot wait to expand our family, but I am also really enjoying this moment in time as Atticus's mom, J's wife, and our current family unit. My body finally feels (mostly!!) good again. We have some flexibility and freedom right now. So all in good time, but no we are not in a rush!
12. Hot yoga tonight felt so incredible. I will forever be a yoga junkie. If I was truly religious in any way, my religion would be… yoga. I know it's not a religion, but the feeling of aliveness, oneness with God/the earth/myself/our creator when I step into a truly aligned yoga studio is out of this world. I feel like I can truly come alive and THINK so clearly in a sweaty, heated vinyasa flow. All of my worries melt away. And it has been that way since I was 14 years old. And yes, I am Jewish but I am not particularly religious!
13. Yes, we are making this 13 things Tuesday now!! YAyayayy!! I think next week I will finally change the post title?! Haha. Anyway, have you listened to last week's podcast episode with Jenna & Krista on conscious friendships?! It's truly a favorite and so, so special to me. And tomorrow you are in for a treat with Lacy Phillips on the pod… we are talking all about where she has been, why she has stepped back from the spotlight, the true art of manifestation & more. I absolutely cannot wait to share!
Tell me your thoughts below! I love you all so much! Hope everyone is having the best Tuesday already. <3