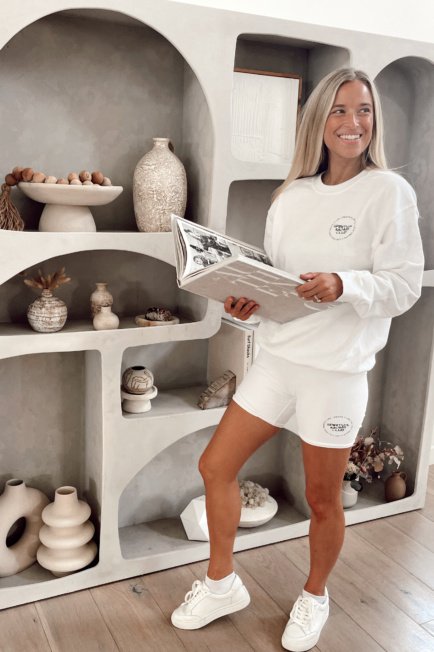 12 Things Tuesday from Costa Rica! 🦋
Hi hi besties!! I am sending you this from Costa Rica, ahhh YAY. But full transparency I am trying to take a break here and do a lot of social media detoxing, so I am writing this right before I leave. ALSO… my goal is to write my book and make some huge headway while I am gone, so hopefully the writing will still be a' flowing, just in a new way. 🙂
Ok why don't we hop into it?!
1. I decided to keep calling this weekly post 12 things Tuesday because it just has a ring to it that I freaking love. I am still going to likely include 13 things each time (because hello, I can never stick to just 12) but I just love the title 12 things!! Maybe I am a creature of habit too, yeah there is definitely a little bit of that hehe.
2. Oh my goodness, launching Spiritual Moms Club last week has been so insanely special. THANK YOU to everyone who has supported, left nice comments, bought the merch, shared on your stories, sent to your mama friends… I see you! I have been dreaming up matching mom & baby merch since before Atticus was born, and seeing it come to life has been one of the highlights of my year truly. Sharing it with you guys makes it all a reality though, so thank you endlessly for being here. <3
3. On that note, Atticus in front of the camera at the merch photoshoot?! Oh my god. It was the cutest thing ever. He had the time of his life posing and running around with mama. He also LOVED the shoot location which was a beautiful content studio/house vibe in Venice with three stories, so he went up and down the stairs like it was his job. This age, 16 months, definitely requires a full-time sprint to keep up with him. But it is also my favorite age yet and so much fun. So now I want to get Atticus into modeling (because why not?!) but Jonathan is really adamant about not wanting him to do anything like that while he is so young. I am torn. What do you guys think? I think a good rule of thumb is that he would only do it if I was involved too… for all things mom/baby. Thoughts?!
4. I feel like not enough people know about the starseed quiz on the homepage of my website. If you haven't taken it yet, it is a MUST. I recently retook it to see if I would continue to get the same result, and yes… the answer was yes, I did. I will forever be a fully Pleiadian gal. It's who I am. Take the quiz here & let me know what you get below!
5. I am very excited to be in Costa Rica this week. I have only been one other time, and it was for a yoga retreat about 8 or 9 years ago… I went with my ex-boyfriend Tommy (he was even my ex at the time and we went as friends) and it was kind of a dysfunctional situation. Love Tommy, loved that retreat, but we definitely shouldn't have been traveling together at that time. A fun memory though is that we shot a lot of old school TBV Apparel on that trip… so we are bringing the whole merch thing full circle, now!
6. I am working with a fantastic book editor on bringing my book to life right now and I have to say, hiring someone to help me with accountability and organization who also sees and understands my vision and is my perfect counterpart in terms of strengths and what I am lacking… OH my goodness. GAME CHANGER for life. I am so grateful for her. Danielle, if you are reading this, I love you!
7. This process of book writing has been an awakening like no other. I have realized more about myself in this process than anything else I have ever done, truly, aside from becoming a mom. The ways in which I have avoided certain elements of writing this book but also the way that the timing has been divine all along, because I am so clear that it was not supposed to be written any earlier than this. The mental health stuff that I have been through this year HAS to be in the book. It is all happening at the perfect time.
8. If you have been following my caffeine-free journey and the saga of trying to find something that satisfies me the way that coffee does in the morning, I finally found a combo I am loving! I kind of made this combination up and it is the best, and makes me excited to get out of bed and drink it in the morning. It's a blend of Teeccino, Dandy Blend & a bit of cacao powder. I make it in a French press and steep it in water for about 15 mins, and then drink it warm. Sometimes I add almond milk. It is soooo good, especially with the chaga chocolate muffins I have been having for breakfast lately. 🙂
9. The hardest part of doing any project is just STARTING. This has been my year of actually making things happen again, project-wise and content-wise. And honestly the most challenging step is to just begin. If you are dreaming of doing something, take that first step. I promise you will not regret it.
10. One of the greatest benefits that I received from ketamine therapy and the mental health breakdown/awakening that ensued from there was that I truly became free of so many blocks. I had mental blocks for YEARS that felt like patterns where I was stuck on a loop. For example, fretting about friends and having an extreme need to always be liked and to please others. This has finally been healing for the first time in my life and it feels so, so amazing. I truly feel brand new and I can't wait to see where healing in this area continues to take me!
11. I am currently reading the book Stolen Focus by Johann Hari (you can find it here on my Amazon page) — it is literally life changing. I actually got the recommendation from one of you guys in the blog comments a few weeks ago! I am so grateful. The book is about how our focus has been stolen from us in this day and age. It's actually wild to think about how much technology has progressed in the last 10ish years alone, and what a different landscape it is that we are dealing with now. I am feeling really inspired to take back my time, and am putting a huge emphasis on this right now.
12. I am soooo excited for you guys to see what I have been working on BTS for a meditation & affirmations hub… it has been in the works for a long time, but it is finally going to come to life soon and I cannot tell you how elated I am about it.
13. Tomorrow's podcast episode with Ramit Sethi is going to CHANGE YOUR LIIIIFE. His book will also change your life! He talks about finance in a very approachable, non-financey way and he is just goals. His new Netflix show is also amazing. He is killing it! Set your alarms because you are not going to want to miss this episode.
Okay, that's all for today! How are my favorite people doing?! Have you checked out Spiritual Moms Club yet? Hint, hint: it will make the perfect Mother's Day gift for any mama in your life, and if you order now you will still receive it on time!!!