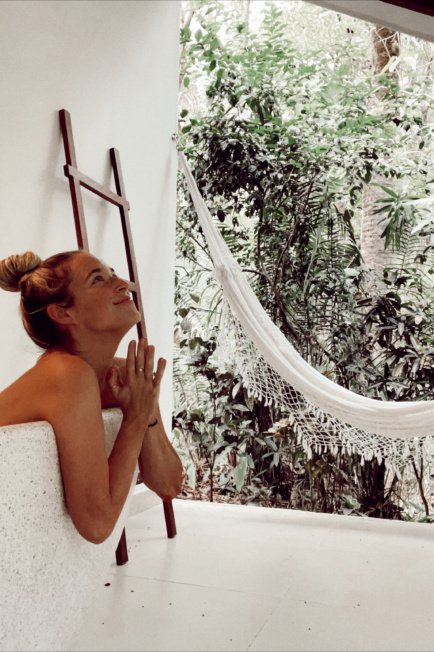 Guys! Hiiii! OMG, I have been writing my heart out in Costa Rica for the last week and I can not even tell you how much this trip rejuvenated my soul. I have pretty much never hit a wall with writing before, not even in college or grad school when I would type out 50-page papers like it was my job. But I can officially say that I wrote so much in Costa Rica I hit a wall and my head was spinning while the words swirled on the page — lol.
But I will also say, writing in that jungle oasis healed my soul on deep, deep levels. It was everything I have needed and then some for over eight years now. I can't WAIT to share more, soon enough, when everything has a little more shape to it. I am horrible at keeping secrets so I am sure you guys will get the first hand juice from me as soon as I have more to tell.
But I had to start out by saying that because I am usually chomping at the bit to write this Tuesday blog, and today my brain still feels FRIED lol, but now that I am getting into it I am already excited to continue. So let's do this thang!!
12 Things Tuesday!
1. I am currently sitting in Malibu writing by the ocean, and feeling so grateful to live in such a beachy, gorgeous place. I actually only saw the beach once in Costa Rica because I was staying a little deeper in the jungle rather than coastal. And even though my hotel had a beach shuttle every evening for sunset, I am ashamed to say I never went because I was holed up writing the whole time! That was really the sole purpose of the trip and I wanted to really make sure I got what I came for. Especially leaving Attie at home, mama was *not* messing around with the writing assignment on this trip!! All of this to say, sitting by the ocean with the waves crashing 5 feet away from me right now is really setting my soul on fire. I am an ocean girl forever.
2. I also have been so, so hungry since returning from Costa Rica lol. I just devoured the most delicious lunch (right after writing #1 on this list!) that was a heavenly crispy grilled salmon, coconut rice, steamed veggies and a yuzu aioli. I was staying at a raw vegan hotel in Costa Rica — all of the meals were included and they were completely raw. Typically I would love this, and the food was so good, but ever since having a baby my body seriously craves cooked foods. Like it's been all I can do to eat even a single salad since giving birth. But last week in CR I ate like 100 salads 😂  plus all of the raw gourmet foods like raw "pizza" (zucchini topped with tomatoes lol), raw tacos, all the things. And the food was so good & the chefs were so sweet and amazing, but honestly my body ain't cut out for the raw vegan life right now!! So being home and enjoying all of the cooked foods again is giving me life.
3. Ok more about Costa Rica… it was amazing. You guys, my soul feels reignited in such a huge way after doing this trip solo. I hadn't traveled out of the country alone since my Bali trip in 2018, and certainly had barely been alone for more than 24ish hours once or twice since becoming a mama. So as a true introvert who really recharges alone and loves to spend time playing around in the worlds inside my head, I was overjoyyyyyed to have all of this time. I highly recommend it to anyone who is thinking about taking a solo trip. I got a lot of questions asking whether CR is safe to go alone as a woman, and I think it completely is. Everyone there is so incredibly kind, crime is very low, and I felt so safe the whole time. Especially in towns like Nosara or Santa Teresa, you are golden. I took a day trip to Nosara and it was the BEST beach town. I definitely want to stay there next time I go!
4. If I can inspire even one mama out there to take the time to pour into her own cup without feeling guilty about it, I will be thrilled. And it doesn't have to be a full 7 night getaway out of the country — you can even do a staycation wherever you live or somewhere nearby! I am already feeling the ways that this trip has made me a better mother, wife, friend, daughter, business owner. But especially mother. The quality time that Attie and I have had since I got back on Saturday night has been invaluable. Because my tank has been filled and my energy has been HIGH to play with him, cuddle, lay in his crib with him for hours after putting him down, all the things I am sometimes too depleted to even think about doing. And the distance made my heart explode with even more gratitude to be his mama.
5. I really want to raise Atticus and the rest of my future kids with the knowing that they can do absolutely anything they put their minds to. Their dream lives can be their reality. Traveling alone, filling their own cup, bringing their wildest imagination to life, all the things. Life doesn't have to be conventional. The old school paradigm of moms putting themselves last has got to be going out of style, because it's just not sustainable. I want my kids to know that I never stopped living my life just because I became a mom, and that half of the reason I kept growing so devotedly as an individual was because I wanted to inspire them to do the same. <3
6. Now, everyone wants to know where I stayed in Costa Rica!!! It was the BEST and I highly recommend it. I stayed at a lovely yoga and wellness resort called Hacienda Del Sol, in the little town of San Juanillo. It's literally in the middle of the jungle. I had to sign a waiver saying that I was aware that the nearest hospital was 2 hours away — lol, that did a number on my anxiety even though I have never needed to go to a hospital on vacation, thankfully. It was so magical, quiet, restorative, and perfect for what I was seeking. They had incredible spa treatments and they also have a juicing/colonics detox program that I didn't do this time around but totally would in the future. They have yoga every day and fascia blasting classes where you can learn to detox your own lymphatic system, all the things. They also have the most beautiful sauna & cold plunge situation ever! & the food is all included, which was amazing while I was in my writing vortex because I just didn't have to think about paying for individual meals etc. You can use the code BLONDE when booking and/or tell them I sent you, and you will get a free massage & a discount on your stay. <3
7. The best thing ever was seeing all of the monkeys in Costa Rica!!! Fun fact about me is that I have wished for a monkey since I was a little kid. Like quite literally I would close my eyes on my birthday and blow out my candles and wish for a monkey, for YEARS. My parents wouldn't even let me get a dog so obviously the monkey thing never happened. But practicing yoga every morning and afternoon with the monkeys swinging from the trees was absolutely one of my favorite things on the trip and I will never forget it.
8. If that was the highlight, the lowlight was finding a scorpion in my bathroom. NOT the vibe. I also got probably 1,000 misquito bites but that is just jungle living for ya. The hotel was great about helping with bugs and they came and removed the scorpion right away. But finding a scorpion inches away from your foot is relatively terrifying, nonetheless.
9. The other highlight was of course, writing so much of my book!! This was the healing memoir, the book I have been talking about to you guys and dreaming up for literally 8 years. Almost a decade later, and it is finally pouring out of me. I am SO grateful. Truly the best feeling in the world. I feel like I finally turned a corner and stopped thinking of myself as someone who has such a lack of focus and can't get anything meaningful or long-form done. I am so so done with that being my story. I beat the resistance monster once and for all and even though I have a long way to go, this feels like a NEW ERA!
10. On that note, welcome to my author era!! Now that this book is becoming more and more unlocked, I already feel more equipped and ready to start tackling the next books that are ready to tumble out of my mind. I have been envisioning for years my life as the author I have always dreamed myself to be, so entering this era feels 100% timely. What era are you in right now? Tell meeee!!
11. Have you heard Ramit Sethi on the podcast from last week?! He freaking crushed it. I feel like there is a whole new generation of people now understanding that we don't *have* to buy a house to be financially successful, and that renting doesn't mean you are "paying your landlord's rent." He dropped SO MANY gems in this episode. And fun fact: he is a fellow Sacramento person like me!!! Who has listened?! And if you haven't, get on itttt.
12. Mother's Day is this Sunday! Eek yay! I told Jonathan the one thing I want is to do absolutely nothing but spend time with him and Atticus (and my mama of course). Last year we ran around and went to like 4 different locations, saw 100 family members, we got in a huge fight in traffic on the way to my cousin's house, and it was my first Mother's Day. It was reallllly not good. I actually had a breakdown that day because nothing flowed and everything felt awful, lol. So this year we are rewriting the script, and it's going to be heavenly!! Chill, relaxing, and full of love. I cannot WAIT.
13. If you are looking for a last minute gift for any mama in your life (your mom, your sister, a friend, daughter, wife, girlfriend…!!) check out SPIRITUAL MOM'S CLUB! We created it for all of the mamas and babies out there to have the cutest, coziest matching outfits and we can't freaking wait. If you order it, tell me below so I can thank you! And send me tons of pics of you rocking it!
ALL MY LOVE & THEN SOME!!!! XO, JO