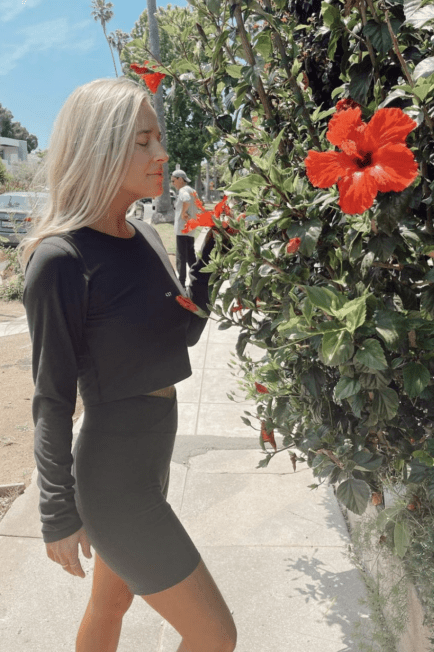 Helllooo, besties! I am writing today from Malibu and it has been a heavenly day. I have my love by my side (we never get days like this!!!), just the two of us, I just wrote 9,000 words of my book (ahhh!) and he's getting a bunch of work done. We had a delicious meal by the ocean. I took 3 sips of coffee and I have felt like I was absolutely on fire creatively ever since. Life is good. 🙂
Let's get right into today's 12 thingssss!!
12 Things Tuesday!
1. I have been on a huge celeb memoir kick lately. First I read Jennette McCurdy's book I'm Glad My Mom Died, and it absolutely lives up to the hype. I devoured it. She is a phenomenal writer and I cannot believe all that she's been through. She is incredible. Now I am getting into Andy Cohen's The Daddy Diaries and for any fellow Bravoholic, it's a must. So entertaining and just light reading. I love hearing about his daily life and his friendship with his BFF John Mayer! Also his life as a dad. 🙂 As a podcast host I really admire Andy as a host — no one does it as well as he does.
2. I have been typing so fast for so long today I feel like my fingers are gonna fly off, lol. But it is my happiest place. Writing is my flow state. My most joyous place, where time feels like it stands still. Nothing in the world makes me happier.
3. I recently got sneakers from Anine Bing and I am obsessed. They're white and beige and they are so chic. I have wanted some sophisticated sneakers for a while now. I think I am going to buy more now that I know how much I love them!! Last night I had a dream I got stuck in the mud with them though and ruined them, lol, anxiety dream much?!
4. The smell of cigarette smoke is my least favorite thing ever. I smell it right now on the Soho balcony in Malibu. It just makes my whole body feel sick, does anyone else feel that way?
5. It also reminds me of being in high school and thinking I was extremely cool when I would get drunk and smoke a menthol Newport cig with my boyfriend at the time. Oh man… should I revive those photos?!
6. I think everyone should write a memoir of their life at some point. It is extremely cathartic. The shit that I am learning through this writing process, about myself and the world around me, is beyond.
7. I am seeing a chiropractor and my massage therapist this week and I am so excited. My body is in so much pain. The sciatica I developed from pregnancy hasn't even begun to go away and it is crussshinng me. I am doing a ton of stretches, foam rolling, all the things, but it doesn't feel like enough. I have so much compassion for anyone else in physical pain. It's the worst.
8. Atticus loves watching Miss Rachel. He asks for her every day by saying "Rachel" in the cutest voice ever… it sounds a bit like he is saying "satchel" or "turtle" lol. Anyway, I get Miss Rachel songs stuck in my head all the time now and even when I wake up in the middle of the night, her songs are on a loop in my mind. It kind of freaks me out how much our subconscious picks up the stimulus outside of us all the time. Another reminder to spend less time on social media for that same reason.
9. We are starting to plan the fall collection of TBB merch, and you guys are gonna LOVE IT. I am so exciiiteeddd it cannot come soon enough!!!!
10. We are also planning our travel for the rest of the year and we have some exciting things coming up. I absolutely cannot wait for lots of special time with my family this summer / fall. <3
11. I am loving your feedback on last week's episode with Ainslie Macleod! A MUST listen for anyone who is into spirituality or past lives or if you simply want to learn more about it all. Tomorrow we have a very special solo episode coming out, and I can't wait for you guys to hear it. It's a juicy one, a massive heart spill.
12. I am really working on trying to not overcommit myself so much. I am perpetually overcommitted. I don't even say yes to nearly as many things as I used to… but I still feel like I am just trying to stay above water when it comes to my schedule. It is really affecting me. So I am just trying to do less, less, less and practice what I preach so I can have more downtime!!
How are all of my favorite people?! What's new with you?! Tell me all the things!!!! Love you all!!!