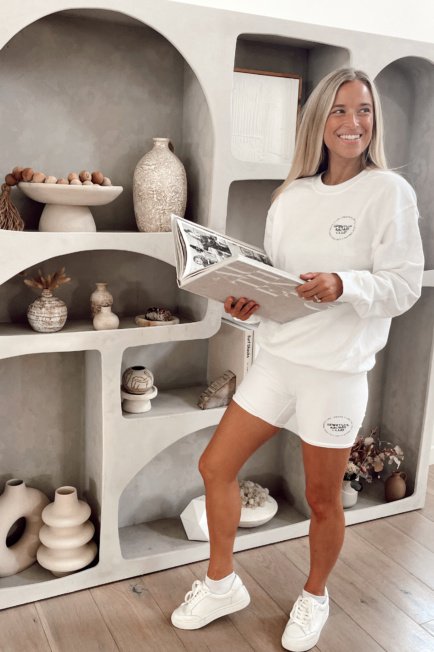 Unlock Your Dream Life & Manifest Your Wildest Dreams
Loves of my life! Happy Wednesday! That's right, we are blogging two days in a row. Bringing back the 2010 era of blogging, the way it should be tbh. Can we all just scroll Tumblr all day and update our MySpace Top 8 and read blogs in our free time? I am quite nostalgic for those days lately, and I have been loving updating the blog more and more to bring those days back.
Today I want to talk to you about unlocking your dream life. I feel like I have found the keys recently to unlocking mine, and it has been the greatest gift imaginable. Something huge shifted this year, and I have finally being *doing* the things that I've said I was going to do for years. I have been using my time wisely, stepping into my fullest and highest vibration, and ultimately just not holding back from being the person I came here to be.
We are going to get into those tips & tricks in just a moment, but first I wanted to tell you about a super special manifestation bundle that I have decided to be a part of! First of all, I say no to 99.999999% opportunities like this one because I am not big on selling things and I have always believed (still do) that whoever is meant to buy my programs will find them in their own organic way. 🙂
BUT when my besties at Elevate the Globe (best kundalini teachers ever & all around fave humans of mine) put this together last year and I saw the impact that it made on our communities, I was hooked. So obvi I wanted to be a part of it again this year.
It's such an amazing concept and it was created with the intention of giving back to our communities and making these healing modalities from kundalini to breath work, astrology to shamanism, meditation to nutrition, divine feminine magic to non-toxic productivity, manifesting love & mastering your money mindset, tarot (my current obsession!!!), healing your adrenals & hormones, and MORE — more accessible all the way around.
So this bundle of programs is available for only $99, for the next week only!! These programs are over $3,000+ in value if you bought them all separately… my celestial program (with 10 of my most favorite meditations I've ever created) being worth $121 alone! My only intention with being a part of this bundle is to offer our amazing TBB community & all of my besties far and wide the accessibility and magic of so many of the tools that have shifted *my* life for the better, and have completely unlocked my dream reality.
A few of the teachers in the bundle I have worked with personally are Elevate the Globe for kundalini, Shaman Durek for shamanism & healing, Jessie DeLowe for manifesting love and healing major wounds of my past, and Danielle Paige for all things astrology. The North Nodes masterclass in the bundle is really special — I have been obsessed with North Node info lately. My Aquarian North Node & rising is all over it!
Anyway, use this link to order the manifestation bundle, and then comment below or email me to tell me that you ordered! When you do, I will send you my yoga ebook for free & will enter you to win a big box of wellness goodies. Like a huuuuuge box, I have so much amazing product to give away right now it's nuts.
ANYWAY, had to share this with you!!!! Please know this comes from the most non salesy place possible and the most *I need you to know about this amazing opportunity and I want you to change your life from the inside out* place deep within my heart. I am excited for you honestly. If you feel like the spiritual life has been calling you, it's time!!!!
Let's talk about the 5 things I have shifted in my life lately to unlock MY dream life, and what that has been looking like for me lately!!
5 Big Shifts I Have Made to Unlock My Dream Life:
1. I am keeping promises to myself, in a radically unapologetic way. Ok let's be honest, so much of the shit that we tell ourselves we are going to do… we don't end up doing. Whether it's a morning workout, waking up earlier (for this notorious night owl that is a very hard thing to stick to), getting back into therapy, being more patient with our loved ones, or starting the huge project we have been dreaming up for years — it's easy to let our own goals fall by the wayside. Because life is busy! And full! And so damn fast moving!! But this year I have taken the leap to KEEP the promises that I make to myself, and chip away at my goals in a realistic, pragmatic, every day way. It is not sexy or sensational, it is just daily hard work. And it is paying off & feeling amazing.
2. Working toward my goals every day, and prioritizing what really matters. Previously I have always been wildly extreme. I will ignore my inner soul's calling and intuition for as long as humanly possible (because… life) and then I will send a week or two GRINDING my butt off to create something huge and make massive shifts in my life. It has always been unsustainable and has led to a lot of burnout. Now, I am creating routines and habits that I have been sticking to to show up for my goals (manifestations and desires included) DAILY, and that has been the most massive game changer for me.
3. Subconscious reprogramming work! If you listened to Lacy Phillips on my podcast earlier this year, then you know that I have been diving into the work of TBM like wild lately. It has totally shifted my life from the inside out. For the first time truly ever, I have been looking at my shadow and integrating that part of me into my life, sending healing to my younger self and working on my subconscious limiting beliefs and my relationship to my self-worth. I always thought I had a high self-worth and high self esteem, but once I really saw myself clearly — I saw that I had way more blocks than I realized. I was believing my own limiting stories, and they've been holding me back for nearly a decade. I highly recommend TBM work (especially her DI's… UNREAL meditations) for getting into reprogramming the subconscious mind. Joe Dispenza meditations are phenomenal for this, too!
4. Working with an alignment coach as well as a therapist. You guys will hear my alignment coach Eric on the podcast in a few weeks, and I am elated for that episode to come out. We have been using the modalities of astrology, Human Design, the North Node (remember, check out the manifestation bundle to learn all about that!), the Gene Keys, somatic healing, numerology and more to dig into my unique blueprint and the best ways for me to live my life and align with my highest self. We are working on so many tangible things from my daily schedule to the way I delegate to the stories I tell myself. It has been so transformative. I am also doing traditional therapy, including IFS & EMDR to keep working on and processing the traumas that came up for me last year (when doing ketamine therapy), and this has been a GAME changer.
5. Staying in my own lane & not letting the opinions of others or what others are doing get in the way of my own success. I have always been someone who cares a lot about the opinions of others. If I saw something negative about me online it breaks me. If I feel out of sync with a close friend, it *really* shatters me. This year has been all about letting go of those perfectionistic ideals when it comes to how others view me, and becoming more and more confident with who I am and how I view myself. At the end of the day, that's what matters. I know who I am, what my goals are, how I treat my loved ones, and what fuels me and fills my days. That is all that matters. This has been SO freeing, and has been something I have prayed for for an extremely long time. The meditations in my celestial program (you can get that here for a huge discount as well as tons of other programs!) can help you evaluate and align with this highest version of yourself.
Okay besties, that's all she wrote for today!! Want me to go on and include the next 5 tips I have for you for manifesting your dream life?! LMK, I have a LONG LIST that is dying to pour forth! 
Also, make sure to check out the manifestation bundle while it is still available!! This is avail for a very limited time — and will be the only time I include any of my programs in such a massive deal, because it is something I so deeply believe it!!! Email me if you order through my link so I can send you free gifts. <3