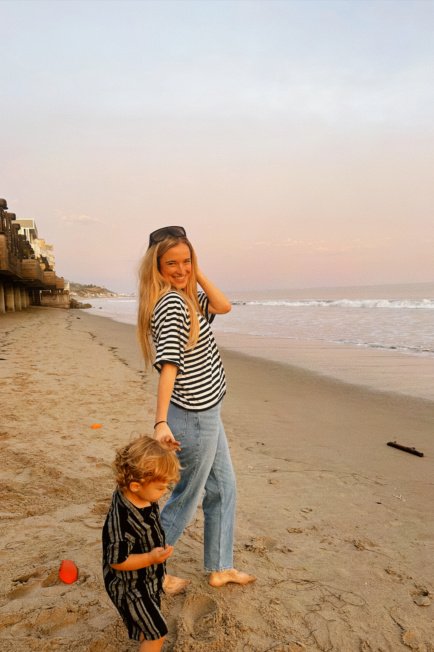 Hi besties! Happiest Tuesday! I am currently in Malibu getting settled in to do some book edits for the afternoon, and am finally getting to today's 12 things!! I woke up soooo out of it and exhausted today I wasn't sure I was going to be able to bring today's post to life — but after lots of matcha, rest, a long car ride meditating the whole way, and a good beach walk, I am READY. Let's do it!
On that note, let's get right into it woooo!
12 Things Tuesday!! 🦋
1. Anyone feeling particularly exhausted today like me? If you are, it's because we only have two more days until Mercury goes into retrograde, and seven other planets will be in retrograde at that time as well. Sometimes during the mercury retrograde shadow period like we are in now, we can feel exhausted and out of it. It's not the best time to go full throttle at something new, if you know what I mean. I learned all of this from my astrologer and alignment coach Eric, who is next week's guest on the pod! 😉
2. Speaking of the podcast… who listened to last week's episode with 102-year-old practicing functional medicine doctor Gladys McGarey?! She BLEW me away. The responses from you guys on that one have been really special. It was an honor to speak with someone with so much wisdom. Imagine being alive since the 1920's, and having gone to medical school during WWI! Unreal.
3. And also speaking of the pod, tomorrow's guest Natasha Graziano is *something* else!! She is one of the most talented speakers I have ever had on the show. When I tell you that the room SHOOK when she spoke, I am serious. There is a reason she is named the #1 female speaker under 40 by Forbes. She is also a master of the law of attraction and manifestation. Get excited, you guys will love.
4. I am blasting Beautiful Chorus right now, my favorite high frequency music. It always brings me right back to my plant medicine journeys too, which reminds me…
5. Plant medicine is calling. <3 For the first time all year. I took a very significant break ever since my 6 session ketamine journey last November. And that break has been so needed. But the intuitive pull I now feel back to certain medicines is undeniable. It's one of the only things I have been able to think about today.
6. I did a Q&A on Instagram today, go check it out if you have any burning questions for me because maybe I answered them there! The TOP question I have been getting like 20+ times a day is when we are going to have more kids. The peeps really wanna know. We aren't quite ready yet, but I am feeling those baby spirits coming closer. We will try soon, but I have a few things I want to do before then!
7. Speaking of, when did it become such a thing that women *have* to have kids so close together? Attie is not even two yet and the pressure I feel from society is unreal!! And I don't mind getting the question at all so don't worry about that, I love how involved our community is in our life. And I love getting asked by you guys. But I mean just in general when did it become so strange to give your body enough time to heal from the last pregnancy?!
8. In my family we are all very spread apart. My dad had my oldest sister when he was 19. And then my next sister when he was 21. And then 10 years later, he and his ex-wife had my brother. And then fourteen years later, he and my mom had me! Then six years later, my nephew was born… and then when I was 12, 16, and 21 my nieces were born. So there were always babies coming along lol. I loved it! But my family is very confusing to people, which I do get.
9. I am reading THE BEST fiction book right now. It's called Dark Matter by Blake Crouch, and it is so flipping good. It's especially good because it's about multiverses which is what my fiction book is also about that I have been working on for a while. If you like this kinda stuff… it's a must read. Pretty dark though I have to warn you!
10. I have become freaking obsessed with matcha. Never thought I would see the day. Pique Tea is the best. Working on getting a code for you guys. ;)))
11. House hunting is still in full throttle manifestation mode. Keep sending the good energy our wayyyyy.
12. TBB Merch newest collection is launching on 9/8!! Mark your cals!! I am getting SO DAMN excited!!!!
How are my besties this week? How is everyone doin'? Love y'all so so much!! XOXO