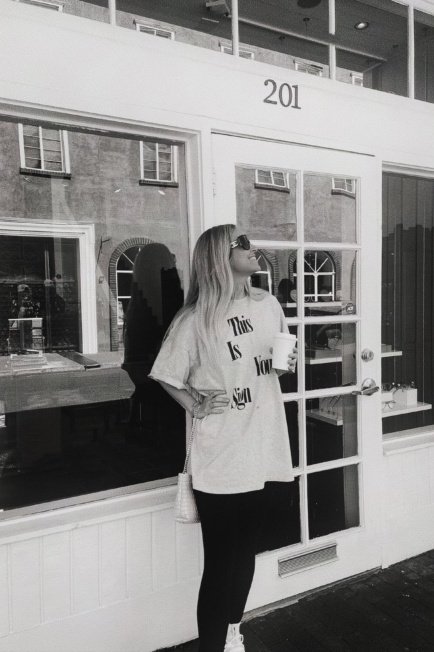 Hi hi, happy Tuesday! Thank you so much for all of the love and support on the launch of the new angel number collection last week — ahh!! It means the world. You can still get your hands on this collection (hoodies will be limited edition!) & if you have any Virgos or Libras in your life, it's the perfect time to buy a special bday gift. 😉
Also, I just got back from Santa Fe! it was such a magical time. Will talk about that in today's list. On that note, let's get right into it!!
♡ 12 Things Tuesday ♡
1. Ok so I have to begin by talking about Santa Fe. It was such a spiritual vortex. I was there for a bachelorette party, and it was so relaxing and beautiful. We had a spa day at Ojo Santa Fe & it was sooooo lovely – mineral pools, steam room, sauna, the whole works! LOVED that town & would love to go back soon.
2. We flew in & out of Albuquerque and I couldn't help but think back to my favorite show ever… BREAKING BAD! If you were a fan let me know. I literally lived for that show and was devastated when it ended. Forever in love with Aaron Paul… ahhhhh. & his wife, Lauren Paul, has been on the podcast! She is so kind and amazing.
3. While I was in Santa Fe, the most WILD and incredible synchronicities kept happening. My best friend Danielle & I kept saying that we must have been touched by angels when we got there, because the entire time we were there we kept experiencing the most unbelievable things. Firstly we met a man named Peter who we are still convinced is an angel from heaven. He is an older man, a mayor in Oklahoma, and radiated the BEST and brightest energy I have ever experienced. Every day we talked to him about manifestation, good energy, the importance of face to face contact in this day and age, philosophy, the universe…. he was magic. I feel like he's my grandpa now hehe. I literally want to book him on the podcast.
4. After meeting Peter, we KEPT MEETING angels like him. All of our Uber drivers, everyone we talked to mostly, everyone had such an interesting story and was outrageously kind. We noticed angel numbers everywhere (duh) even more than usual, and even on our flights home (I flew to LA & Danielle flew to SF), we both met at least two angelic humans like this who took our breath away. Then I got home and met another one in Whole Foods – an older man who wanted to talk about the universe with me and Attie.
5. I really believe that magic is everywhere, if we look for it. 🙂 Another crazy synchronicity is that Danielle's TSA pre-check hade expired right before our trip and she kept telling me to check when mine needed to be renewed. It lasts for five years and I couldn't remember when I got it. The DAY I landed I started getting calls and texts saying that it had expired on that day — 9.17.23. HOW WEIRD IS THAT??? So I renewed it, but wouldn't have even thought about it had she not mentioned it.
6. Anyway, clearly I am a sucker for serendipity. Have you heard my 201 story to hear about my favorite serendipity yet?! You can read about it in this post! & the 201 Crew is my favorite creation yet on the Merch front!!!!
7. I have not one but two podcast episodes going live this week. It's a bonus week! Wednesday we have a fun one with the COO of Cymbiotika coming out and I am freaking elated about it — I love her. And Friday we have a solo on the top 10 things I have done to up level my life this year. Dare I say, a new favorite?
8. Speaking of… last week's solo was really special to me too. And not just because it's episode 333! It was a deep dive on taboo topics and the questions I get asked most often but don't usually answer. Including "how are you friends with Lana Del Rey?" & "are influencers nice?" & "have you ever had a guest so awful on the show that you haven't been able to release it?" LMK if you listen!!!!
9. I have gotten so lucky with the best podcast producers. When I joined Dear Media I had my producer Ana, and we became the dearest friends. I love her so much. Now I have a producer named Nick, and he is the best too. I was nervous to join a bigger company because I like to keep things so tight & specific, and I have been blown away and so lucky with the people on my team, since day one. ♡
10. In case you were wondering, YES I am hooked on this latest season of Real Housewives of SLC!!!! Who else is watching? Who is our fave this season? I feel like everyone has kind of one of their rockers. I have always loved Meredith but I am feeling like she is kind of unhinged this season? (Still love her though.) Tell me your thoughts!
11. I am currently sitting by the ocean and it is the PRETTIEST, sunniest and vibeyest day. SO grateful.
12. Jonathan and I went on a date yesterday and he made me leave my phone at home!!!! So for like 7 blissful hours I was phone-free and I felt like I was in the 90's again. I LOVED it. We got pedicures (heaven), looked at houses, had dinner together, walked around the Palisades, it was bliss. So in love with that man it's not even funny.
How is everyone doing this week?! Have you been to Santa Fe? Shopped the new collection? Tell meeee. Love you all so much!