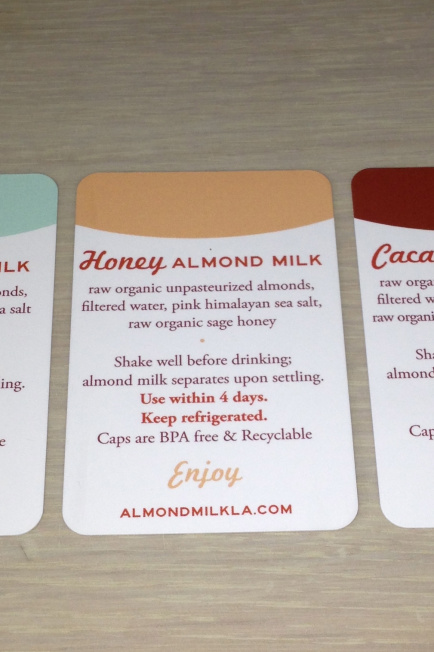 Inspirational Spotlight: Almond Milk LA
I couple of week ago I had the privilege of meeting with the super inspiring co-creating duo behind Almond Milk LA – Nicola and Yael. We bonded over our mutual love for yoga, writing, healthy lifestyles, connecting via Instagram of all things, and, of course, Café Gratitude pancakes. Not only are these ladies making homemade, fresh, organic, dairy-soy-gluten-free, non-GMO almond milk readily available to L.A. residents (they deliver right to your doorstep!), they are feeding their own passion of working together to provide healthy options for the community.
I couldn't believe it when they told me they came up with the idea for an almond milk delivery service only one short year ago. Yael was in their kitchen preparing a batch of fresh almond milk for the two of them when she first mentioned the idea, and Nicola thought she was crazy! "We didn't know anything about creating an almond milk delivery service," she said But their interest persisted, so they decided to look into it. They reached out to some friends for information and design-work and got the ball rolling.
Since then, they have partnered with some great people and places around L.A. to make Almond Milk LA happen (just check out their "People/Places We Love" on their site). When the time is right they hope to open their own shop somewhere that gives off the aesthetic they believe in – simple, modern, sophistication. (Just check out their cute little logo if you can't envision what I'm talking about.)
Now on to the tasty stuff: the almond milk. It comes in three different flavors: pure, honey and cacao – and each comes with a cute little tag so don't mistake one for the other (the pure and the honey are practically twins). Each flavor is simply made with raw organic unpasteurized almonds, filtered water, and pink Himalayan sea salt. The honey flavor has raw organic sage honey, and the cacao has raw organic sage honey and raw organic cacao powder.
My personal favorite is the chocolate – it tastes like a legitimate DESSERT, and you all know what a chocolate groupie I am. The pure flavor is the perfect addition for cereals, granolas, smoothies (Blonde Vegan smoothie, anyone?), baking, or just about anything else you'd use milk for. The honey is decadent and delicious. Their secret? They use a smaller ratio of water in relation to almonds than the typical almond milk creator, so their milk is chock full of the good stuff – um, and it's better for you. None of that watered down crap over here!
You can find them at www.almondmilkla.com, and if you're not in the L.A. area, I feel bad for you, because this milk ROCKS. (But don't feel too bad – I'm not in L.A. anymore either so I just have to appreciate them from afar.)