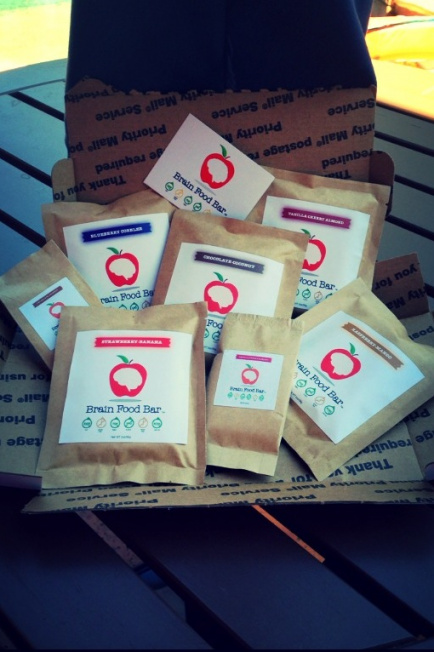 Product Review & GIVEAWAY: Brain Food Bars
The awesome creators of Brain Food Bars, Tim and Ever (lets be real- how great of a name is Ever?), were gracious enough to send me some samples of their bars so I could check them out. I'm going to be completely honest here… I was skeptical at first. For no better reason than the fact I am a diehard Larabar fan, and I can be VERY picky when it comes to energy bars. I grew up thinking that I didn't like "power bars," because every kind that I tried was chalky and had that weird protein powder-esque aftertaste (you know what I'm talking about). Basically, they all tasted fake.
Ever since I began this vegan adventure, I have tried a lot of different brands of energy bars. Kind bars are awesome (Almond Coconut: YUM), and of course I adore my beloved Larabars, but I haven't loved anything else. And let me tell you, I have tasted just about every brand they sell at Whole Foods, which covers an entire wall of the store. So that's why you can actually trust me when I say this: I am now a huge fan of Brain Food Bars.
These bars have legitimately been getting me through my move to NYC. My mom and I have been spending grueling hours lugging furniture up and down staircases and running around the city to every Bed, Bath & Beyond and Pier 1 there is – so there hasn't been a ton of time for "real" meals this week. So naturally, I have been thanking my lucky stars that I have a purse full of Brain Food Bars – both full size and miniature.
The flavors they sent me were Chocolate Coconut, Blueberry Cobbler, Strawberry Banana, Vanilla Cherry Almond and Raspberry Mango. I thought for sure that the Chocolate Coconut would be my favorite, since it covers my two favorite flavors in the world rolled into one. Unsurprisingly I tried that one first, and it was delicious. I found myself wishing I had opened a full sized instead of a mini for that one!
But a few days later, as I was lying on the bare wood floor of my empty new apartment, basking in my misery as we waited for yet another Ikea delivery, I decided to try the Vanilla Cherry Almond flavor – (I never use this phrase, but it feels appropriate here) HOLY COW! It was so good. The best part? The only ingredients are organic dates, organic almonds, organic tart cherries, flax seeds, chia seeds, organic mesquite, organic maca and vanilla bean. Totally raw, gluten-free, vegan, non-GMO, wheat-free and all natural. Wowza.
I also think this company is awesome because Tim and Ever are childhood friends (and neighbors), and these guys are YOUNG. Tim just graduated and Ever is still in school at the University of Maryland. I think it's so fantastic that two college guys have taken the initiative to create such a healthy, wholesome energy bar.
The idea for the bars came about when the two boys were studying. They realized all of the "study snacks" they were putting into their body weren't doing anything to nourish their brains or their bodies, so they decided to do something to change that. No additives, no processed sugars, no preservatives. Just pure, good ingredients that are meant to give you natural energy and focus.
And my very favorite thing about them is their philosophy that "simply being nice" is extremely fulfilling and rewarding. Take a second to think about how amazing the world would be if more people had that outlook on life?
Bottom line: I'm so happy I still have a few of my sample bars yet. I will be savoring every last bite. You can check these guys out at www.brainfoodbars.com, or find them on Instagram or Facebook!
Even more exciting: Tim, Ever and I are working together on a Brain Food Bars GIVEAWAY for 5 awesome people. Requirements:
You must be following both @theblondevegan and @brainfoodbar on Instagram.
"Like" The Blonde Vegan on Facebook and follow  The Blonde Vegan on Twitter – brand new additions to supplement The Blonde Vegan blog & Instagram!
WRITE on The Blonde Vegan Facebook page why you would like to receive the free sample of Brain Food Bars, and we will choose 5 lucky winners! We are super excited about this!