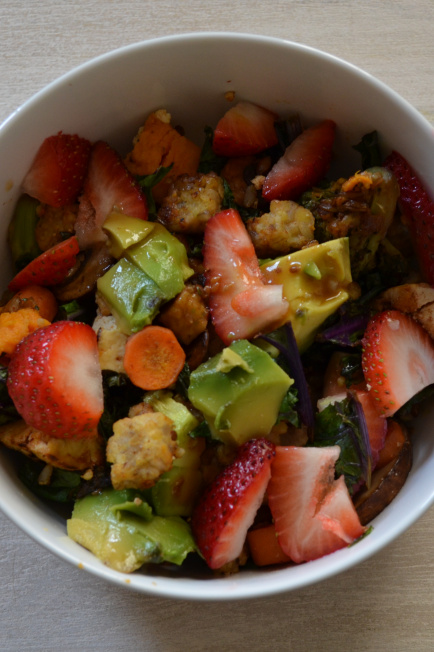 I already have a signature smoothie and lots of signature breakfast creations, so I thought it was about time I created a signature SALAD. Let me start by saying: some salads are boring; this salad is not boring. I repeat: I do not make, eat or like boring salads. If you aren't a salad fan because they just don't satisfy you and your foodie needs, I can promise you this one will change your mind.
I was on the phone with my mom a couple of days ago while she was out to lunch with her friends, and her friends (who lovingly follow my blog) were shouting in the background for me to post more recipes OTHER than breakfasts… and I think this is the perfect place to start.
(P.S. the reason why I appear so breakfast-obsessed is because I tend to eat breakfast foods throughout the day – lunch, dinner, snacks… whoops! They're just too good.)
This is a salad I eat for lunch, in some variation or another, just about every day. I fell in love with it the first time I ever made it, and from then on I have been adding and subtracting ingredients to make it just right. Sometimes I will add more fruit, sometimes more veggies, depending on the mood I'm in and what my body feels like it needs.
I especially love this salad because it has the quality I believe all good meals need – flavor variation. This is a combo of tangy (balsamic), sweet (fruits), savory (tempeh), fresh (greens/veggies), and if you're looking for texture variation it has that too! If you're more in the mood for one ingredient than another, add or subtract as you please. That's the beauty of a salad – it's a little mash pot of everything you're in the mood for.
My favorite flavor combo in this salad is the tempeh, avocado, strawberry and walnut combination. If nothing else, toss those ingredients into a bowl with some kale or spinach and a dash of balsamic and you will be set to go.
Ingredients:
–       1 cup kale
–       1 cup spinach
–       1 large carrot sliced
–       5 strawberries sliced
–       5 blackberries
–       ½ avocado sliced
–       ¼ cup walnuts
–       ½ cup tempeh cut into cubes
–       A few teaspoons of balsamic, or a squeeze of lime juice
–       OPTIONAL: 5 cauliflower and/or broccoli florets, chopped asparagus, ¼ cup sliced cherry tomatoes (I don't like the combo of tomatoes and strawberries, so I usually pick one or the other. Personal preference.)
Directions:
Sautee the tempeh, sliced carrots and walnuts (and cauliflower/broccoli if you're using it) in a pan with some garlic and a bit of coconut oil until lightly browned.
Chop the fruit and veggies while those are sautéing.
Pour the kale and spinach in a bowl, and toss it in the balsamic and/or lime juice.
Pour in the fruit and veggies.
Once sautéed, pour in the tempeh, carrots, walnuts and optional veggies.
Add a bit more balsamic and/or lime juice.
Enjoy!