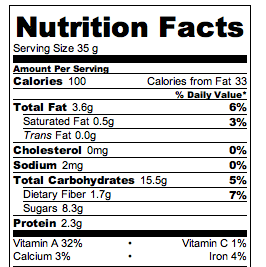 Pumpkin Coconut Chocolate Chip Cookies
I couldn't even fit all of the main ingredients for this puppy into its title. If I were being a perfectionist, I would have had to name these cookies "Pumpkin Coconut Almond Butter Chocolate Chip Raisin Oat Breakfast Cookies"… but the title would have run off the page! (There's a real perfectionist for ya.)
I have been craving the perfect breakfast cookie to go with my green smoothies in the morning. Sometimes I top my smoothies with granola, but that usually results in an overabundance of granola which leaves me full past lunchtime –  a situation I usually try to avoid getting myself into. If you are a fellow granola-lover, you know the danger of telling yourself you're just going to have one spoonful.
This cookie is decadent enough to be a dessert or a midday sweet-tooth fix, and it is also healthy enough to eat for breakfast. Perfection, you say? Oh, heck yeah.
Plus… because of the pumpkin, these cookies are the perfect holiday treat! I have gotten a lot of questions lately about Thanksgiving recipes, and let me tell you they are in the works over here in the TBV kitchen and I am super excited about them. If you're looking for a healthy vegan alternative to make for the Thanksgiving dessert table this year, you may have met your match.
Recipe yields 12-14 cookies.
Ingredients:
–       1 cup oats (gluten-free if necessary)
–       ½ cup pumpkin puree (I used Farmer's Market organic pumpkin brand)
–       ¼ cup almond butter
–       ¼ cup honey/agave
–       1 T vanilla extract
–       2 tsp cinnamon
–       1 tsp baking soda
–       ¼ cup dairy-free chocolate chips
–       ¼ cup raisins
–       2 T coconut shreds
–       OPTIONAL: 2 T ground flax seed (for texture + additional protein)
Directions:
Preheat oven to 350 degrees Fahrenheit.
Combine all ingredients into a large mixing bowl and mix until a smooth paste has been formed. 
Roll the cookies into balls (I like to make them about the size of a ping-pong ball) and place onto a well-greased baking sheet. Put them in the oven and bake for about 25 minutes, or until golden brown.
Enjoy!!!
Recognize this recipe? It's adapted from my all-time favorite Pumpkin Almond Butter Oat Bars, except tweaked a little bit to make the recipe smaller. Also nice because the cookies are mini compared to the bars, so they are more of a pop-in-your-mouth kinda treat! And I added coconut and raisins. Important note 🙂
Nutrition Information:
(Based off of one cookie.)