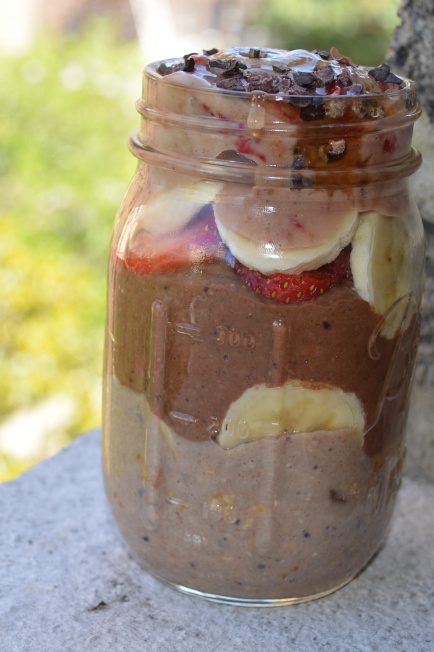 PB&J Chocolate Oats + My Upcoming Events
Hey guys! You have heard me bring up my two upcoming events a few times now, but I wanted to take a second to describe each of them since A) Juice Press is tomorrow, so if you want to RSVP, you've gotta do that ASAP!, and B) We only have about 7 spots left for the Gingersnap's event, and I figure you'd like to know what it's going to be all about before you get your tickets.
For those of who you are not NYC local (sadness), I have included a delectable recipe (one of my very favorites) at the bottom of the post, so scroll on down! And to address the questions about events in California once I arrive – yes, yes yes!!! There will be lots of them. There will hopefully be one in Northern California in early July, and most definitely many in LA from here on out. If you're a Cali local, tell me where you live and what kind of event you'd be interested in and we can get to planning!
Juice Press Summer in the City 

When: Wednesday, June 11th from 6:30-8:00pm
Who: Hosted by myself, Arielle of Be Well with Arielle, and Tara of Skinny by Tara.
Where: Juice Press HQ in Flat Iron (NYC) on 22nd Street & 5th Avenue
What: It's a lecture-type event that will include a Q&A, some great Juice Press samples, a fun gift bag winner (chosen at random) that will win a free Juice Press cleanse, a free TBV Apparel shirt, and a necklace from Arielle's line. There will be mingling and chatting afterward, of course! Tara will be leading a guided meditation & sharing yoga poses that you can do to stretch throughout the work day, I will be introducing my summer cleanse and discussing the benefits of plant-based diets and plant-based cleanses, and Arielle will be sharing tips on self-care outside the realm of food. Everyone who comes will receive 10% off of TBV Apparel shirts.
How: If you're interested, email Caitlin[at]juicepress[dot]com to reserve your spot! We are already over capacity, butttt we are going to stuff the room (as long as the fire codes allow), so make sure to get there early to grab a seat!
Eat Organic With Us
When: Monday, June 23rd from 6:30-8:30pm
Who: Hosted by Max Goldberg of Living Maxwell & myself
Where: Gingersnap's Organic in the East Village (NYC)
What: There will be a raw, gluten-free, vegan dinner provided. You will be getting a delicious green juice (one the best I've ever tried), an appetizer of raw hummus and avocado with flaxseed crackers, a bowl of raw ramen for dinner (you have to try it to believe it! It's sensational), and a donut hole for dessert with a delicious nut mylk. The purpose of the event is to meet other people in our area who are into wellness and living an organic lifestyle. Max will give a short talk on the latest with GMO labeling and organic standards, and I will talk about my health journey (a topic that has been fluctuating rapidly lately, so you'll be the first to hear the details of my new dietary switches if you're there)!! It's an intimate event, so there will be lots of chatting and mingling. Everyone who comes will receive 10% off of a Gingersnap's cleanse, and 10% off of TBV Apparel shirts.
How: Buy your ticket today, as we only have 7 spots left! Here is the link to purchase: Gingersnap's Event! Woo!
PB&J Chocolate Oats in a Jar
If you're an avid Instagram user, you've most likely seen the hashtags #ooiaj, #pbooiaj, #oiaj, etc. And, if you're anything like me, when you first saw them you were probably like WTF. And then you clicked on one of them, and your life changed for the better.
Peanut Butter Overnight Oats in a Jar certainly has a hysterical hash tag, but it's so freaking delicious you forget all about how #pbooiaj sounds out loud and get to town digging into your breakfast.
Oh, also, if you're a longtime TBV follower, then you know this is actually a JOY – Jar of Yumminess. I refrained from calling it that in the post title, because PB&J JOY sounds a little intense, and might be mistaken for an ode to peanut butter and jelly (nothin' wrong with that, but I couldn't risk it) when in fact it is a jar of oatmeal goodness! If you want more JOY recipes… head over to the Recipe section of the bloggy!
Ingredients:
1 cup dry gluten-free oats
1 handful fresh strawberries
1 tablespoon peanut butter (or nut butter of choice)
1 ripe banana
1 tablespoon raw cacao powder
Toppings (optional, but delicious):
½ ripe banana
1 tablespoon peanut butter
1 tablespoon raw honey
1 tablespoon cacao nibs
Directions:
1. Boil the oats in water until the water is fully soaked through.
2. While the oats are boiling, slice the strawberries and banana, and get your blender handy.
3. Blend ½ cup of the boiled oats with ½ ripe banana and 1 tablespoon of peanut butter. Layer into the bottom of a mason jar (or a bowl, if you aren't feeling the breakfast in a jar thang.)
4. Layer a few banana slices on top of it, for the sake of presentation, or skip that step.
5. Blend ½ cup boiled oats with 1 tablespoon cacao powder, and 2-3 strawberries. This is your "chocolate jelly" layer… yum!
6. Top with some strawberry and banana slices, and then top with optional toppings. I blended ½ banana with some more peanut butter and honey so there was a yummy sauce on top, but that's totally optional.
Oh, and people love to ask me, "Is that for ONE serving?" Use your own discretion, peeps! If you're hungry, by all means eat the whole thing. If that's double the size of your normal breakfast, eat some and save the rest. We're all our own people, we can make those decisions for ourselves. 😉
Have you ever seen a hash tag that made you laugh out loud?! What's your favorite hash tag? Do you even use Instagram?