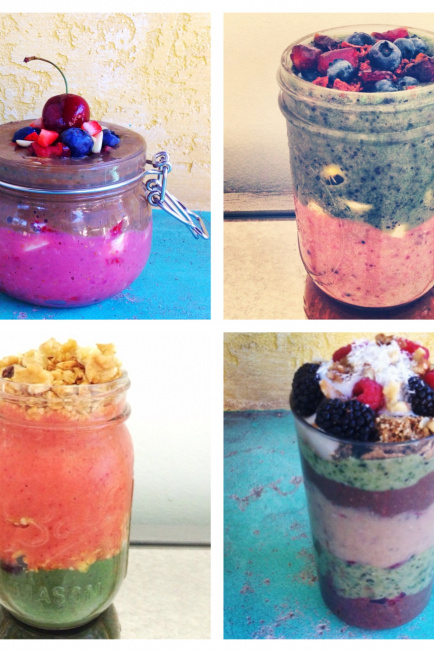 Chocolate Blueberry Jar of Yumminess + Video!
Hi lovelies! I am SO EXCITED to share today's video & recipe with you! It is my FAVORITE VIDEO released on The Balanced Blonde TV & I think it will give you a little glimpse into my personality… something I am always striving to do in this Internet world!
Ever since the very beginning of my blogging days with my OG Rainbow JOY recipe, my "Jars of Yumminess" have been a frequent recipe request around these parts. And for good reason (in my humble opinion) — they are bright, colorful, delicious & packed full of fiber, protein and antioxidant fruity goodness.
I also thought it would be a great recipe video to share with you guys because even though the JOY recipes are quite simple, achieving the photo-worthy aesthetic quality and presentation of a true Jar of Yumminess is something I get asked about a lot.
Not only are JOYs fun to bring to events, share with friends and eat for breakfast throughout the week, I think they are also really fun to make. In the video I explain the layering effect, how to combine nutrient-dense superfoods like cacao powder (I use Philosophie superfoods, as you'll see in the video!), how to layer the fruit so that it keeps the next layer in tact, and of coooourse my own little tips & tricks for how to add as much chocolate as humanly possible. (Duh!!)
And just to get you extra pumped up about Jars of Yumminess and all they have to offer, here is a walk down memory lane from some of my all-time favorite JOYs (and some of my very first!) on the bloggy…
Now, without further ado, let's get this video WATCHED ! And, if you haven't yet, subscribe to my YouTube channel so I can keep making fun videos for you guys! And please, please tell me your suggestions so I can bring you lots more fun recipes & other videos that you want to see!
Also, huuuuge thanks as always to Enjet Media for producing such a fantastic final product. I continue to be amazed by your endless talent. Go team!!
Another behind the scenes shot…
Thoughts on the video?! Thoughts on Jars of Yumminess? Thoughts in chocolate IN YOUR OATS? I want to hear it all! Xox