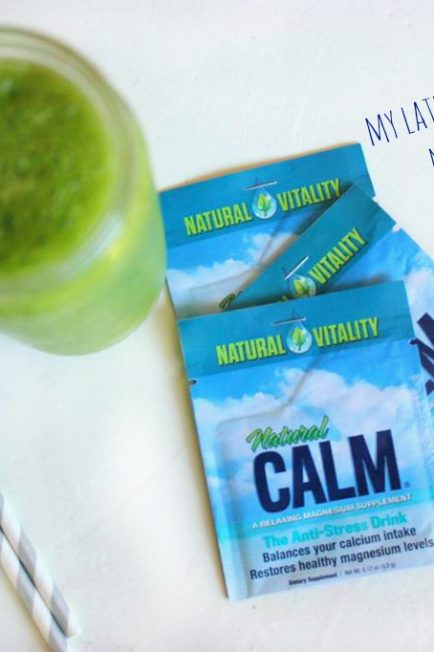 Calming Green Smoothie Recipe
Hi loves! It's been a little while since I've shared a green smoothie recipe on TBB – which is pretty funny, considering rarely day goes by that I don't drink a smoothie at some point during the day. Yesterday I shared my hydration secret of Liquid I.V. with you, and today I'm sharing my supplement secret.
When I was in the beginning of my eating disorder recovery and transitioning back from veganism, I learned that I was extremely deficient in many different vitamins and minerals. What I was most deficient in was vitamin b-12 and protein, but I was also super low in magnesium and calcium.
Ever since I found that out, I've been on the hunt for the right types of supplements and vitamins. Every day I take a magnesium pill, two Omega 3 fish oil pills (in lemon flavor, yum!) and a chewable b-12 supplement. I also use pH drops in my water to balance out the acidity in my tummy.
Buttt lately I found something wonderful that I can put into my smoothies, water and juice that kicks up my magnesium and calcium intake. It's called Natural Vitality, and it totally rocks. I like using the unflavored variety so that I keep the delish taste of my greens, almond milk, fruit and nut butter in my smoothies, but if you are a fan of Raspberry-Lemon flavors in your smoothies they have that option too.
Another reason I have been so into this stuff lately is because I have been exercising (and SWEATING) like a madwoman at Orange Theory Fitness, and Equinox on top of doing yoga and training for my half-marathon. In that sense I have been loving using Natural Vitality to calm my muscles and relieve stress. It's also great for healthy blood flow… super awesome for people like me with naturally constrained blood flow (my fingers and toes are always freezing!).
Magnesium also regulates blood sugar levels, and I have needed a lot of extra help with that throughout my eating disorder recovery. When I was severely limiting my food intake my blood sugar levels were all over the place – so magnesium is my new BFF.
Those of us who exercise a lot or consume a lot of coffee/sugar/high amounts of protein are likely to be depleted in magnesium. Also, because of the mineral depletion in our soil and cooking/heating our food, the magnesium in our food supply is quite low by the time we end up eating it.
I think you guys will love this smoothie recipe! Especially my fellow super active loves.
Secondly… who's excited for the release of our NEW TBV APPAREL DESIGN tomorrow?! I know I am. There is something super special about it… can you guess what it is?! Stay tuned.
Muscle Relieving Green Smoothie
Ingredients:
1 overly ripe banana
½ cup blueberries
1 tablespoon almond butter
½ cup almond milk
½ cup water
½ cup ice
1 teaspoon or 1 packet Natural Vitality Calm
Method
Blend thoroughly & enjoy!
Natural Vitality also has a free Balance Guide you can use to get yourself on a good, healthy, balanced (you knooooww I love that) track.
Thoughts on magnesium and calcium supplements? Supplement powders? Green smoothies?! I am such a fan.