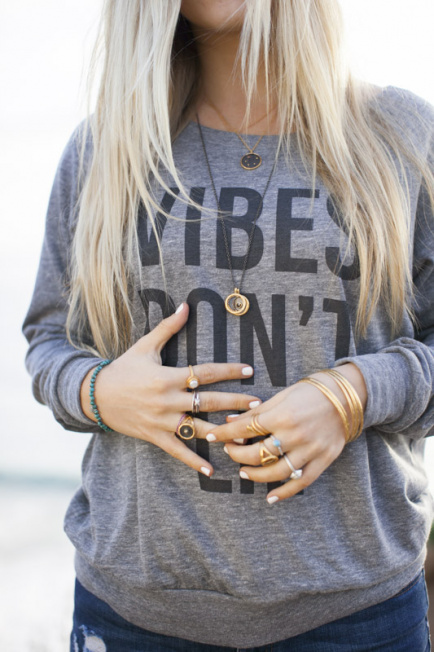 Vibes Don't Lie + an AWESOME Giveaway
Hi all! Todayyy is the day we have been waiting for over here in TBB Land! The release of our newest TBV Apparel design in collaboration with the incredible & inspirational Satya Jewelry. Shockingly I have been able to keep the t-shirt phrase a secret ever since we came up with it in the Fall… Who am I?! THAT is how you know I am excited about something… I actually keep quiet about it long enough to make the surprise as special as can be.
Before I go on & tell you all about the collab & the extremely fun giveaway we are doing, I have GOT to release this shirt and share it with all of you!
VIBES. DON'T. LIE.
They really don't, do they? Vibes are such an important part of our lives, our relationships and our connection with the world around us. And VIBES, by the way, have a different meaning for just about everyone. To me, vibes are an intrinsic feeling that I get that tell me how I feel about a situation. If I get a good vibe, I am flooded with happiness, enthusiasm and immediate excitement and passion. If I get a bad vibe… I let it go, and I know that the situation or opportunity is not for me.
There is nothing wrong with getting a bad vibe– getting bad vibes about a certain situation in life is GOOD, because it means you are in touch with your soul on a deeper level and you know what to say no to and what to say yes to. Because we can't possibly say yes to everything… or else there wouldn't be enough of our precious & wonderful energy to go around!

Now that Vibes Don't Lie (!!!!! I am doing cartwheels out of excitement !!!!!) is out in the open, Let me take ya on a little walk down TBB x Satya memory lane.
When I was visiting New York in October (NYC = my spirit city, in case you've forgotten), the beautiful Emily of Satya Jewelry asked me if she could bring a few pieces of jewelry by as a gift. Of course my response was, "DUH!", because their jewelry is gorgeous and their motto of balancing handcrafted traditional jewelry with a free-spirited trendsetting style is so 110% and beyond up my alley.
So, she brought me a g o r g e o u s Libra zodiac necklace, along with a beautiful mala and a hamsa ring. For my less yogi-esque readers, hamsa is a sign of protection that also represents blessings, power and strength.
Pretty much immediately I knew I wanted to work with Satya to create something beautiful and release some collaborative magic into the world.
Sure enough, two months later I had the opportunity to meet with the Satya gals again. This time we were talking collaborations, and a beautiful idea came to us. Why not create a t-shirt representing a phrase that means a lot to both of our companies? Why not something about good vibes… why not VIBES DON'T LIE?
So of course Tynan & I got right to work making sure we could bring this awesomeness into the world, and sure enough it fit right in for us. We've been wanting to do a long sleeve tee for a long time, and this is the most perfectly wonderful time to do it!
Our Vibes Don't Lie tee is a super comfy long sleeve tee that for us Californians can basically double as a sweater. It's warm, amazing quality (thank you Alternative Apparel), soft and flattering.
And because there was no way we could release this amazingness into the world without offering SOME kind of super fun interactive giveaway, Satya & TBV Apparel have teamed up to do a KILLER giveaway for one very vibey individual…
* The winner will receive a Satya Jewelry Mala necklace, set of gold bangles, gold Protection necklace + a special edition "Vibes Don't Lie" t-shirt, valued at $514. *
In order to enter, post one of our Vibe's Don't Lie photos (plenty in this blog post alone, and many on TBV Apparel's Instagram, The Balanced Blonde Instagram & Satya's Instagram!) and hashtag #VibesDontLie & #TBBxSatya. Tell us in the caption what Vibes Don't Lie means to you, and we will choose a winner by February 18th!
Don't miss out on this limited edition specialty tee. We are so thrilled about it and hope that you are too! Xox to the MOOON (just like the Satya moon rings & necklaces– ahh!). You can purchase it on our TBV Apparel website.