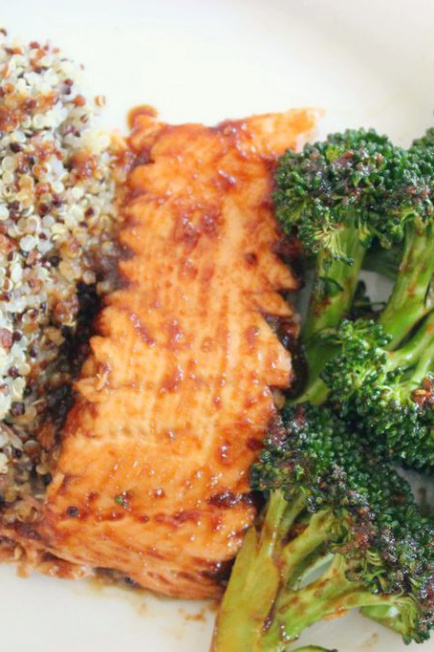 Your New Favorite Healthy Dinner Recipe
You all know that my go-to cocktail is vodka + sparkling water + lime (a.k.a a vodka soda) and that I pretty much never stray from it. I mean if it's going to be an extra wild night you might see me tipping back a tequila shot or two (or three), but those nights are few and far between these days. I have a book to write & a business to run, ya know…!
HOWEVER, when I hosted my TBB App Launch Party at Equinox in November, I fell head over heels in love with a certain something that I absolutely have to share with you… VitaFrute Cocktails. I am especially into the Coconut Colada cocktail – it's literally made with only VEEV Spirit, all-natural coconut water and fresh pineapple juice. Kind of astounding, right?
I know. I feel like I've really struck gold with this one. It's certified organic and has all-natural ingredients, annnddd there are under 125 calories per serving (that's pretty darn good considering the sugary, calorie-filled alternatives you'll find at the bars).
Plus, VEEV is local to L.A., which makes me very happy because then I get to hang out with them and hear even more about their cool company.
Most of you know that I have been feeling a bit ambivalent about alcohol these days. Either all or nothing, as usual. And I know what advice you would give me on that one. The same advice I give to all of you – balance! So that's what I've been going for… and definitely what I will be going for this weekend!
But regardless of my preference to drink or not, I love making cocktails for friends when they come over. There is nothing like pairing a delicious, organic cocktail with one of my favorite healthy dishes.
A healthy dish that I've found pairs really well with this better-for-you cocktail is my delish Salmon Teriyaki dish with a side of quinoa and roasted broccoli. It is one of my go-to weeknight dinners, and ever since I started serving it with Coconut Colada my friends have been begging me to make it!
Especially because I know so many of you are still right on track with your New Years Resolutions (which I like to call goals… since it's about creating a lifestyle, not relying on a quick fix!), this is the recipe + cocktail for you.
The freshness of the coconut and pineapple flavors in Coconut Colada combined with the light tanginess of the teriyaki makes for a delicious pairing and almost makes me feel like I'm in Hawaii. (You know how I feel about Pina Coladas!)
As usual when I share a product I love, I am hosting a giveaway! Enter on social media by reposting one of my recipe photos from this post & hashtagging #TBBxVitaFrute. You will win two mason jars, a bottle of Coconut Colada and a $50 Amex gift card to purchase the dinner ingredients.
And because I love you all a lot, I'm sharing the super simple recipe with you right here:
Ingredients:
1 6oz salmon filet
½ head of broccoli
½ cup quinoa
1 T olive oil or coconut oil
Teriyaki:
½ cup organic soy sauce
1.5 T maple syrup
¼ tsp ginger
¼ tsp garlic
½ T arrowroot
Method:
Boil the quinoa in 1 cup water over medium-high heat for about 20 minutes or until the water is fully soaked through, stirring occasionally. I like to add more water while it cooks to make it fluffy as can be, but that's just me.
Combine teriyaki ingredients and mix or blend until smooth consistency is reached.
In a small saucepan, heat all teriyaki ingredients on low heat for about 7 minutes or until it starts to bubble. Transfer to a sealed container. I use a mason jar.
Chop the broccoli and throw into a small sauce pan with a dash of coconut oil or olive oil. Sautee for 3-5 minutes or until golden brown.
Plate your salmon, quinoa and broccoli and spoon the teriyaki over it. I like to cover my salmon in teriyaki and leave my quinoa and broccoli plain, but that is up to you.
Enjoy with a glass of VitaFrute Coconut Colada!
* Entertaining bonus points: Serve Coconut Colada out of a shucked coconut! If I was at your house and you did that, I would be your friend forever.
Thoughts on pairing a delish, healthy dish with a delish, healthy cocktail? Have you tried VitaFrute before? Do you love coconut flavors as much as I do?!