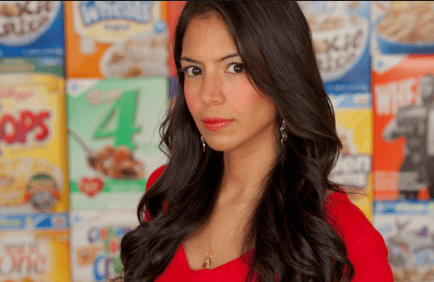 Q&A with Vani Hari of 'The Food Babe'!
Hi darlings! I had the awesome opportunity to sit down with total rockstar Vani Hari of The Food Babe to chat with her allll about her killer new best-selling book, The Food Babe Way!  (BTW- how perfect is her blog name? Anyone who eats healthy food to fuel their bodies in the best way is a Food BABE.)
I am a HUGE fan of Vani's message & what she is doing to combat the mainstream media's idea of "healthy." Similarly to me, Vani has received a maaaajor backlash from the food industry to bringing the truth to light about processed foods, hidden toxins, GMOs, yuck-o additives and more.
It's the sad truth that learning about health in a realistic way is still shocking to many people, so Vani's investigations haven't always received the most positive feedback.
I am doing this post today to A) show her & you all that I 100% support going out there into the world and fighting for what you believe in, regardless of the critics, B) because I support her research and am so grateful for her findings, C) I want you all to be as healthy and happy as you can be (without nasty foods that deceive you into thinking they're "healthy"!!!!) and D) because I love, love sharing books with you all that I truly adore reading. Reading rocks.
So, without further ado, The Food Babe is taking the stand!
Q&A with The Food Babe herself:
Q: How did you get interested in healthy, organic food to begin with?! I love a good origin story. 🙂
I began my food journey, like most people, by following the standard American diet. As a successful management consultant, I was either in the office eating whatever take-out was available, or I was on the road eating every meal out. Although this lifestyle allowed me to fit in with my peers and work crazy hours, it also took a huge toll on my body and I became very ill. Over the holiday season over ten years ago, I found myself in a hospital bed. I was sick, overweight, and I was ready to change! I made a personal promise that from that point on that I was going to make health my number one priority. And then when I started eating organically something dramatic happened. All the issues I had as a child—asthma, eczema, allergies went away. I was on six – eight different prescription drugs depending on the season and I'm on zero today. My weight normalized, and I actually lost another 5 pounds (on top of the other 30+ pounds I gained!) I began to have more energy than I had when I was years younger! The way you treat yourself, the way you treat your body, what you put in it, can make a HUGE life changing difference.
Q: Awesome. Now that we know where you came from, tell us a little bit about getting started with your book. What a massive project – where did you begin?
When I started to investigate the food industry and find out exactly what was in the food I was eating, I was shocked. I realized there was a lot of information out there about the food industry no one knew, including me until I found out. I have made it my life's mission to tell people the truth about what's in their food and how it could affect their health. In my book, The Food Babe Way, I get to give people the most critical information and roadmap on how to live in this over-processed food world. There's a way to survive and look good without always having to be on a diet. The Food Babe Way contains the 21 essential habits that I taught myself to take control of my health. This book is for anyone who is tired of the food industry hijacking their taste buds and wants to take matters in their own hands and become their own food investigator, nutritionist and food activist. We have the power to change our health faster than anyone else and I wrote this book to show people how to do just that.
Q: I LOVE that your book gives 21 essential habits to help us take control of our health and our lives. Do you have a VERY favorite habit or takeaway that you think everyone should incorporate into their lives?
Changing where you shop for groceries is huge. More natural grocery stores are popping up that don't have any Coca-Cola or Doritos on their shelves, while offering more organic produce and products instead. Seek out those types of grocery stores, especially those that have banned certain ingredients such as Whole Foods Market, Sprouts and Earth Fare. Ever since I began to shop exclusively at stores where I could find organic and additive-free foods, I realized how much it could affect my temptation for other foods filled with additives.
Q: I also love that you provide us with a great list of top 15 ingredients that we should avoid in order to be healthy– will you share a couple of those here (a few that you find most important!) so my readers can get an idea?
Preservatives – Some common examples are sodium phosphate, nitrates, BHA, BHT and TBHQ. These additives are potentially cancer causing and/or endocrine disruptors. Preservatives are commonly found in cereals, crackers, snack foods, cakes. Try choosing fresh foods that do not have a long shelf life or organic brands that do not use preservatives.
MSG & hidden MSG additives – Used as a flavor enhancer, MSG is one of the most fattening ingredients that can also cause adverse reactions in some people including skin rashes, itching, hives, nausea, vomiting, migraine headaches, asthma, heart irregularities, depression and even seizures. Hidden forms of it can be listed as yeast extract, autolyzed yeast, hydrolyzed protein, natural flavor or textured protein. It is commonly found in restaurant foods, chips, dips, frozen dinners, salad dressings and soups. This additives makes you eat more than you should – which is why the food industry likes to use it so much!
Artificial Sweeteners – These may do more harm than good, they may slow down your metabolism and "train" you to crave sweets. Also, the presence of artificial sweeteners in a product doesn't automatically mean high-calorie sweeteners aren't present, too. Some food manufacturers use both. Look for aspartame, neotame, saccharin, sucralose, erythritol, acesulfame potassium, and acesulfame K on the label. You can also find them under brand names "Nutrasweet," "Sweet N' Low," "Equal" and "Splenda." They can be found in sodas, candy, yogurt, desserts and many other processed foods. Try and find foods that are sweetened with natural sweeteners like fruit, honey, maple syrup, 100% pure stevia or coconut palm sugar and eat these foods in moderation.
Artificial Trans Fats – These are found in partially hydrogenated oils, an ingredient that the FDA is currently considering to ban. Trans fats can raise bad cholesterol and lower good cholesterol, and are a leading cause of heart disease. They can be found in many shelf stable food items like crackers, cookies, bakery items, doughs, pies and snack foods. Try and choose foods that do not have partially hydrogenated oil listed on the label and that use healthy oils instead like olive oil and coconut oil.
Genetically Modified Organisms (GMOs) – These crops are manufactured in laboratories — injected with new DNA, viruses, herbicides, insecticides and/or other chemicals — to be resistant to synthetic chemicals and are completely different than hybridizing techniques allowed by nature. The most common GMO ingredients are soy, corn, canola, zucchini, squash, and sugar beets. Most GMOs are found in processed foods. Buy certified organic foods or those that are certified by the Non-GMO project to avoid them. A list of known GMO ingredients, including their derivatives, is available on my website.
Q: I know you've faced a lot of adversity in the media (you know I feel you on that, gf) for taking a stand in what you believe in. What's your top tip for dealing with critics?
Food is an emotional topic and it can be polarizing. People don't always want to hear that the food they have been eating contains a controversial ingredient or possibly been damaging their health and this can lead to resistance. Many critics that speak out frequently against my ideas are ones that either support the chemical companies and food companies or are critical of natural therapies in general. There's a distinct difference between who I am – a consumer activist, and what they are – chemical activists. It is my job to tell the truth and I leave it up to the consumer to choose how they react and what they do with that information. I'm intensely passionate and won't stop until everybody has access to safe and affordable food and knows exactly what is in their food. This is a movement about transparency in the food system. Everyone deserves to know exactly what they are eating and my job will not be done until we all have this information.
Q: Fav part about writing your book?
It was impossible to put everything I have discovered about our food system in one book and discovering that was one of my favorite parts of writing The Food Babe Way. I worked very carefully to choose what I felt was the most urgent and important topics to share. On a personal level, writing this book has taught me a great lesson in taking care of myself no matter how large the project at hand. There were times where I let the stress of deadlines start to impact my habits, but thankfully the message I was writing helped me get back on track. I loved the practice in putting my health first.
Q: Will there be a Part II in the future?!
I will be coming out with a cookbook in the future. As for now I am still focusing on spreading the messages and life changing habits I've written about in The Food Babe Way. I know that this book has the ability to change the way the world eats. This is truly the book the food industry doesn't want you to read.
Q: Fav healthy indulgence?
I love golden berries and am eating them like crazy these days. Golden berries taste just like sour patch kids, but instead are really good for you! They are high in protein and vitamin A. Also, I have to admit, I'm a sucker for donuts, I am currently trying to per-fect additive free ones in my kitchen at home.
Q:  If you could have dinner with anyone in the world…!
My mother-in-law Diane. She passed away from ovarian cancer 5 years ago and I would give anything to have another meal with her.
Q: Anything you'd like to add?
One of my most maddening discoveries was when I found out that several American food companies are using harmful additives that are not used — and in some cases banned — in other countries. When companies formulate products all over the world, and if they are required to take out certain chemicals in other countries, I think that they have an ethical obligation to do that for all of their products. That's why I recently started a petition asking Kellogg's and General Mills to remove the preservative BHT from their cereals, like they already have in Europe. The Environmental Working Group includes BHT on its "Dirty Dozen" list of food additives to avoid (out of about 10,000 ingredients known to be in food). The petition has received over 48,000 signatures so far, and Kellogg's and General Mills both told the media that they have plans to remove BHT. However, they won't give us a date or a timeline for its removal. I'm asking everyone to sign the petition here, and call up these companies (details here) to ask them to tell us when BHT will be removed. This is the fastest way to enact changes in the food industry, and it's working.
Vani Hari is a revolutionary food activist, creator of FoodBabe.com and author of the #1 best selling book The Food Babe Way. In her work, Hari has influenced how food giants like Kraft, Subway, Chipotle, Chick-fil-A, and Starbucks create their products, steering them towards more healthful policies. Vani teaches people how to make the right purchasing decisions at the grocery store, how to live an organic lifestyle, and how to travel healthfully around the world. The success in her writing and investigative work can be seen in the way food companies react to her uncanny ability to find and expose the truth. She lives in North Carolina and travels around the world to speak about health and food awareness. She is currently planning her next campaign.