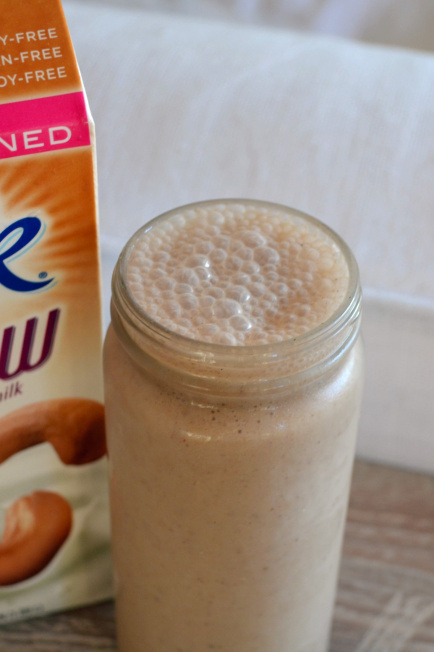 Nutty Banana Split Smoothie
Disclosure: This post was sponsored by Silk through their partnership with POPSUGAR. While I was compensated to write a post about Silk, all opinions are my own.
Hi loves! I had a huuuugely fun & jam-packed weekend doing things like: romping around Expo West, zenning out at a Lululemon "Disconnect to Reconnect" retreat, getting my sweat on at a fitness video shoot for my pal & trainer TMac Fitness, AND trying yummy recipes like this one that I'm sharing with you today…!
I've recently been made aware of some of the grossness that can occur in our bodies when we have too much soy. Of course, everything in moderation is fine, but if you're a vegan or veggie-lovin' individual (like I was for many years), then a little dash of soy milk here and some tofu there, next thing you know you have kind of kicked up your estrogen like woah.
My lovely friend and beWELL health coach Kelly Leveque taught me that soy affects our thyroid and is linked to hypothyroid disease and chronic fatique. Yikes!
And we all know I don't do dairy very often because of my sensitive tummy.
A great alternative to cow's milk and soy milk? Cashewmilk! And, in my opinion, it actually tastes a whole lot better too… My fav brand at the moment is Silk Cashewmilk, which is super duper awesome because Silk is easy to find at your local Whole Foods or another healthy grocery store (actually, I also found it at Ralphs! Who knew?!).
I have always been an almond milk junkie, but it's been fun trying something new. Another cool thing about Silk Cashewmilk is that it's creamier than skim milk with 1/3 the calories! (Only 25 per serving. Chicka whaaaat? Can I guzzle this stuff straight from the bottle?) It is non-GMO (Max, are you proud?), free of saturated fat and cholesterol. It also contains no dairy, soy, lactose, gluten, casein, egg or MSG. And no artificial flavors! 
Does it sound like I just rattled off a laundry list of info at you? That's because I am super passionate about this health business, and you should be too! These are our bodies after all, and I think the biggest mistake we make with our health is simply not being aware of some of the dangers of what we put into our body.
So when we do find a delicious product that's totally yummy and healthy and natural and deserving of being enjoyed in abundance… then you'd better believe that that it should become a staple in our diets!
Also, to address the question I get asked quite often: "But Jordan, you're all about balance! You tell us to eat whatever our heart desires and then you tell us to avoid this or that because it's not good for us. What the heck?" 
That's the key, my friends. Balance! I'm all about enjoying foods that we desire and especially when that means listening to our bodies, but having the knowledge to make those choices is where the power really exists. If you know what's in that brownie you crave, maybe you'll opt for a healthier alternative and it will still satisfy that sweet tooth. Or maybe you'll go for the brownie (nothing wrong with that!!!), but you'll have the knowledge behind it to know how it affects your blood sugar, etc. and will maybe make a healthier dinner choice because of it. 🙂
Now…. Silk Cashewmilk! What can you do with this amazingness? You can put it on your granola or cereal in the a.m., you can drink it straight, mix it with protein powder, bake with it, or make a smoothie with it!
You know what my first choice would be – I am the smoothie queen after all! (And by queen I just mean that I am ridic obsessed!)
You are going to die over this Nutty Banana Split Smoothie. It's silky and smooth from the cashews and banana, and sweet and creamy from the coconut butter and hint of chocolate.
And if you're anything like me and you love having that extra crunchy crunch in your life, stir in some additional cashews and cacao nibs and/or chocolate chips at the end to enjoy that true nutty texture of a real banana split!
Nutty Banana Split Smoothie
Ingredients:
1 cup Silk Cashew milk
1 overripe banana
1 tablespoon coconut butter
1 scoop chocolate protein powder and/or cacao powder
Optional: 1-2 tablespoon cacao nibs or chocolate chips, 1 small handful cashews (for that extra crunch!)
Method:
Blend all ingredients and enjoy!
Boom! Silky, creamy, delish. Thank me later. 🙂
Silk Original Cashewmilk: 60 cal/serv; skim dairy milk: 80 cal/serv. USDA National Nutrient Database for Standard Reference, Release 27. Data consistent with typical skim dairy milk.
Have you tried Silk Cashewmilk?! What's your favorite type of nut milk? Into trying something new?