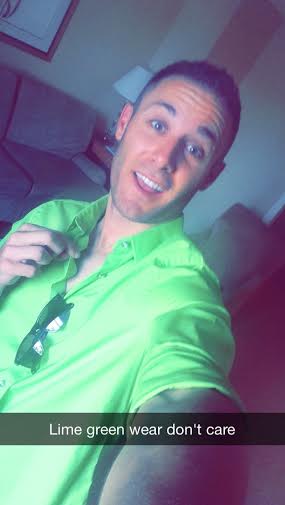 How to Rock Your Favorite Color
Some days you've just got to get outside & rock your favorite color.
No, but really.
One of my biggest pet peeves in the world is when people say, "Well, my favorite color is ____, but I would never wear that color, because, well, duh… It's not a good color for that…"
Um, excuse me? You mean to tell me that you have a favorite color, a color that makes you happy & feel fab when you look at it / are surrounded by it, but you would never wear it because you think it won't make you look good? Perhaps because it's too bright & you're a neutral kind of person, or vice versa?
Well, my dears, TBB is here to tell you that that is simply not the case.
Don't get me wrong, we all have colors that wash us out & don't do much to compliment our skin tone. For me, those colors are pale pinks, ivories and light beiges. My skin tends to take on the same pale pink pallor as the outfit and make me look like I walking a one-toned washed out bleh.
BUT, here's the thing– A) luckily pale toned colors are not my favorite by any means, and if they were I wouldn't feel my best in them so they probably would make me want to stray away from them regardless, and B) I'm okay with cutting my losses there because it leaves room for more fun brights in my wardrobe & skin-complimenting neutrals.
So, my advice is rock whatever color you please until you make it work. If I wanted to rock a pale pink, I would. Have I done it and looked okay? Hell yeah. Do I do it often? No, because there are other colors that make me feel way better.
My favorite color is… you guessed it: lime green.
In fact, lime green has been my favorite color since 1st grade. It came to be because we were sitting in a circle on our classroom floor and going around sharing our favorite colors. It sounded something like this — Girls' favorites: pink, pink, pink, pink, purple, pink, purple, red, pink, pink. Boys' favorites: blue, blue, blue, blue, black, grey, blue, blue.
Uh, what? Everyone had the same fav colors? Their repetitiveness was boring me to tears and by the time the circle came around to me I was like hell no am I going to say pink; by association I now really dislike that color. (Then, not now. Now I kinda love it). So I blurted out the best, brightest, most fun & vibrant color that came to mind– LIME. GREEN.
That's right, bright & bold & in yo' face & neon as ever. And I've always been the kind of person who rocks lime green with absolutely zero shame — but that's not to say that people have always received it well.
My mom had a clothing store for many years & on top of being everyone in her life's personal stylist, the moment she had a little girl (me!) she became my stylist too. She is the chicest and trendiest woman alive, so naturally she dressed me in a lot of: black. Black dresses, black turtlenecks, black overalls, black tankinis on vacation & black velvet headbands.
Black on black. And I was never into it. I was ALL about prints on prints and basically wearing basketball shorts with frilly tops and my hair in three ponies on the top of my heads with seven barrettes — but that's a different story, lol.
Now I looove wearing black (I guess you could say NYC rubbed off on me) & I love mixing it with my fun, favorite, bright colors.
So, now how to rock bolds & brights in a fearless way:
1) Own it. Confidence is everything. If you feel great in your clothes then you will be radiating beauty no matter what. You have two options: you can rock a bright color or a bold print and tug at your clothes all night and feel self-conscious, or you can embrace it and rock the color like you were born wearing it. Confidence catches everyone's eye.
2) Pair it with a color you are comfortable with — something simple & subtle. Black, white, or in case cases grey or beige. A bunch of bolds together will probably look a little sloppy and out there, but a bright color paired with a dark or light solid will look sophisticated and cool. (Example: bright green shorts with a black tank!)
3) Find the common denominator. Does the bright color have an accent color? In the shorts that I am wearing in these photos, there is a black design that makes the shorts easy to pair with a black top and black shoes. Without the design, there wouldn't be a common denominator & I could go with either a black or a white and be safe– but the tie-in makes it much smoother!
4) Love it. If you are a fan of the color you're wearing, other people will be too. It goes back to number 1 — confidence! There are a million shades & varieties you can wear, so might as well choose something that makes you feel great.
5) Find the right occasion & location. I wore these pants in Downtown LA, which is a fun & eclectic neighborhood and I had a blast rocking them there. Casual day at the office might not be the best choice, but if you feel good doing it then that's the bottom line!
6) There are no ruuules!! These are guidelines/tips to help you feel more comfortable, but at the end of the day I just want you to feel your best & do what makes you feel the most YOU!
Lime green is my favorite color because it makes me feel happy, bold and in control. I like giving off the vibe that I am not afraid of a pop of color a.k.a a little challenge in life / being different. Wear your favorite color this week and hashtag #TBBMadeMeDoIt on social media, and I will repost my favorite photos on the bloggy next week!
PS I am not the only lime green lover around these parts. Brandin & I learned early on in our friendship that we both love neon green… and we aren't afraid to rock it. ALSO tell B that he needs a new blog post! It's been a little. 😉 Judging by this photo I think it should be a fashion post. Comment below if you agree that he needs to get on that!