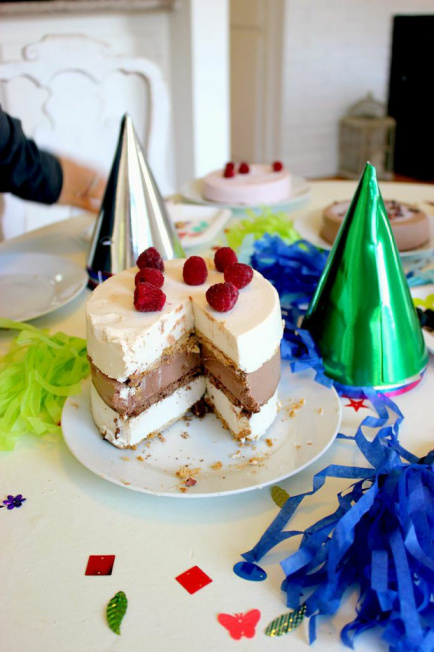 It's a Dairy-Free Cheesecake Partay!
Where my dairy-free friends at?! I know you're out there… even if you don't know it yet! Who has ever suffered from pesky digestion problems that they kinda sorta actually really do not understand?
If you're raising your hand by now, then you are a little something like me. You could say that I am the queen of food intolerances – and no, that's not the coolest queen to be but it's a queen nonetheless. I feel like I am a queen in the genre of food and tummy issues because not only have I lived with these probs my whole life, but I am super open about them. Generally if people who know me or read the blog hear the terms "dairy-free," "gluten-free," "FODMAP," "formerly vegan," etc. they think Yep… Jordan would love this.
Not that I am a fan of labels! Because I'm definitely not. I have done everything in my power over this last year to find a middle ground with staying away from foods that bother my tummy but also not putting myself into a box where I am terrified of those foods and won't touch them because of some dietary label I've smacked on myself. (Hint: the whole vegan for many years turned orthorexia thing.)
One thing that has really helped me find peace and balance when it comes to feeling my best without being obsessive is generally staying away from dairy. When I stay away from it in my daily routine, it doesn't send my tummy into a total mess if I have a sprinkle of cheese or a mini frozen yogurt every so often. It's not about making things off-limits, it's about finding what works for you and modifying it to make it work for your life.
 The best thing in the world is when I find good dairy-free and/or healthy alternatives to things I love that usually have dairy or are not necessarily healthy or good for my tummy. One thing I have always loved is cheesecake – I mean like, I really love it. When I was in middle school and high school I used to go to the Cheesecake Factory with my mom (in the parking lot of the mall, hell yeah) and we would split the turkey burger and a piece of chocolatey cheesecake… for lunch.
We were both healthy and active people, so there wasn't a big deal that Cheesecake Factory was our treat every so often. But when I became obsessively plant-based and everything became off-limits in my mind, cheesecake seemed like the devil! Even that "low cal" Splenda-sweetened (don't quote me on that) light cheesecake they offered sounded like pure sin to me – and not in a good way.
When I slowly started adding more foods back into my diet, I tried ice cream here and there (and gelato in Italy, of course!) but I didn't really try cheesecake. For some reason it didn't sound as appealing to me as it used to in all of its whipped creamy, dairy-lurkin' glory. Sure, it would taste good. But it would also make my stomach feel like it was on fire and want to explode.
Not worth it.
Then I discovered something totally awesome & groundbreaking in the world of dairy-free dessert lovers – Daiya Cheezecakes! Yes, "cheeze" is spelled phonetically to avoid confusion with your typical cow's milk cheese, and I am all about it. Daiya was actually the first brand of dairy-free cheese – or should I say cheeze – that I ever tried. It was back in college at a pizza place by campus that shockingly offered vegan pizzas! I fell in love with the ooey, gooey cheese alternative and didn't miss the dairy stuff that bothered my tummy for even a second.
Daiya's newest product is their line of cheezecakes. So, being the healthy livin' lover that I am, I naturally ran out to buy 6 of them and have my friends over to show them that a dairy-free lifestyle (or even a dairy-free dessert every once in a while) ain't so bad!
And let me tell you… everyone kind of went wild. I didn't even tell two of them that they were dairy-free and after trying it they didn't believe me. They have chocolate, strawberry and vanilla, and if you're feeling wild you can even layer them and make a cake like I did!
I bet you can guess which one was my fav…
(Hello, chocolate.)
And because I love all of you and I know there is a lot of dairy-free intrigue out there, we are doing a Daiya giveaway on the bloggy this week! The giveaway will include a coupon for a dairy-free cheesecake that you can find at your local Whole Foods, and a fun Daiya apron to wear with it! I will be choosing two winners by the end of the week – to enter to win, write a comment on this post telling me about your dairy-induced tummy probs and why you'd love to try this product… and maybe host your own party!
ALSO if you head to this link, you will get a $1-off coupon to try your own Daiya Cheezecakes!
Who wants to try this?! Can't wait to hear your thoughts if you do!